Cruise Moscow's Red Square at night atop an APC with a 360 view during V-Day parade prep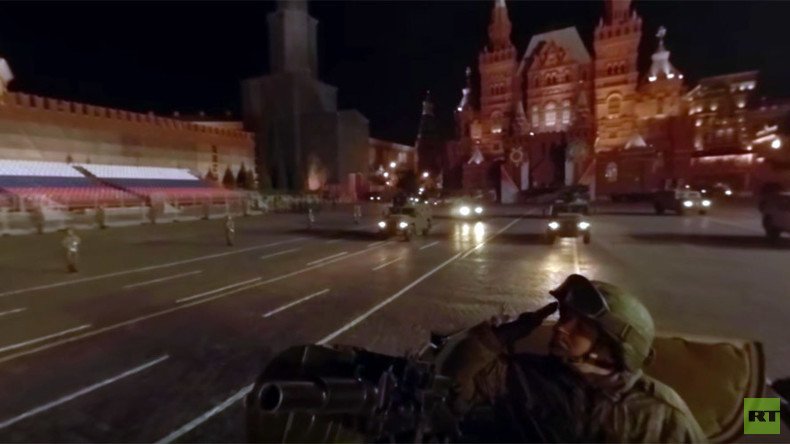 Watch the latest 360 footage from the rehearsals for Moscow's May 9 parade on Red Square, showing Russia's newest armored vehicles passing hundreds of soldiers practicing to mark the 71st anniversary of victory over Nazi Germany in World War II.
Follow #DigitalVDay: Start online journey to Victory Day celebrations with RT's live updates
The practice run, captured by RT in 360-degree-view, took place at night on an empty Red Square. The video was taken from the so-called TIGR ('Tiger') combat car, which usually opens the mechanized column part of the parade.
As the combat vehicle turns onto the square in the video, the main stage for the victory celebrations comes into view.
Note: Best experience via desktop or YouTube app for mobile devices
Other traditional vehicles usually included in the May 9 parade are: the BTR-80 and BTR-82A armored vehicles, T-90A tanks, Buk-M2, S-400 and Pantsir-S1 antiaircraft missile systems, tactical Iskander-M ballistic missile systems and Topol-M intercontinental ballistic missile systems.
To the left, hundreds of soldiers can be seen going through their drills for the upcoming celebrations.
Victory Day is one of the biggest holidays in Russia, as it marks the capitulation of Nazi Germany to the Soviet Union in the Second World War on May 9, 1945.
Military parades have traditionally been held on Red Square on May 9, since the 20th anniversary of the victory in 1965. The tradition was temporarily dropped after the collapse of the USSR and then revived in 1995.
You can share this story on social media: