Naked & afraid: German nudist colony protests refugee shelter over safety concerns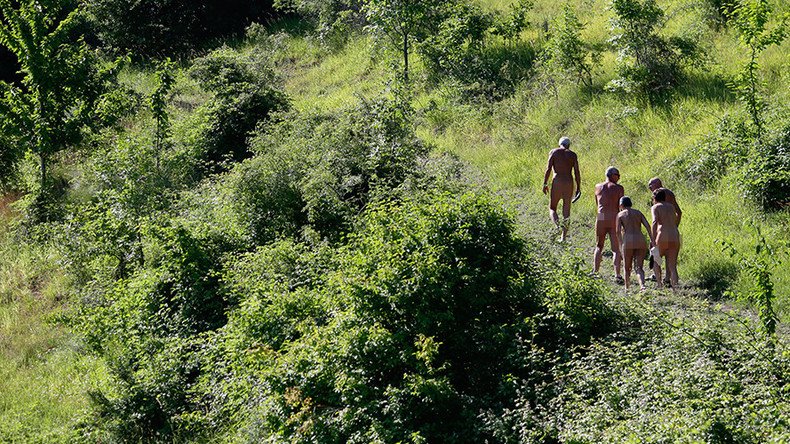 Refugees aren't compatible with naked people, according to members of a German nudist colony. The community is protesting the proposed construction of a refugee shelter, citing personal safety and previous sexual assaults committed by migrants.
Members of the Familiensport-und FKK-Bund Waldteichfreunde Moritzburg nudist group prefer to spend their days walking around in their birthday suits. However, they fear their lifestyle will come under threat if the proposed refugee shelter is opened directly next door to their Mortizburg colony.
The naturalists have launched a protest against the €1.5 million (US$1.7 million) refugee home, Jung Freiheit newspaper reported.
According to the group's treasurer, Petra Hoffman, members of the community feel particularly vulnerable due to numerous reports of sexual assaults by refugees and migrants in Germany.
Hoffman went on to explain the naked truth: that the group has been in the area for over a century and should therefore have a say in the matter.
"Since 1905, our more-than-400 members maintain a traditional way of life, the culture of nudity," she said. "I do not know if it wise to set up the asylum home here."
Safety fears were also expressed by another member of the group, who said: "If there is going to be a camp for young men, as they say, I will not stay in my caravan alone at night."
The regional government says it is looking into the concerns of the nudists, but stressed that the shelter is not meant to be used in the summer – the time of year when the nudists are most likely to be, well, nude.
"This newly-built home is only built as a reserve and is not intended to be used during the warm summer months," said Kerstin Thoens, a spokeswoman for the district office of Meissen regional council.
Thoens also said the government would install a large privacy screen between the refugee home and the nudist colony, and stressed that those relocating to Germany should be expected to adapt to the local culture – including to those who prefer life without clothing.
She also stated that the district would work specifically with young refugee men to educate them on nudist culture and ensure they are accepting of it.
"With mutual respect and tolerance there is certainly a way for peaceful coexistence," she said.
Numerous instances of sexual violence involving refugees and migrants have been reported in Germany in recent months, including a string of assaults in Cologne on New Year's Eve.
In February, a town hall meeting in the town of Bad Schlema went sour after a grandfather confronted the mayor about young schoolgirls who had been harassed by asylum seekers from the windows of the town's refugee shelter. When the mayor responded by saying the girls shouldn't provoke the refugees, angered residents called for him to step down.
That same month, two elderly passengers on the Munich Metro were attacked by a group of young men of Middle Eastern appearance as they tried to protect a woman from being sexually harassed.
In an effort to teach refugees about 'Germany and its People', an educational guide was released about common customs – including how to treat women and girls. However, the cartoon guide was mocked on social media.
Germany has accepted more refugees than any other country in Europe, taking in 1.1 million in 2015, largely due to German Chancellor Angela Merkel's open-door policy for those fleeing war and persecution.
Meanwhile, Europe continues to face the worst refugee crisis since World War II. Most of the asylum seekers arrive from Syria, where a civil war has killed 250,000 people and displaced more than 12 million since 2011, according to UN figures.
You can share this story on social media: