Twitter users mock 'integration safety' guide for refugees with behavior tips for Germany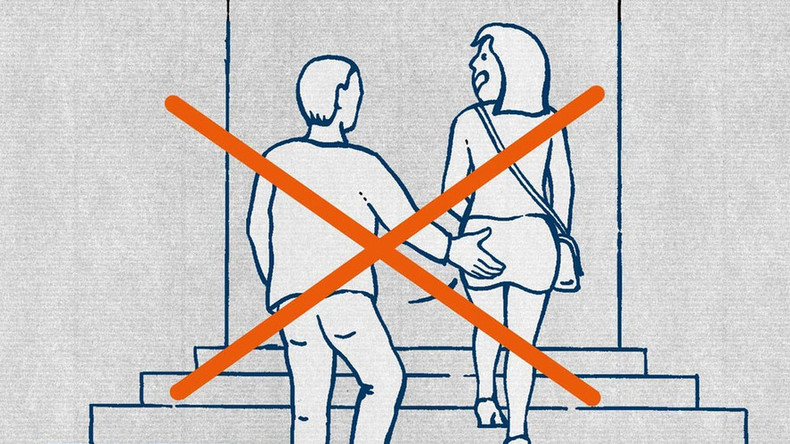 A cartoon guide aimed at instructing refugees on how to act in Germany has become the object of ridicule online. The manual, designed in the style of an airplane safety card, inspired a string of mocking tweets and drawings.
The guide, aimed at explaining "Germany and its People," teaches about common customs, including handshakes and eye contact. It also includes a photo of two men holding hands, with a caption that reads: "In Germany, homosexuals are allowed to show their sexual preference in public."
Examples of behavior that's frowned upon are accompanied by a huge 'X' over the pictures. Those actions include a man touching the bottom of a woman wearing a short skirt, accompanied by text which reads: "Women are to be respected, no matter what they wear."
Engaging in fist fights is also frowned upon, according to a separate picture which explains that "conflicts must not be solved with violence."
The guide was posted online in October by the Bavarian branch of public broadcaster Bayerischer Rundfunk. However, it wasn't until this week that it attracted the attention of the Twittersphere, which has since come up with a number of satirical responses.
After seeing the guide, Twitter user @KarlreMarks thought it was only fair to respond with instructions on how the West should act in the Middle East – including no airstrikes, no military tanks, and no putting people in jail. His 'guide' was so popular that it's been re-tweeted over 2,000 times.
He went on to laugh about the fact that the original instruction manual looks exactly like an airplane safety card.
But one person pointed out that hand-holding among two men is actually quite normal in the Middle East, despite the satirical guide showing an 'X' over that very action.
That thought was echoed by another person, who provided a picture of what is allegedly two Yemenis holding hands.
Another person stated that the new, mock guide has some faults, claiming that it doesn't accurately portray the realities of the Middle East.
On a more serious note, one user pointed out that Western citizens aren't migrating to the Middle East, and therefore the satirical guide isn't needed.
Despite the derision taking place online, the guide is one of many attempts to help incorporate refugees into their newly-adopted country. Other efforts include a guidebook aimed at refugees who already speak German, a shorter pamphlet available in 13 languages, a phone app offered in Arabic, Persian and French, and a video podcast series.
On Wednesday, German President Joachim Gauck noted during a speech at the World Economic Forum that "not all migrants have taken on board all European fundamental convictions."
"This is true in particular of some people who come from or whose families come from Muslim-majority countries, in relations to their views on, for example, the role of women, tolerance, the role of religion or our judicial system," he said.
Earlier this week, Czech President Milos Zeman stated that integrating Muslims into Europe is next to impossible.
"Let them have their culture in their countries and not take it to Europe, otherwise it will end up like Cologne," he told tabloid newspaper Blesk, referring to a string of sexual assaults perpetrated by migrants in the German city on New Year's Eve.
Meanwhile, French Prime Minister Manuel Valls has stated that "Europe may not have been conceived in order to face such [a] powerful crisis like refugees or terrorists."
"...We won't be able to solve the problem of Syria in a few days. We have to have the right means to intervene there. But we have to live with this, it's a part of our lives now, it's a challenge – history can be tragic and Europe could break up in a very short time," he said during a speech at the World Economic Forum.
That sentiment was also expressed by European Council President Donald Tusk earlier this week, who warned that Europe had "no more than two months" to get the refugee crisis under control, or else its borderless Schengen zone would collapse.
Austria temporarily suspended its adherence to the Schengen zone on Sunday, and implemented a strict monitoring process for asylum seekers. So far, 11 countries – Austria, Greece, Bulgaria, Macedonia, Hungary, Slovenia, Sweden, Denmark, Italy, Finland and Germany – have implemented some form of border control amid the refugee crisis, ranging from simple ID checks to razor-wire fences.
Efforts to assimilate asylum seekers come as Europe continues to face the worst refugee crisis since World War II, with the number of new arrivals expected to increase this year. Germany has extended an open-door policy to refugees, and has accepted more people than any other European country.
More than 1 million refugees entered Europe in 2015, most of whom hail from Syria where a civil war has claimed the lives of 250,000 people and displaced 12 million others since 2011, according to UN figures.
You can share this story on social media: