'Migrants' attack elderly Germans trying to protect woman from harassment on Munich train (VIDEO)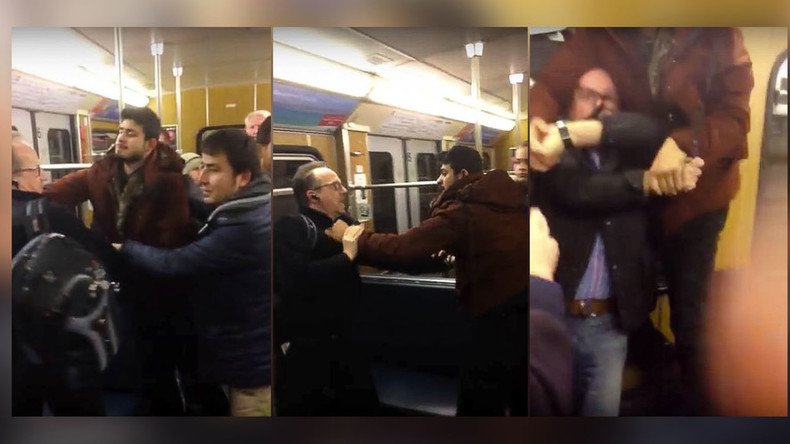 Two elderly metro passengers in Munich were attacked by a group of young men of Middle Eastern appearance last weekend as they tried to protect a woman from being sexually harassed. The alleged asylum seekers went berserk when the old men intervened.
The assault that took place on a train going from Sendlinger Tor station to the Munich city center terminal was recorded on a mobile phone by Munich citizen Tom Roth, who uploaded it to his Facebook page.
Mir reicht es jetzt endgültig mit gewalttätigen Asylanten/Asylbewerbern! Vor meinen Augen wurde zuerst eine junge Frau in der U-Bahn belästigt, dann wurde randaliert. Alte Männer, die eingreifen wollten, wurden angegriffen!Nach Wochen und Monaten voller schlechter Erfahrungen kann ich mich einfach nicht mehr beherrschen. Ich muss nun endlich mal öffentlich meine Meinung sagen.Gerade eben ist es wieder eskaliert, mitten in München, mitten am Tag. Ich stieg am Sendlinger Tor in die U-Bahn Richtung Hauptbahnhof. Ich setzte mich in einen Viersitzer, gegenüber von einer jungen Dame. Im Vierer hinter ihr saßen zwei Asylanten. Der eine davon, ein junger Mann, vermutlich arabischer Herkunft, belästigte sie anscheinend. Ich merkte es sofort, als ich ihren Gesichtsausdruck sah. Er sagte "Wieso antwortest du mir nicht auf Deutsch?" und sie erwiderte "Because you asked me in English". Ich denke er hatte seine Hand an ihrem Rücken. Sie drehte sich weg und schaute in meine Richtung. Seit Anfang an starrte ich den jungen Mann an, um ihm zu signalisieren, dass ich aufpasse.Als die Bahn los fuhr, schlug der Asylant mit voller Wucht gegen die Scheibe. Er war wohl wütend, dass sich die Frau nicht auf ihn eingelassen hatte. Mehrere ältere Herren riefen, dass er aufhören soll.Einer dieser Männer, der im Vierer links neben mir saß, wurde plötzlich von einem dritten Asylanten (mit orangebrauner Jacke) am Kopf angefasst. Er streichelte über seine Glatze, um ihn zu verspotten. Solch ein respektloses Verhalten habe ich erst selten gesehen...Ich war und bin der Meinung, dass der Dritte nicht zu den anderen Beiden gehörte. Sie redeten weder vorher noch nachher miteinander und saßen getrennt. Er fühlte sich wohl nur zugehörig, da der andere Asylant ermahnt wurde – und das passte ihm ganz und gar nicht.Als der ältere Herr an der Glatze angefasst wurde, stand er sofort auf. Der Asylant stellte sich auf die Sitze, ging zu dem Mann und packte ihn am Hals. Alle Leute standen sofort auf, viele gingen dazwischen. Da ich mein Handy in der Hand hatte, filmte ich und stand nur zwei Meter entfernt. Ich war fest entschlossen einzugreifen, falls nötig. Mein Herz raste. Als die Männer dazwischen gingen, lies der Angreifer von dem alten Herrn ab und fiel zurück in seinen Viersitzer. Jetzt standen vier Asylanten vor uns und haben uns wütend angestarrt und zwei weitere Herren gestoßen. Ich sagte, dass sie sich benehmen sollen. Neben und hinter mir standen etwa 10-15 Leute. Die Situation war unter Kontrolle. Die Bahn erreichte den Hauptbahnhof. Ich rief, dass ich die Polizei anrufe. Die anderen riefen, dass sie aussteigen sollen und das taten sie dann auch. Ich rief die Polizei nicht an, da ich mehrfach von Bekannten gesagt bekam, dass die Polizei selbst zu Opfern sagte "Wir können nichts machen!".Leider sieht man nur einen kleinen Teil der Geschehnisse im Video, aber ich habe einfach das Bedürfnis dies zu teilen.Wir anderen fuhren weiter und unterhielten uns über den Vorfall und die Gesamtsituation. Die Menschen waren sehr beängstigt. Eine ältere Dame sagte, dass man nun nicht einmal mehr tagsüber vor die Tür kann. Sie geht abends gar nicht mehr aus dem Haus. Zwei Herren sagten, dass es so nicht weitergehen kann.Noch vor zwei, drei Jahren, habe ich mich in meiner Heimat Deutschland deutlich sicherer gefühlt. Ihr nicht auch? Das finde ich erschreckend und traurig.Wir geben 1-2 Millionen fremden Menschen Sicherheit, was ich sehr schön und sozial finde. Weniger schön finde ich allerdings, dass wir damit einen großen Teil unserer eigenen Sicherheit verlieren, wie die jüngsten Ereignisse europaweit zeigen.Es tut mir wirklich leid für die wirklich hilfsbedürftigen Menschen, die unter dem Ruf der Masse und unter den Vorurteilen leiden, aber es muss etwas gegen die gewalttätigen und respektlosen Menschen unter ihnen passieren! Viele Asylanten haben keinen Respekt vor Frauen, keinen Respekt vor Männern, nicht einmal vor Alten – geschweige denn vor unseren Gesetzen und der Polizei.Ich bin absolut dafür, Menschen aus Kriegsländern zu helfen. Wir würden auch Hilfe wollen, wenn wir an deren Stelle wären. Wir dürfen aber keine Respektlosigkeit, keine Gewalt und das Ignorieren unserer Gesetze und Sitten dulden! Wir wollen unsere Sicherheit in Europa beibehalten! Jeder Asylant sollte bei der ersten Straftat aus Deutschland ausgewiesen werden; für die Sicherheit der Menschen, die ein friedliches Leben in einem Rechtsstaat wollen. In Deutschland gibt es Gesetze, an die sich JEDER halten muss, egal woher er kommt.Nachtrag:ICH DISTANZIERE MICH AUSDRÜCKLICH VON ALLEN RECHTEN SOWIE LINKEN ÄUßERUNGEN, DIE GGF. DURCH PERSONEN VERKÜNDET WERDEN, DIE DIESES VIDEO TEILEN. ICH WOLLTE LEDIGLICH ÖFFENTLICH ZEIGEN WAS PASSIERT IST.Jetzt auch auf YouTube: http://youtu.be/54vilMCux9EUpdate:Die Kriminalpolizei München ermittelt gegen den mutmaßlichen Täter mit orangebrauner Jacke, nachdem die Aussage gemacht und das Video übergeben wurde.

Опубликовано Tom Roth 30 января 2016 г.
The clip lasting less than a minute shows how several young men of middle eastern appearance attack two elderly Germans, who moments earlier had come to the defense of a young woman harassed by the same group.
After seizing the Germans by the hands and insulting them verbally, a young attacker kicks one of the old men, then holds him by the neck from behind and threatens him. The other attackers make sure none of the passengers can interfere by creating a safe zone. The second German man is seen grappling with one of the migrants.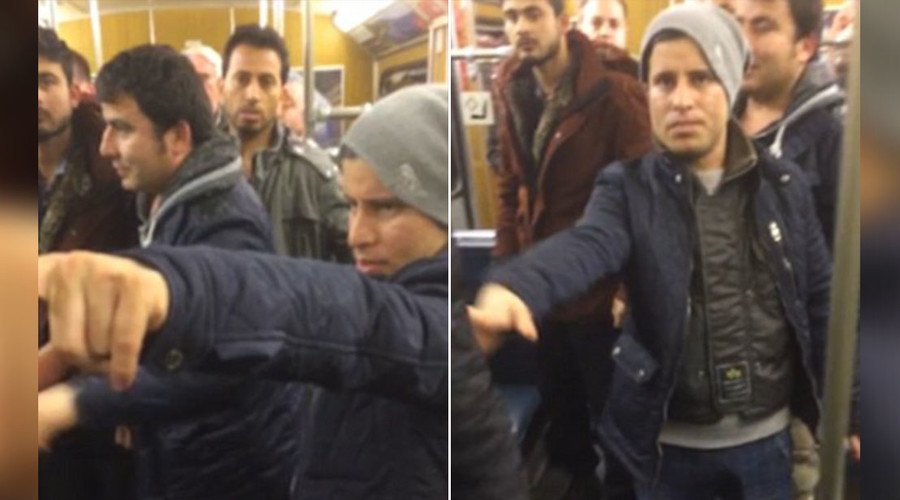 According to the author of the footage, Tom Roth, the incident broke out after a young woman rejected one of the migrant's advances, who had addressed her in English and placed his hand on her back.
After being brushed off, the harasser struck a window with full force to express his dissatisfaction, Roth recalled. This is when the old men asked the migrants to behave.
The man wearing a brown jacket acted aggressively, patting the head of one old man, who immediately stood up.
Other passengers tried to call the disrespectful asylum seekers to order.
Once the train arrived at the station, Tom Roth called the police, but law enforcement officers said there was nothing they could do.
The incident in Munich is a minor one in a series of conflicts between Germans and migrants who are arriving in Europe en masse. The country's Interior Ministry said 1.1 million refugees came to Germany in 2015. In 2016, Berlin expects 1.5 million asylum seekers to arrive.
The worst assault to date on locals in Germany took place in Cologne on New Year's Eve, where mass sexual harassment was reported, although similar attacks, allegedly pre-planned, took place in other German cities.
State Interior Minister Ralf Jager said more than 1,200 people fell victim to attacks on New Year's Eve in German cities, with more than a half of them suffering sexual assaults.
You can share this story on social media: