Over 1,200 victims of NYE assaults across Germany – State Interior Minister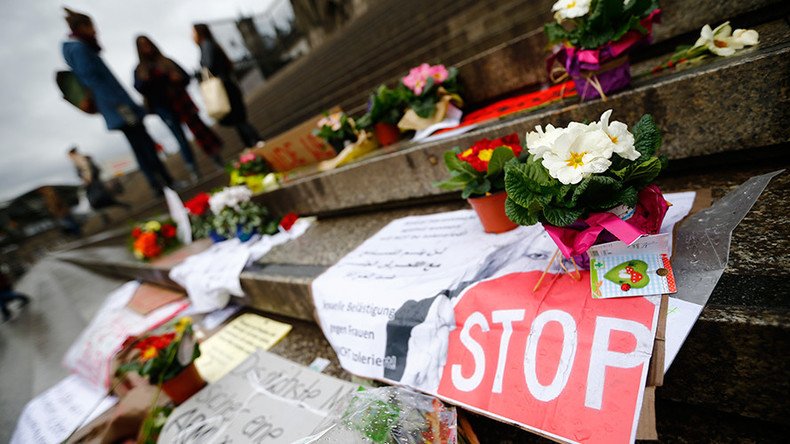 More than 1,200 people fell victim to attacks on New Year's Eve in four German cities with more than a half of them suffering from sexual assaults, State Interior Minister Ralf Jager said in his report to the regional parliament.
The number of criminal complaints linked to the wave of crimes on New Year's Eve in the German western state of North Rhine-Westphalia exceeded 1,200, according to the regional interior ministry's provisional report on the investigation process presented in the regional parliament by Jager on Thursday.
So far, the total number of identified suspects amounts to 52 people, the overwhelming majority of whom "are not German citizens,"Jager said.
In the city of Cologne alone, 1049 people have become victims of the attacks committed allegedly by men from North Africa and the Middle East with about 821 complaints being filed to police. Exactly 482 of the complaints reported sexual assaults, Die Welt reports.
30 suspects have been identified by police in relation to this wave of crimes with 25 of them from Morocco and Algeria. 15 suspects are asylum-seekers, including two unaccompanied minors. According to police, none of them were Cologne residents and eleven people were living in Germany illegally.
Most of the alleged offenders are suspected of committing thefts robberies and receiving stolen goods with only six of them being actually linked to sex crimes, German media reported citing police sources.
However, only seven suspects have been detained and put in pretrial detention facilities.
In the city of Dusseldorf, more than 100 complaints have been filed to police with about 70 of them reporting sexual attacks. In the cities of Dortmund and Bielfeld, dozens of similar crimes, including sexual assaults were also committed allegedly by men from the Middle East and North Africa with police mentioning people from Iraq, Iran, Syria and Afghanistan as well as from Albania and Bangladesh.
"Police faced a previously unknown phenomenon, when groups of young men, who are [refugees and migrants], show absolutely no respect to women and deliberately breach socially acceptable distances," Jager commented on the provisional results of investigation presented in the report, as quoted by Die Welt.
Previously German Justice Minister Heiko Maas said that the attacks could have been planned stressing that about 1000 migrants and refugees could not just accidentally gather at one place, especially in the light of crimes they allegedly committed.
The report provoked a new wave of criticism of police and regional interior ministry. In response, Jager defended the actions of police officers as well as the actions of the ministry.
"[Police] made no mistakes [on New Year's Eve], they were prepared but eventually they were outnumbered and could not cope with the uncontrollable situation," he said as quoted by the Rheinische Post.
"[Regional] police department reacted immediately as soon as the scale of attacks [on New Year's Eve] became known through the complaints [filed to the police]," he added, as quoted by Die Welt.
Jager also stressed that his ministry could make a real assessment of the situation only several days after the attacks took place in Cologne and other cities due to the ever growing number of complaints, thus dismissing the accusations of information hiding.
"The ministry has nothing to conceal. Everything should be put on the table," he said, as quoted by the Rheinische Post.
At the same time, some lawmakers met these comments with skepticism. Marc Lurbke from the liberal Free Democratic Party doubted that people still trust authorities pointing out that people's guards are being organized in some towns.
He also accused Jager of inconsistency by saying that "previously [Jager] held police fully responsible for the New Year's Eve [attacks]" and "now [he] defends police."
Earlier, North Rhine-Westphalia police was strongly criticized for both inactivity on New Year's Eve and their poor investigation of the crimes. Cologne Police chief Wolfgang Albers has resigned a week after the incident while Chancellor Angle Merkel's Christian Democratic Union proposed stricter penalties for migrants who committed crimes – including speeding up their deportation process.
Germany was not the only country that witnessed a wave of sexual assaults on New Year's Eve as similar crimes were reported in Austria, Switzerland and Finland with Swedish police earlier being accused of covering-up sex crimes reportedly committed by refugee youths.
You can share this story on social media: