'New dimension of crime': Crowd of 'Arab origin' blamed for mass sexual assaults in Cologne on NYE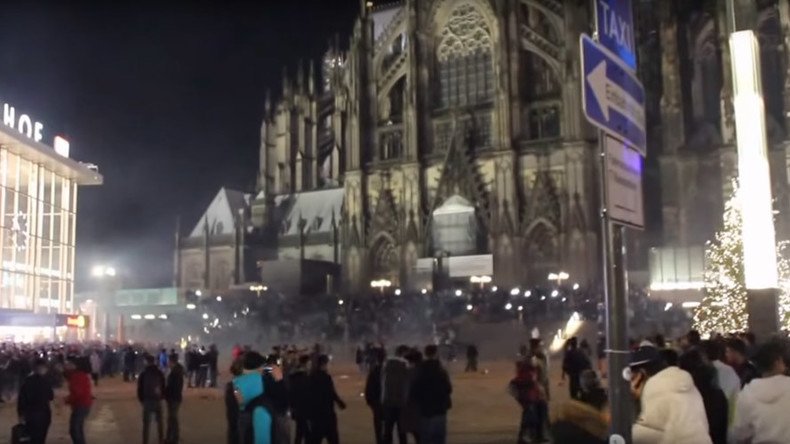 New Year celebrations in the German city of Cologne descended into chaos with a series of sexual assaults, including a rape. The attackers were described by witnesses to police as an crowd of intoxicated men of "Arab or North African" origin.
The mass attack on women "in the middle of the city" around Cologne Central Station on New Year's Eve was "an intolerable situation," Chief of Police Wolfgang Albers told reporters.
So far the authorities have received 60 complaints. The crowd, which consisted of around 1,000 men, attacked people in the city center in what Albers described as a "crime of a whole new dimension."
According to reports, heavily intoxicated men of "Arab or North African" origin flooded the city's famous square between its central train station and Gothic cathedral. Aged between 15 and 35, individuals in the crowd began throwing firecrackers and setting off fireworks as the new year arrived.
With the festivities in full swing, some men began sexually assaulting women and pick pocketing revelers. Among the criminal complaints officially filed is at least one allegation of rape.
Authorities expect more victims to come forward in the next few days. Local media meanwhile reported that at least 80 people fell victim to the gangs, 35 of whom were subjected to sexual assaults. One of the victims, named only as Katja L, told Der Express about her ordeal with the crowd of men who grabbed her buttocks and breasts.
"I was groped everywhere. It was a nightmare. Although we shouted and beat them, the guys did not stop. I was desperate and think I was touched around 100 times in the 200 meters," she said. "Fortunately I wore a jacket and trousers. A skirt would probably have been torn away from me."
To quell the New Year's disturbance in Cologne, the police deployed more than 200 officers, involving 143 local policemen in addition to 70 federal officers, The Local reported. On Sunday, police arrested five men at the station who had been accused of threatening and robbing females.
New Year's attacks have sparked a wave of criticism of Germany's handling of the open-door migrant policy, introduced by Chancellor Angela Merkel in Septembe,r which resulted in more than a million refugees entering the country.
To address the migrant threat, Cologne's Mayor Henriette Reker called in a crisis meeting for Tuesday, to deal with crimes she called "monstrous."
"We cannot tolerate this development of lawlessness," Reker told the Kolner Stadt-Anzeiger newspaper.
The state interior minister for North Rhine-Westphalia, said that swift action is needed to stop such crimes from reoccurring.
"We will not accept that groups of North African men gather expressly for the purpose of debasing women by sexually assaulting them," Ralf Jager said in an interview with the local Express newspaper.
Meanwhile, the leader of the North Rhine-Westphalia branch of Germany's main police union, Arnold Plickert, called the New Year's assaults "a massive attack on basic rights."
"Any refugees who have a problem integrating into our open society and respecting the rights of other people" must be dealt with using the "full force of the law," Plickert told German press agency DPA.
German MP Steffan Bilger from Merkel's Christian Democratic Union used the Cologne event to urge the government to change its refugee policy.
So darfs nicht weitergehen! Dringend nötig: Zuzug reduzieren, Grenzen sichern, Abschiebungen intensivieren, konsequentere Justiz. #Köln

— Steffen Bilger (@SteffenBilger) January 4, 2016
"It can't go on like this," he tweeted. "Urgently needed: reduction of influx, secure borders, intensifying of deportations and meaningful justice."
Last Wednesday the Saechsische Zeitung daily, citing unpublished official figures, reported that in 2015 Germany had accommodated nearly 1.1 million refugees, five times more than in 2014.
You can share this story on social media: