'We can do it': Merkel defends Germany's refugee policy in NY address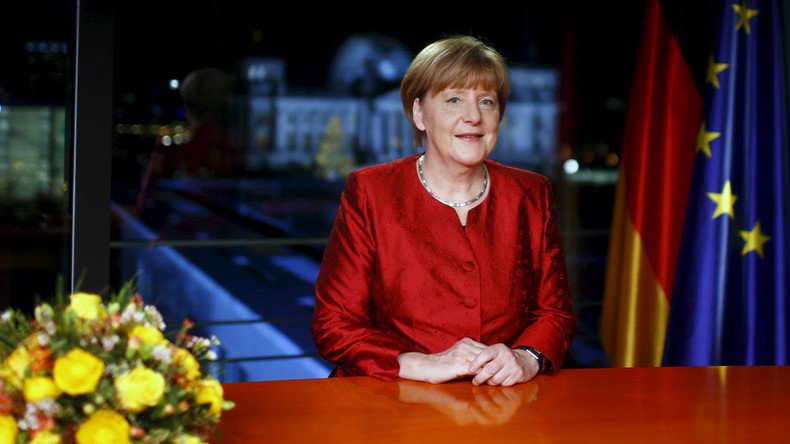 In her New Year's address, German Chancellor Angela Merkel has called for unity and solidarity across generations, social and ethnic backgrounds, and called the ongoing refugee crisis an opportunity for the country.
She said that any nation that succeeded in integrating newcomers profited from that – both economically and socially.
"We can do it," said the chancellor, adding that Germans should strike the perfect balance between being simultaneously "self-confident and free, humanitarian and open to the world" so that "our values, our traditions, our sense of justice, our language, our laws, our rules" could be applied "to all who wish to live here."
READ MORE: 'Merkel admits multiculturalism in Germany a failure, yet continues to accept refugees'
In the meantime, the majority of refugees arriving in Germany and the EU in general are experiencing problems integrating into society.
Germany's Federal Employment Agency stated in October that 81 percent of asylum seekers are "without formal qualifications," the Junge Freiheit daily reported, citing a nine-page report entitled "Refugees in Germany: Take responsibility, identify opportunities."
READ MORE: Over 80% of asylum seekers in Germany unqualified - report
The agency has reportedly calculated that, due to the looming asylum crisis, there will be at least 400,000 additional welfare recipients in the coming year.
Though Merkel did not mention movements such as PEGIDA (Patriotic Europeans against the Islamization of the Occident) in her address, she urged citizens to resist "those with coldness, or even hate in their hearts, and who claim the right to be called German for themselves alone and seek to marginalize others," Deutsche Welle cited Angela Merkel as saying in the address.
Yet 2015 has witnessed a record jump in support for right-wing forces across Europe on the back of the worst refugee crisis on the continent since WWII. Merkel's cabinet has backpedaled furiously in the past several months, reintroducing border controls, putting more and more countries on blacklists, and making it more difficult for migrants to secure permanent residence.
Merkel's popularity has wavered, and her coalition partners have dismissed the open-door policy as a "grave mistake."
German Foreign Minister Frank-Walter Steinmeier accused right-wing parties of encouraging hate crimes against asylum seekers. He warned against exploiting the refugee issue in an attempt to win votes, calling it "dangerous" due to the "drastic increase in right-wing violence in Germany."
"It is important that we do not let ourselves be divided. Not into generations, not into social groups, and not into those that are already here and those that are new citizens," Merkel said, calling the arriving asylum seekers Germany's "opportunity for tomorrow."
In the meantime, there have been than 200 arson attacks on refugee shelters registered in Germany this year.
On Wednesday the Säechsische Zeitung daily reported, citing unpublished official figures, that in 2015 Germany had accommodated nearly 1.1 million refugees, five times more than in 2014.
To curb the refugee crisis, the German military has dispatched up to 9,000 soldiers (about 5 percent of the Bundeswehr) to deal with the situation.
To help hundreds of thousands of school-age refugees who have arrived in Germany this year, authorities have had to open thousands of additional classes and hire over 8,500 tutors to integrate the newcomers, Die Welt newspaper reported earlier this week.
German authorities estimate the total number of school-aged newcomers in 2015 to be around 325,000 children. According to the DPhV union, up to 20,000 additional teachers will be needed to cover the existing educational gap and cope with expected arrivals.
"There is no question that the influx of so many people will keep demanding much of us. It will take time, effort and money," Merkel said.
So far, Chancellor Merkel has pledged to allocate an extra £12.5 billion ($18.5 billion) to help displaced persons seeking asylum in Germany.
Her New Year's address was pre-recorded on December 30 and is going to be aired in full on public television on December 31.
You can share this story on social media: