UN panel urges Ireland to legalize abortion, end 'cruel, inhuman treatment' of women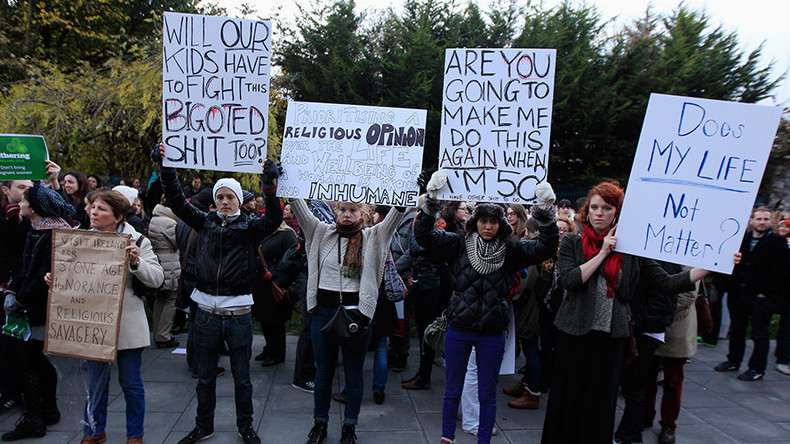 A United Nations panel has slammed Ireland's ban on abortions, urging the country to allow legal and safe termination of pregnancies. It cited a specific case in which a woman was barred from aborting a fetus with a fatal defect.
Independent experts from the Geneva-based UN Human Rights Committee have called on Ireland to "amend its law on voluntary termination of pregnancy, including if necessary its constitution, to ensure compliance with the [International Covenant on Civil and Political Rights (ICCPR)], including effective, timely, and accessible procedures for pregnancy termination in Ireland."
It went on to state that Ireland should "take measures to ensure that healthcare providers are in a position to supply full information on safe abortion services without fearing being subjected to criminal sanctions."
The committee's findings come after a complaint from a woman in Ireland. She was forced to choose between carrying her fetus to term, knowing it would not survive, and traveling to a foreign country for a termination.
The woman, known as "AM," ultimately chose to travel to the UK for an abortion, returning to Ireland just 12 hours later because "she could not afford to stay longer."
Once home in Ireland, the woman was "denied the bereavement counseling and medical care available to women who miscarry," the Office of the United Nations High Commissioner for Human Rights (UNOHCHR) wrote on its website. "Such differential treatment, the committee noted, failed to take into account her medical needs and socio-economic circumstances and constituted discrimination."
"Many of the negative experiences she went through could have been avoided if [she] had not been prohibited from terminating her pregnancy in the familiar environment of her own country and under the care of health professionals whom she knew and trusted," the committee said.
It said that the woman "was subjected to discrimination and cruel, inhuman or degrading treatment as a result of Ireland's legal prohibition of abortion."
It went on to state that Ireland, as a country which has ratified the ICCPR, is obliged to provide the woman with compensation and any psychological treatment she may need.
The head of Amnesty International Ireland, Colm O'Gorman, expressed a similar conclusion, saying: "The Irish government must take its head out of the sand and see that it has to tackle this issue."
The committee's finding was also praised by the US-based Center for Reproductive rights, which called it a "ground-breaking ruling" about Ireland's "cruel and inhumane" abortion laws that "violate women's rights."
Abortion laws in Ireland, which is majority Roman Catholic, are among the most restrictive in the world. Pregnancy termination is only allowed if the mother's life is at risk – a stipulation that was only put in place in 2013, following vociferous street protests.
Pro-choice activists are rallying to abolish the eighth amendment of Ireland's constitution, which grants equal right to life of the mother and her unborn child. At the very least, they are pushing for abortions in cases of rape, incest, and fatal fetal abnormality.
Figures published last year showed that at least 10 Irish women and girls travel to the UK every day to obtain abortions. More than 3,700 traveled from the Republic of Ireland to Britain in 2014, while a further 837 came from Northern Ireland.
That same year, the Irish Cabinet set up a commission to investigate how mother and baby homes were run between the 1920s and the 1960s, including allegations of illegal vaccine trials and forced adoptions. Such homes provided shelter for women who became pregnant outside of marriage and were subsequently ostracized by Catholic society.
Ireland's new minority government has resisted calls to directly loosen the country's abortion laws, leaving it to a citizens' assembly which will be established by the end of the year to recommend any changes to legislation.