Reproductive rights at risk as Catholic groups run more hospitals, report says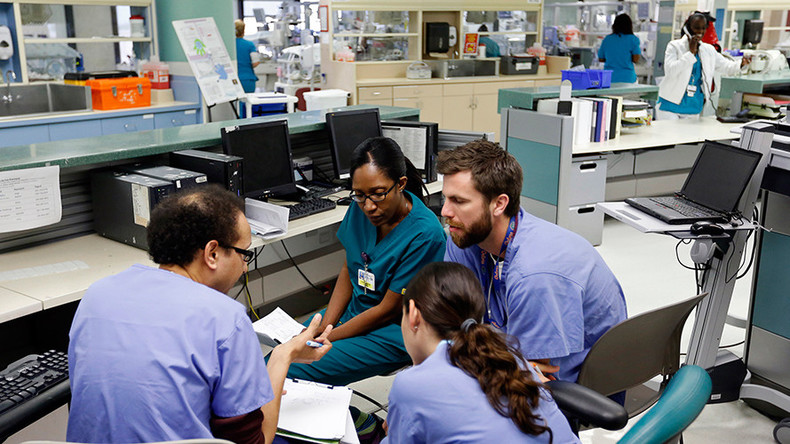 The number of American hospitals either owned or affiliated with Catholic health organizations continues to grow, meaning that women's access to many reproductive procedures may be restricted, a new report states.
There are 548 Catholic-owned or affiliated hospitals in the US, which account for about 14.5 percent of all short-term acute care facilities in the country, according to a new report from MergerWatch, an advocacy group that pushes for patient care free from religious practices or guidelines.
That number is up notably from 449 in 2001, with Catholic-connected facilities now providing more than 16 percent of all hospital beds in the US as a whole, and more than 40 percent in five states: Alaska, Wisconsin, Iowa, Washington, and South Dakota. In Alaska, almost half of all hospitals are Catholic-owned or affiliated.
In other states such as Colorado, Nebraska, and Oregon, Catholic-owned or affiliated hospitals provided more than 30 percent of all beds.
According to MergerWatch and the American Civil Liberties Union, which helped create the report, the concern stems from the fact that these hospitals follow directives outlined by the US Conference of Catholic Bishops, which prohibit medical procedures that could prevent or end pregnancies, with some rules also preventing patients from receiving sperm or egg donations from individuals other than their spouses.
Although not all hospitals adhere to each and every directive, MergerWatch stated that many women may not be able to receive procedures such as abortions or tubal ligation, also known as getting one's tubes tied.
"In general, Catholic hospitals provide excellent care," Lois Uttley, director of MergerWatch and an author of the report, told Reuters. "Our concern is with these restrictions with reproductive healthcare."
In its own report, the ACLU criticized the policies of these hospitals, saying they deny women treatment even in cases where their lives may be in danger, despite receiving billions in taxpayer dollars.
The ACLU documented several cases in which women were denied treatment that they had requested, such as when 30-year-old Jennafer Norris from Arkansas asked for a tubal ligation due to complications from her pregnancy. She wanted the procedure after her child was delivered, when it's easiest to perform, but the hospital said it couldn't provide it due to the Catholic institution's policy against sterilization. She was told she'd have to go to another hospital if she wanted to have her tubes tied.
As part of the report, the ACLU urged the Centers for Medicare and Medicaid Services to release a statement reiterating that all hospitals must provide emergency reproductive health care regardless of their religious affiliation. It also wants to see the agency investigate Catholic hospitals for possible violations of federal law, and calls for legislative changes to ensure women can receive the treatment they want.