What reproductive rights? Okla. governor vetoes bill banning abortions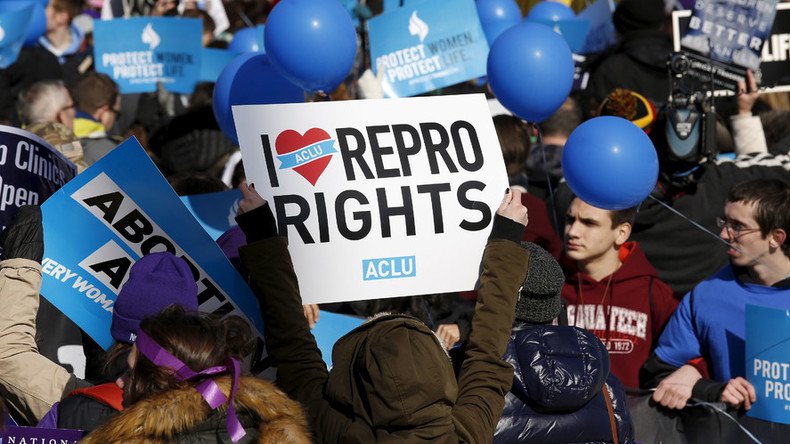 Lawmakers in Oklahoma aim to criminalize the performance of abortions in their state. The state Senate passed a bill on Thursday that would revoke the medical licenses of physicians who assist in abortions, punishing them with up to three years in jail.
The bill, which has been called unconstitutional and unprecedented, was vetoed by Republican Governor Mary Fallin on Friday, KFOR reported. The veto came even though she approved a 72-hour waiting period for abortions in 2015.
In addition, in April of 2015, Fallin banned the safest and most common medical procedure for carrying out second trimester abortions, known as the "dismemberment abortion," which involves dilation and evacuation procedures. The law was subsequently thrown out by the Supreme Court as unconstitutional and a violation of Roe v Wade.
While this bill, if signed, will likely meet a similar fate, it is one of the first to directly attack physicians who carry out abortions.
SB 1552 defines the performance of an abortion as "unprofessional conduct." The bill also prohibits a number of other practices, including "Procuring, aiding or abetting a criminal operation," "The writing of false or fictitious prescriptions for any drugs or narcotics," and "Engaging in physical conduct with a patient which is sexual in nature, or in any verbal behavior which is seductive or sexually demeaning to a patient."
Abortion, a legal procedure in the US, is 20th on the list.
The bill does make allowances for abortions if the mother's life is in danger. However, it ensures that "No such condition may be determined to exist if it is based on a claim or diagnosis that the woman may engage in conduct which she intends to result in her death."
In short, that means that a physician may not perform an abortion on a woman even if she is so desperate that she threatens to kill herself.
The bill has passed both the Oklahoma Senate and the House of Representatives.
"Since I believe life begins at conception, it should be protected, and I believe it's a core function of state government to defend that life from the beginning of conception," State Senator Nathan Dahm told the Associated Press.
Dawn Laguens, Executive Vice President of Planned Parenthood Federation of America, released a statement to address the bill, saying, "Punishing doctors for performing a legal, medical procedure is an assault on women."
The Oklahoma State Medical Association does not seem pleased with the proposed law, either. While not specifically denouncing it, the group did say it would "oppose legislation that is designed to intimidate physicians or override their medical judgment."
You can share this story on social media: