Drone buzzes past Ottawa Airport, 2 fighter jets scrambled an hour later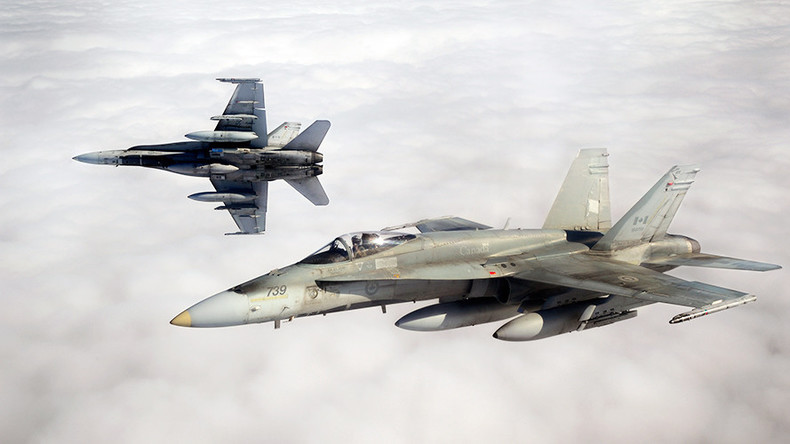 A suspicious unmanned aerial vehicle near the Canadian capital's international airport prompted a visit by two CF-18 fighters, local media have revealed.
The drone was spotted by the pilots of flights WestJet flight 366 and Air Canada flight 458, both en route to Ottawa Airport from Toronto, on May 25. The pilots immediately contacted the airport tower.
"Just to let you know, we just flew pretty close to a drone at 6,700 feet," CBS News said, citing the WestJet pilots' report to air traffic controllers. The latter ordered the flight to proceed on its route and land as scheduled.
Just minutes after the initial incident, Air Canada pilots flying an Airbus A320 also mentioned the presence of an unidentified object in the airport's airspace.
An hour later, two McDonnell Douglas CF-18 Hornet fighter jets were scrambled from Base Bagotville in Quebec, a spokesperson for the Department of National Defense said. The pilots failed to spot the intruder and had to return to the base.
The Royal Canadian Mounted Police are investigating the incident.
Less than two weeks after the alarm was raised a "large drone" was spotted near Ottawa Airport once again, flying at the same altitude of 6,700 feet.
The pilots of an Air Canada passenger jet flying at 8,000 feet spotted a drone about 1.8 kilometers to their left and 2,000 feet below them. The drone was heading southeast at a speed of no more than 55 kmp/h and disappeared from the airport's radar at about 4:55pm.