Onslaught on ISIS: Syrian Army enters Raqqa province as Kurds, rebels advance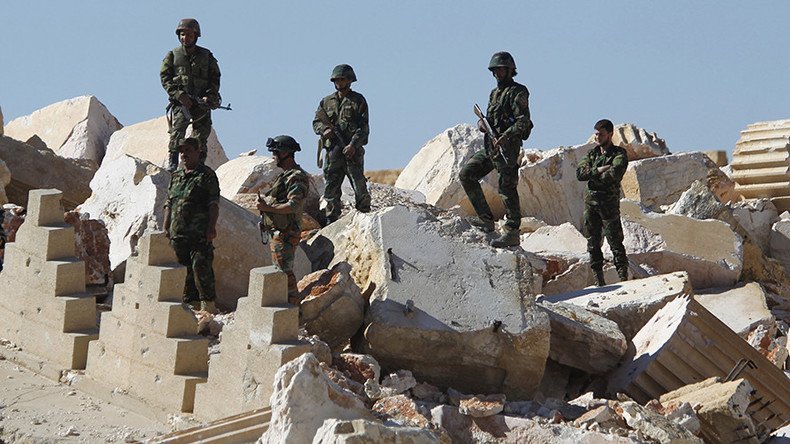 Russian-backed Syrian troops have reportedly advanced into Raqqa province after defeating Islamic State militants in a fierce battle on Friday. The offensive coincides with Kurdish and rebel forces pressing terrorists in Syria and Iraq's move on Fallujah.
Troops loyal to President Bashar Assad have been rapidly advancing on Islamic State's (IS, formerly ISIS/ISIL) Syrian stronghold of Raqqa, claiming a victory over IS fighters at the Zakiyah Crossroad, the strategic area at the border between Hama and Raqqa provinces, Al-Masdar News reported from the ground.
Syrian forces reportedly managed to recapture over 35km (21.7 miles) of land en route to Raqqa within two days.
Following the military breakthrough, the Syrian Army and pro-government armed groups reportedly liberated the village of Abu Al-Allaj.
According to al-Akhbar newspaper, the imminent goal of the Syrian Army offensive, which is supported by Russia from the air, is to reach the town of Tabqa, which lies just 50km from Raqqa. Tabqa was seized by IS in August 2014, forcing Syrian troops out of Raqqa province.
Earlier on Thursday, the Syrian Army announced it would launch an offensive either in the direction of Deir ez-Zor or Raqqa, without specifying the details of the operation, Reuters reported.
Meanwhile, Russian jets have intensified strikes on IS targets near the Syrian-Turkish border, cutting off the illegal smuggling of oil, which has been a chief lifeline for the terrorists. A video released by the Russian Defense Ministry this week showed Su-34 bombers destroying an IS-occupied oil-refining plant near the Syrian city of Ras al-Ayn.
Elsewhere, the Kurdish-led YPG militia along with the Democratic Forces of Syria (SDF), backed by US airstrikes, have recaptured the "Manbij pocket" – a strip of land considered to be the main IS supply route on the Syrian-Turkish border. The SDF managed to liberate two villages on Friday, the Syrian Observatory of Human Rights claimed, which would bring the number of villages under its control to 28.
Earlier it was reported that US-led coalition aircraft had dropped ammunition and weapons to Syrian rebels fighting IS near the town of Marea in Aleppo province. The area has recently been the scene of violent clashes between US-backed rebel forces and IS militants.
Also on Friday, the US Navy hit Islamic State targets in Syria and Iraq from the Mediterranean, in a first airstrike launched from the sea since the Iraq War.
READ MORE: 'Lack of Iraqis': 17-month US effort failed to retrain Iraqi army
"While the Harry S. Truman Carrier Strike Group is in the 6th Fleet area of operations, they continue to project power ashore against terrorists and violent extremists," said Vice Admiral James Foggo III, commander of US 6th Fleet.
What appears to be a decisive offensive against IS in Syria coincides with the Iraqi operation to retake Fallujah, the terrorist group's stronghold in Iraq. While the offensive has been stalled due to tens of thousands of civilians being used as human shields by IS, sources claim Baghdad is confident the city will be retaken "within a week."
READ MORE: Baghdad's envoy demands Turkish troops out as Iraqi forces vow to free Fallujah 'in a week'


You can share this story on social media: