'Lack of Iraqis': 17-month US effort failed to retrain Iraqi army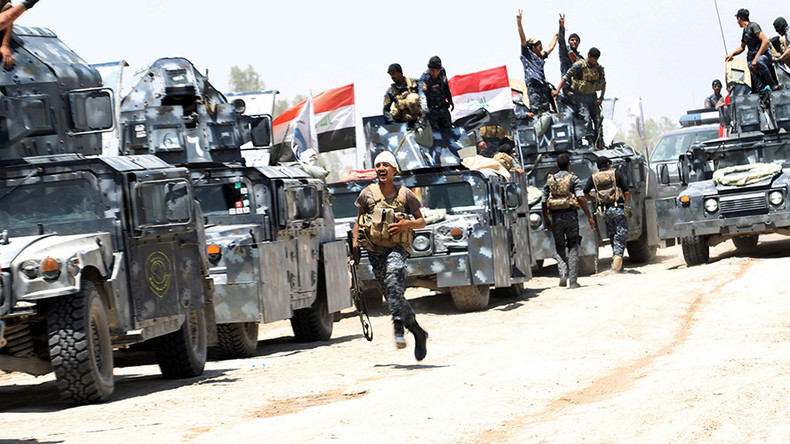 In a blow to a central component of the US military's strategy in the Iraq/Syria region, current and former US military officials said efforts to retrain and reunify Iraq's regular army have failed to create enough combat units or limit sectarian militias.
"The Iraqi military's capacity hasn't improved that much – part of that is the continuing challenge of recruitment and retention," retired US Lieutenant General Mick Bednarek told Reuters in an exclusive story.
Bednarek led the US military's training programs in Iraq from 2013 to 2015. He said that, despite having 4,000 US soldiers for instructors, they faced multiple challenges, as very few Iraqis were willing to join the military and low-level Iraqi officers resisted sending units for American training.
Military officials estimated that, as of October, only five Iraqi army divisions were ready for battle, with combat readiness hovering at 60 to 65 percent.
Not much has improved in the eight months since he left, Bednarek said. However, on a positive note, he did say that the most effective fighting force in the region is the US-trained Iraqi Special Operation Forces. That unit has been fighting Islamic State (IS, formerly ISIS/ISIL) for nearly two years and has reclaimed territory from the insurgents in Baiji and Mosul with the help of Shi'ite militias. Iraqi military operations are also being conducted in some other areas, but they are mainly being led by a Shi'ite military leader.
US officials say Salahuddin province, located north of Baghdad, is dominated by Shi'ite leader Abu Mehdi Mohandis, who is well known to the US government, as he previously served as chief state administrator for Shi'ite paramilitary forces and was sanctioned by the US Treasury for allegedly attacking US forces in 2009.
Moreover, according to US officials, the Fifth Iraqi Army Division in the eastern Diyala province is considered to be under the dominance of the Badr group, which has ties to Iran's Islamic Revolutionary Guards Corps.
US officials estimate that 10 to 20 percent of the 300 officers that run Operations Command have ties to both of the militia leaders.
The lack of a strong regular Iraqi army ensures that militias remain the dominant players and also places additional responsibility on Iraqi Special Forces.
"The Government of Iraq has relied heavily on the Iraqi Special [operation] Forces and the potential for these forces being depleted into combat ineffectiveness is a real concern," US military spokesman in Iraq Colonel Chris Garver told Reuters.
"Recruiting and funding have both been well-documented challenges for the GOI [Government of Iraq]. These are the areas GOI must address," added Garver.
Iraqi Defense Ministry spokesman Brigadier Rasool told Reuters he rejected the criticisms of the Iraqi army and denied that it was less effective than the Special Forces unit.
"We have troops who were able to retake land from Daesh," Rasool said. "After the fall of Mosul, the Ministry of Defense's joint command has resupplied and retrained the Iraqi security forces."
You can share this story on social media: