US launches airstrikes on ISIS from Mediterranean, for 1st time since Iraq War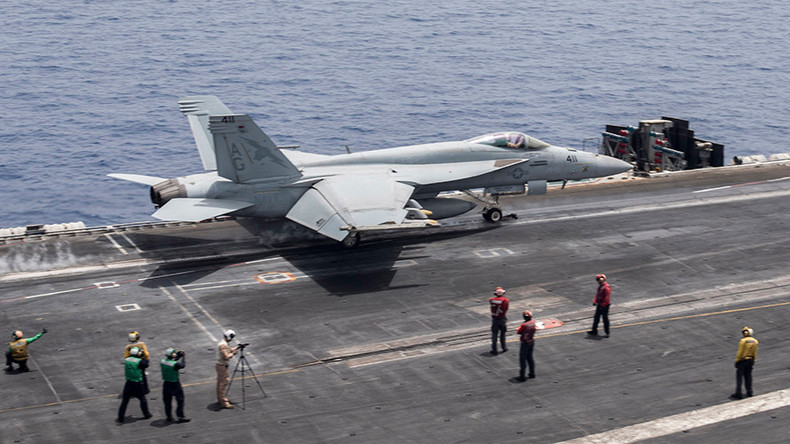 The USS Harry Truman has begun hitting Islamic State's targets from the Mediterranean Sea. It was the first time a carrier group has launched airstrikes from the area since the 2003 invasion in Iraq.
Fighter jets conducted combat sorties from the aircraft carrier in support of Operation Inherent Resolve on Friday after transiting the Suez Canal the day before, US Naval Forces Europe-Africa said in a statement.
"While the Harry S. Truman Carrier Strike Group is in the 6th Fleet area of operations, they continue to project power ashore against terrorists and violent extremists," Vice Admiral James Foggo III, commander of US 6th Fleet, said in a statement.
"This exemplifies our Navy's mobility, flexibility and adaptability, as well as our commitment to execute a full range of military operations in concert with our indispensable European allies and partners."
Friday's airstrikes mark the first time an American carrier has hit targets on the ground from the Mediterranean since 2003, when the USS Truman was deployed in the region during the US invasion in Iraq.
The five-ship USS Truman strike group is returning from an eight-month deployment in the Persian Gulf. However, the Pentagon extended the deployment of Carrier Air Wing 7 for one more month to reduce a gap with its replacement, the carrier USS Dwight D. Eisenhower.
READ MORE: 'Stepping up the fight': US Navy aircraft carrier heads to Middle East to battle ISIS
Earlier in the day, the USS Eisenhower headed to the region with around 7,000 service members on board.
"The Dwight David Eisenhower Strike Group deploys to relieve the Harry S. Truman Strike Group and will be supporting air strikes against ISIS, answering the nation's call and stepping up the fight," said Admiral Phil Davidson, head of Fleet Forces Command, according to Navy Times.
The aircraft carrier nicknamed "Ike" was supposed to have set sail back in November, but its departure was delayed, and the USS Truman headed out in its place. The "Ike" was undergoing repair work, which took almost two years to complete.
You can share this story on social media: