Russian fighter jets destroy ISIS oil facilities close to Turkish border (VIDEO)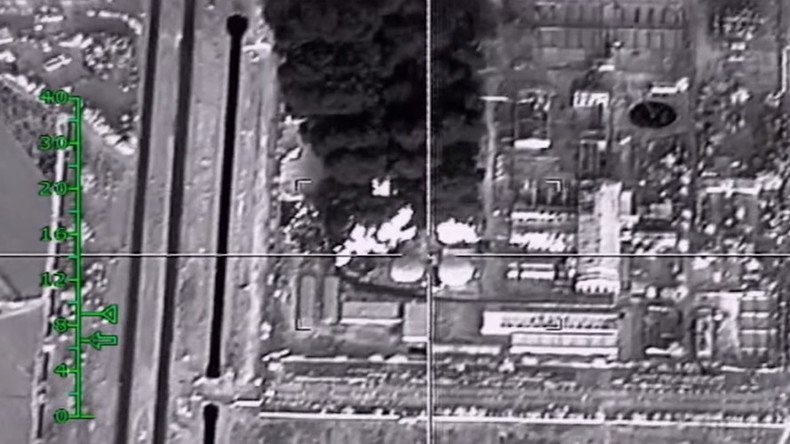 Russia's defense ministry released a video of Su-34 bombers destroying an Islamic State oil-refining plant near the Syrian city of Ras al-Ayn on the border with Turkey, as Russia intensifies airstrikes on the terrorists' oil smuggling routes.
The video released on Thursday shows Russian jets hitting oil reservoirs located on territory under Islamic State (IS, formerly ISIS/ISIL) control.
"Strikes took technical equipment out of operation and inflamed oil products, causing a large fire at the plant," reads the bulletin of the Russian Centre for reconciliation of opposing sides in Syria from June 1.
Russia has repeatedly blamed Turkey for enabling IS and other militant groups to conduct illegal oil trade. Addressing the students of Belarusian State University earlier in May, Russia's FM, Sergey Lavrov, argued that "Turkey did nothing to stop" the smuggling of oil, artifacts, and other goods through the porous Turkish-Syrian border. Moreover, there is "reason to believe that it [Turkey] even benefited from this."
The new strike is part of intensified efforts by Russia to cut the funding of the terrorists' activities in Syria.
General Sergey Rudskoy, chief of the main operations department of the Russian General Staff, said last week that the Russian air force had increased its "airstrikes against illegal oil production sites and smuggling routes to Turkey."
READ MORE: Putin hopes Russia-US cooperation will lead to fundamental changes in Syria
On May 31, Russia carried out strikes near the Syrian city of Al-Taura, only 42 kilometers [26 miles] from Raqqa, Islamic State's stronghold. Bombers "destroyed illegal terrorists' oil production facilities" during the operation, the ministry of defense said.
Russia launched a major anti-terrorist campaign in Syria on September 30, 2015, at the request of President Bashar Assad. The bombing campaign proved to be a success, destroying more than 200 oil producing and refining facilities that had been seized by terrorists.
Russia's Security Council deputy head, Evgeny Lukyanov, estimated that up to 28,000 Islamic State and Al-Nusra Front militants were killed in the Syrian Army and Russian air forces' joint operation, amounting to roughly 35 percent of their total number in Syria.
With the support of Russia's air strikes, Syrian troops managed to liberate the city of Palmyra in March. More than 500 populated areas in total have been recaptured from the hands of the terrorists, said Russia's President Vladimir Putin, noting that Russia's involvement in the conflict helped to "achieve a radical turn in the battle against militants."
Although Russia ended its campaign and withdrew the main part of its forces from Syria in March, it has maintained a military presence in the country, in particular at the Tartus and Khmeimim airbases, with the objective of assuring that all parties to the ceasefire regime brokered with the US on February 27 are in compliance. While the US-led coalition and Russia have agreed not to target armed opposition groups that joined the truce, Islamic State, Jabhat al-Nusra, along with other internationally recognized terrorist groups, were excluded from the agreement.
You can share this story on social media: