'Washington supporting Kurds: division between US & Turkish interests'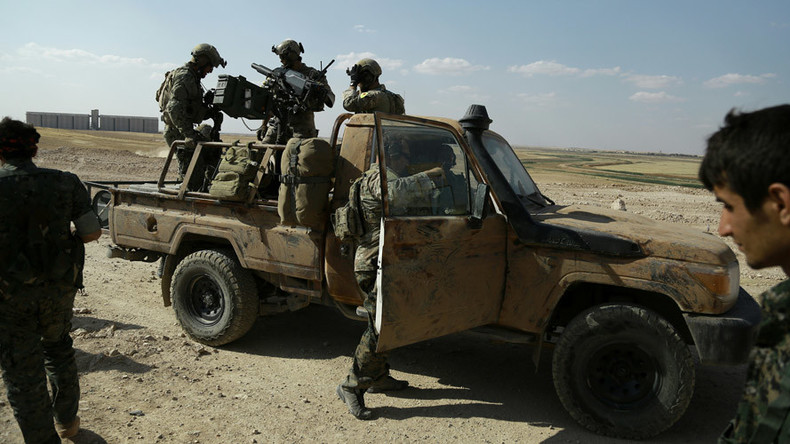 The fact the US supports the Kurdish militia YPG, which Washington's other ally Turkey considers to be terrorist organization, poses a political dividing line between US and Turkish interests, Michael Maloof, former Pentagon officer, told RT.
US special forces were photographed by an agency reporter for AFP in Syria helping Kurdish fighters, as they advance on Islamic State's (IS, formerly ISIS/ISIL) de facto capital, Raqqa.
RT: Washington claims US troops in Syria are only consulting local forces, and not engaging in combat. So why have they been pictured with guns?
Michael Maloof: Well, they are there to advise and assist, but they are also there to protect themselves, as well as provide the kind of training that the Kurds would need to ultimately use that equipment. There is no question about it – we have troops on the ground there, special forces. I've talked to Syrian Kurds here in Washington – they agree that they are not only there assisting – they are actually engaged.
We had a recent case where a special forces officer was killed as a result of direct conflict with ISIS. They are engaged in conflict, but their primary role is advising and training. But they're right up there in the front, and that is the only way they can make sure that they are able to accomplish their mission and be able to defeat ISIS. In fact, one of the Kurds told me that they are quite successful, because they are able to defeat ISIS because of that training and assisting that they are getting. In some cases it requires direct action by SOF officers – Special Operation Forces.
RT: The Pentagon said US forces are wearing YPG badges to blend in, but it's been revealed they're not authorized to do so. Could they be involved in other unauthorized acts in Syria?
MM: They are being authorized to do what they are doing, it is just that the frontlines shift: what is a frontline in one moment, [the next moment] actually may be in the middle of the conflict. That is what happened recently with the SEAL who was killed, named Charles Keating. ISIS attacked the rear of the Kurdish forces, and they found themselves directly engaged in combat, as a consequence – completely outgunned as a result. They were not there to be actually engaged in combat. But the fact is that they are there, they are engaged in combat, and when you listen to Colonel Steve Warren in Iraq – he says: "Our troops are there, they're engaged in combat." Even though there are boots on the ground that are there to advise and assist – they are engaged in combat.
I don't know of any indication yet of having private military contractors in there and that is also a possibility. We may be bringing in some private military contractors. They try to blend in; they will try to wear the uniforms of the folks that they are working with, and that is understandable. When you look at the pictures you see the sophistication of some of the equipment that the US forces are wearing, so it leaves no doubt that they are very well equipped.
They are also there to guide the aircraft in to hit the positions. I do know that the Kurds were in town in Washington here about two week ago, and they were appealing for even more military assistance and humanitarian aid, because they'd been able to secure that area up there pretty much, around the Raqqa area. The State Department reaction was, however, polite, but non-committal.
The reason for that is that there is a geostrategic and political reason, and that is Turkey. The Turks are watching this very, very closely. But the reality is that the Kurds are the only ones who are actually engaging on the ground, and there are Arabs involved in there, as well. They are securing the area. The Kurds believe the area is secured sufficiently that they are able to bring in some of the internally displaced persons up into that region for their protection away from harm's way.
RT: Turkey considers the YPG, People's Protection Units, a terrorist group, but US forces are wearing the badges. Is it almost like a provocation?
MM: It's not necessarily a provocation, but it does represent a potential dividing line between US interest and Turkey's interest. US interests are to support the ground troops. We purposely haven't declared the YPG to be terrorists, because they are not, even though there is that affiliation with the PKK [Kurdistan Workers' Party].
Erdogan over in Turkey has shown his colors by being very indiscriminate against all Kurds now within the country, and that is creating even greater problems. So Erdogan is creating his own problems with the Kurds, and I think it's going to blossom into a full-fledged conflict within Southeast Turkey if that continues. That is why when the Syrian Kurds were here in Washington a few weeks ago, Washington acted non-committal, but polite to them [regarding] increased military assistance. But there is going to continue to be that military assistance as long as our guys are in there and supporting them in that training and advisory role.
You've got Peter Cook who is Pentagon spokesman walking a very delicate line there, because, mindful of the Turkish reaction, should we ever come out and give full-fledged support to the Kurds, which, in my personal opinion, we should be doing.
The statements, views and opinions expressed in this column are solely those of the author and do not necessarily represent those of RT.
You can share this story on social media: