Pakistani clerics offer guide on how to beat wife… 'lightly'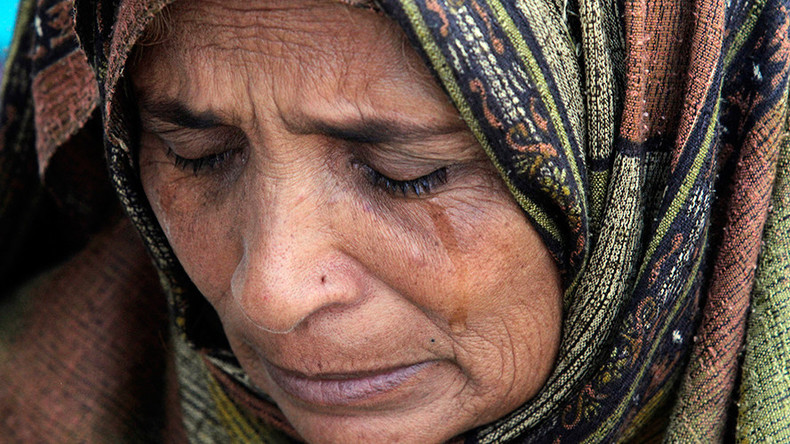 A husband has the right to beat his wife "lightly" if she disobeys him, according to a Pakistani religious body. The organization's top cleric later added that a handkerchief, hat or turban could be used to hit spouses.
The advice is part of a 163-point legislation proposed by the Council of Islamic Ideology (CII) in Pakistan, local media reported Thursday. Copies have been sent to all provincial assemblies.
"A husband may, when needed, lightly beat his wife," the bill said, as cited by Dawn newspaper, adding that "three consecutive declarations of divorce [by women] will be punishable."
The CII-proposed bill also includes plans to regulate breastfeeding and contraception.
"Mothers must breastfeed for two years," "A ban on advertisements for baby formula/substitutes for breast milk," "A woman cannot use contraception without the husband's permission" – these are a few recommendations listed on the proposed legislation.
READ MORE: Pakistani woman burned alive for leaving home without permission
The head of the council later hurried to explain that "light beating" is not violence towards women and proposed routines how to bring a spouse back to "compliance."
"Do not try to relate our proposal [on beating women] with violence. Light beating does not mean violence," said Mualana Muhammad Khan Sherani, chairman of the CII, as cited by the Express Tribune newspaper.
If the husband wants his wife "to mend her ways," he "should first advise her," Sherani said.
"If she refuses, stop talking to her. Still, if she does not show compliance, stop sharing a bed with her, and if things do not change, get a bit strict."
READ MORE: Disabled Pakistani girl may face death penalty for allegedly burning Koran
"Hit her with light things like a handkerchief, a hat or a turban, but do not hit her on the face or private parts. And the beating should not cause any kind of physical damage or even scratches. Resort to light stuff, nothing serious."
The proposal provoked anger among Pakistani society. Human rights activist and academic Farzana Bari, from Quaid-i-Azam University, in the Pakistani capital Islamabad, said the bill would take Pakistan "further into ignorance."
"Allowing a husband to beat his wife, in any way, is against Pakistan's Constitution and the international laws and treaties that Pakistan has signed and is bound by. This Council is a burden on the Pakistani taxpayer and brings a bad name to Muslims throughout the world," she said, as cited by Dawn.
According to Raheela Khadim, chair of the Punjab [Pakistani province] Legislative Assembly, the legislation differs from Punjabi law.
"Through their proposed recommendations they have reflected their mindset… We are talking about holding wife-beaters accountable and they are proposing something in complete contrast" she added.
The recent bill was proposed after the CII rejected legislation from Punjab's Protection of Women against Violence Act (PPWA) 2015, calling it un-Islamic.
The bill also looks into other aspects, for instance, proposing to classify an abortion after 120 days as murder or banning women from working in "vulgar" advertisements (what is meant by "vulgar" is not elaborated).
The CII will deliberate the proposed bill in the coming days. If approved, it will be transferred from the constitutional body to the parliament – although there is no obligation to consider its recommendations.