Disabled Pakistani girl may face death penalty for allegedly burning Koran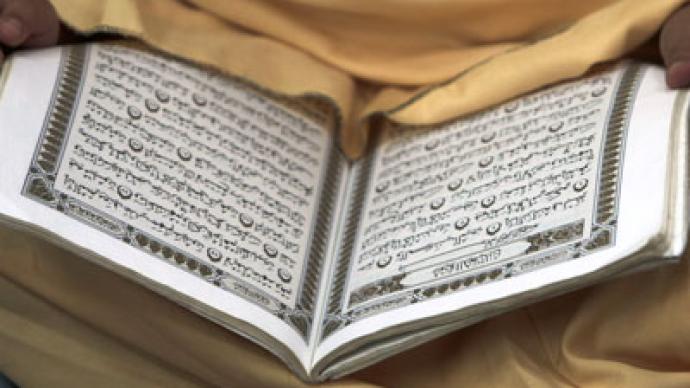 A young Christian girl with Down syndrome has been charged with blasphemy in Pakistan after she reportedly burnt the pages of a Koran. If convicted, she may face the death penalty.
Rifta Masih was detained on Thursday outside the country's capital of Islamabad. The arrest was prompted by angry complaints by the girl's neighbors. Masih was beaten by local Muslims after they witnessed her allegedly torching pages of the sacred book, Pakistani English-language newspaper the Express Tribune reported.The incident immediately triggered demonstrations, with crowds of 600 to 1,000 Muslims estimated to have blocked the local Kashmir Highway. The police initially refused to take action against the girl, but the gathered crowd forced them to arrest her. Masih reportedly wasn't able to properly respond to police questioning.Masih may be as young as 11, though a police official told AFP that the girl was in her teens.Paul Bhatti, Pakistani Minister for National Harmony, told the BBC that the girl was known to have a mental disorder, and that it seemed "unlikely she purposefully desecrated the Koran."The Women's Action Forum, a major Pakistani women's rights organization, condemned the beating and arrest, saying they were "outraged at the total inhumanity of the men who lodged the First Information Report (FIR) to the police." Masih's parents are now in protective custody. Hundreds of Christians have reportedly fled the area over threats by Muslims to burn down their homes. Tensions between the communities have been running high in the region for months, with Muslims frequently complaining about the noise made by Christian churches during services, some of which were forcibly stopped or banned outright. Pakistani President Asif Ali Zardari urged authorities to explain the arrest of the young girl, and demanded a report from the country's Interior Ministry.Zardari's government had previously come under criticism for its decision to preserve the country's controversial anti-blasphemy law, prompting debate over the dramatic increase in religious intolerance in the country.Pakistan's Muslim community is infamous for taking the law into its own hands: a man accused of desecrating a Koran was dragged from a police station by a mob and beaten to death last month.There have been no executions for blasphemy in the country, though Asia Bibi, a mother of five and a Christian, was sentenced to death two years ago. Bibi has not been executed as of yet, and may be pardoned of her death sentence.Christian minister Shahbaz Bhatti and Pakistani government politician Salmaan Taseer were both assassinated for opposing the blasphemy laws, in connection with Bibi's case.Draconian prison terms for blasphemy charges are also common in Pakistan: in 2010, a Christian couple were sentenced to 25 years in jail on charges of touching a Koran with unwashed hands.