Indictment rate for Israeli authorities following abuse of Palestinians just 3% – rights group to RT
The rate of indictment for Israeli military authorities accused of killing or injuring Palestinians is around three percent and therefore complaining in this flawed system is useless, the CEO of a prominent human rights group B'Tselem told RT.
Speaking just one day after the organization announced it would no longer submit violations on behalf of Palestinian victims, Hagai El-Ad said the entire chain of command of the Israeli military is designed in a way that does not bring justice.
"You can see how all along the chain from the initial investigation, the way the military investigative unit is constructed, the professional performance of its staff, all the way to the military advocates general of the system is structured eventually to reach a whitewash," El-Ad told RT.
"The conclusions from the data are overwhelming...the rate of indictment is around three percent, and it's not just the quantitive analysis, but also the qualitative ones," he added.
And although the Israeli military claims to investigate all allegations against it – including those from B'Tselem – the organization says that claim is "impossible to agree with."
Read more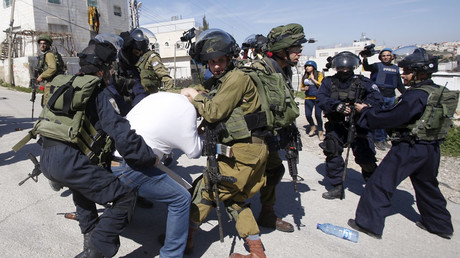 The rights group CEO went on to note that the organization is not "throwing in the towel," as it will "continue challenging the Israeli Army and the occupation regime in the context of accountability in other ways..."
He noted that the group will continue to investigate incidents against Palestinians, as well as collect data, interview witnesses, and publish findings to the public.
However, he stressed that the group will not file official complaints with military authorities, and will call on the Palestinian public to refrain from doing so as well.
El-Ad concluded by saying that through the group's good faith efforts of filing complaints, the system gains credibility it "does not deserve."
Created in 1989, B'Tselem has become famous for its use of Palestinian photographers and videographers to document the conduct of Israeli soldiers and settlers in the West Bank. Images captured by the group have made international headlines, with a recent video showing an IDF soldier shooting and killing an already injured Palestinian.