Rights group to stop reporting abuses against Palestinians, citing Israeli 'whitewashing'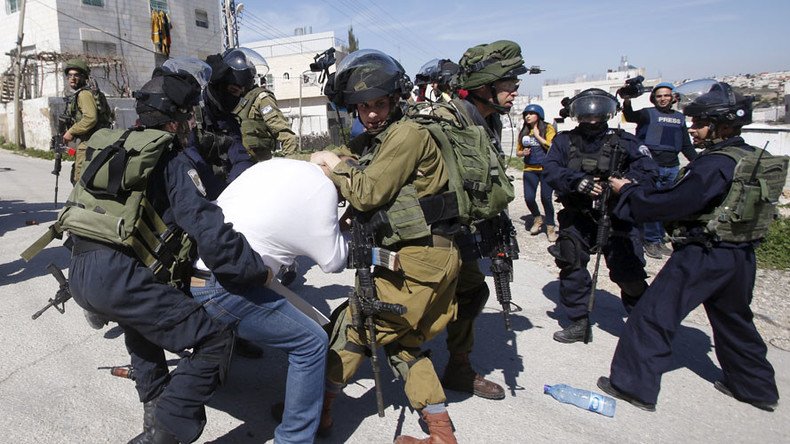 Israel's military law enforcement system has been slammed by a human rights group, with the organization saying it will no longer submit violations on behalf of Palestinian victims because doing so "fails to bring justice."
Human rights group B'Tselem cited a lack of faith in Israel's military law enforcement system on Wednesday, calling it a "whitewash mechanism." The system is used by Israel to rule the Palestinian population in the West Bank, and uses military courts for enforcement, rather than the civil courts used for Israeli citizens.
"B'Tselem will continue to document human rights violations carried out by Israel in the territories and to report on them, but will no longer file complaints, coordinate meetings between Military Police investigators, victims and Palestinian witnesses, and acquire various documents for the investigatory authorities," the group said in a statement.
Elaborating on its reasons for the change of direction, the human rights group said that its "cooperation with the military investigation and enforcement system has not achieved justice, instead lending legitimacy to the occupation regime and aiding to whitewash it."
The organization also stated that despite contacting the army with evidence of crimes over the years, those investigations have resulted in few meaningful convictions.
According to the group, the organization has filed 739 complaints in the West Bank since 2000, for incidents in which "Palestinians were killed, injured or beaten by soldiers, had their property damaged or were used by soldiers as human shields." Of those, 182 went entirely uninvestigated by the Military Police's Investigatory Unit (MPI), while 343 cases were probed but never amounted to anything.
"MPI investigations are conducted negligently, which does not allow investigator to get to the truth," B'Tselem said, noting that instead of evidence, investigations are based "almost solely on the testimonies of soldiers and Palestinians...even when it comes out that there are contradictions in the soldiers' testimonies."
B'Tselem went on to accuse the MPI of making it difficult for Palestinians to file complaints, as well as a lack of transparency in cases and the slow pace of investigations.
Referring to the so-called "occupation regime" of the Israeli government, B'Tselem said that cooperating with government authorities only "grants it legitimacy" and "assists in its validation."
"The fight for human rights will be better served by denouncing this system and exposing it for what it is," the rights group said.
A spokesperson for the group said it will still abide by court orders and official requests for information, but will no longer work as a "subcontractor" for the Military Police's investigations unit – a role it has had for 25 years. That role included working as advocates for Palestinians through submitting complaints, gathering documents and evidence, and requesting updates for the families affected.
Created in 1989, B'Tselem uses Palestinian photographers and videographers to document the conduct of Israeli soldiers and settlers in the West Bank. Images captured by the group have made international headlines, with a recent video showing an IDF soldier shooting and killing an already injured Palestinian.
The report comes just days after CCTV footage allegedly showed plainclothes Israeli police officers pouncing on an "Arab-Israeli" next to a supermarket in Tel Aviv.
You can share this story on social media: