Israelis rally for release of soldier who finished off wounded Palestinian attacker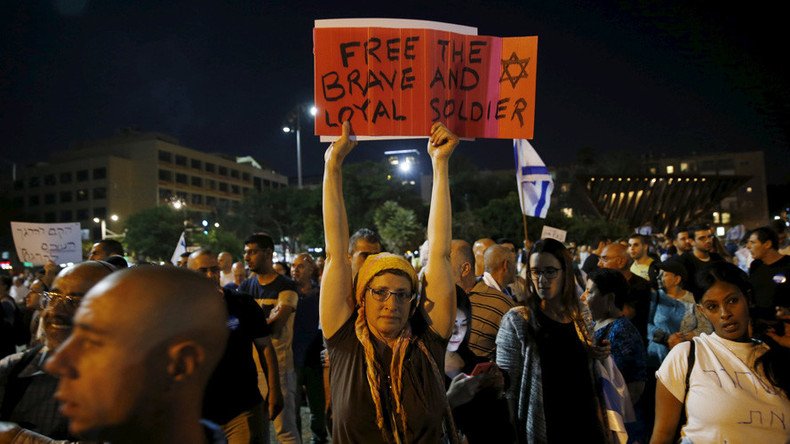 Thousands flocked to central Tel Aviv to support Elor Azaria, an IDF soldier indicted for manslaughter for fatally shooting an immobilized Palestinian attacker in the West Bank last month, sparking global outrage. The crowd hailed the killer as a "hero."
Some 2,000 people were yelling nationalist slogans, waving Israeli flags, and holding banners reading "Free Elor" on Tel Aviv's central Rabin square on Tuesday, as they protested the trial of Azaria being conducted by Israeli military authorities. The nineteen-year-old IDF sergeant had been charged with manslaughter the day before, as the prosecution believes there was no military need to kill Abed al-Fattah al-Sharif, a Palestinian who was unarmed and had already been wounded after allegedly committing a stabbing attack.
The incident gained attention after a video emerged showing Azaria shooting al-Sharif in the head as he was lying motionless on the ground next to IDF troops. Several UN bodies have described the killing as "a clear case of an extrajudicial execution."
READ MORE: IDF set to indict soldier who killed already-wounded, unarmed Palestinian stabber

Tuesday's demonstration was led by Azaria's family and former Israeli MP Sharon Gal. It also saw a number of radical groups taking part, including Lehava, a far-right Jewish organization that has been accused of committing extremist acts against non-Jews. Baruch Marzel, the leader of the outlawed ultranationalist Kach party, which is recognized as a terrorist group in Israel, the US, and EU, was also reportedly spotted at the protest. Marzel was amongst the first to congratulate Azaria on a successful "operation" at the site of the crime, as al-Sharif's body was being removed.
A woman holding a two-side poster bearing the words "Too many terrorists in prison" on one side, continuing with "kill them all" on the other, was seen briefly at one point in the rally before being removed, The Times of Israel reported.
Although Gal called the gathering "non-political," the demonstrators were vocal in accusing Israel's political leadership of "abandoning" Azaria. The criticism mainly targeted defense minister Moshe Ya'alon, who opposed the idea of staging a rally in support of Azari on Monday.
READ MORE: Palestinian terror group launches dramatic video after IDF killing of injured stabber

"We aren't Daesh," he said, using the Arabic derogative acronym for Islamic State (IS, formerly ISIS/ISIL), while branding Azaria's act as an execution.
"When there is a need to kill, you kill. When we need to be resolute, we are resolute. But when someone has his hands up, or is already neutralized, that's when you arrest," he stressed, as cited by The Times of Israel. "Whoever supports these kinds of acts is damaging the values of the Israel Defense Forces," he added while commenting on the rally.
Meanwhile, Azaria's supporters have accused the government of bias.
"The prime minister, the minister of defense and the chief of staff ... [tried] the young man before we knew all the details... They set the tone, they climbed a tall tree and now they don't know how to get down, so they have to try him and make a symbol of him," a demonstrator told Reuters.
In response to the outrage sparked by Azaria's indictment by a military court, Prime Minister Benjamin Netanyahu has urged Israelis to look at the incident from all angles.
"Our soldiers are not murderers. They take action against murderers, and I hope that a way will be found to balance between the action and the overall context of the event. In the meantime, I suggest that everyone calm down," he said following a meeting with Singapore PM Lee Hsien Loong on Tuesday.
The prosecution did not find any evidence proving Azaria's claims that he suspected the Palestinian could be wearing a suicide vest, and so "did the right thing at the right time."
The Palestinian "had not carried out another attack and did not constitute an immediate or substantial threat to the defendant or the other civilians and soldiers," reads a charge sheet submitted to a military court in Jaffa. "In his actions, the defendant illegally caused the death" of al-Sharif, the prosecutors concluded, referring to the deceased Palestinian as a "terrorist."
The video of the shooting has polarized the Israeli society. Azaria can be heard shouting "stand back" to the prone victim, before shooting the Palestinian dead. The clip was filmed by Imad Abushamsiya, a local Palestinian onlooker, and subsequently published by the Palestinian Human Rights Defendants group and B'Tselem, an Israeli human right organization, which called Azaria's act an "extrajudicial killing."
You can share this story on social media: