5 things you need to know about new Turkish PM Yildirim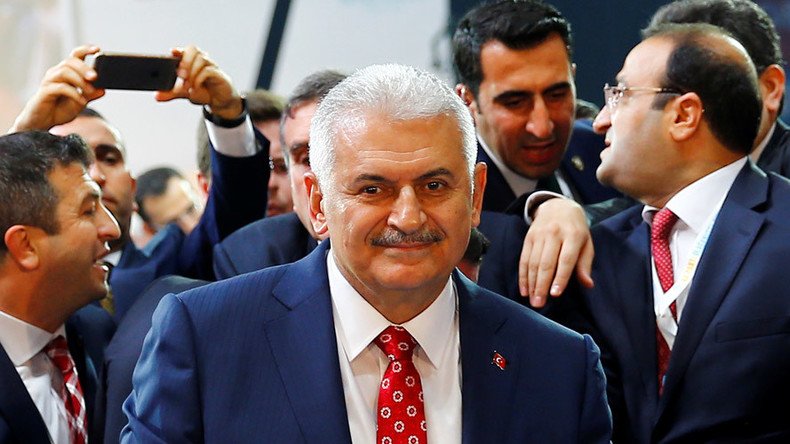 The newly-elected head of Turkey's ruling AK Party, Binali Yildirim, has formally acquired the post of prime minister and is forming a new cabinet. Here are some facts to let you know how he came to hold the second most important post in Turkey.
READ MORE: 'Coup against parliament:' Politicians and analysts slam lifting of Turkish MPs' immunity
Turkey's ruling Justice and Development Party elected Binali Yildirim, the only candidate running, as its new chairman on Sunday at the party's 2nd Extraordinary Congress when the 1,405 attendees unanimously voted for the longtime ally of President Recep Tayyip Erdogan. As customary, the ruling party's head becomes the Turkish prime minister. Yildirim has already been formally asked to form a new government. The shakeup is supposedly meant to help Erdogan fulfill his wish to overhaul the Turkish constitution and extend his presidential powers.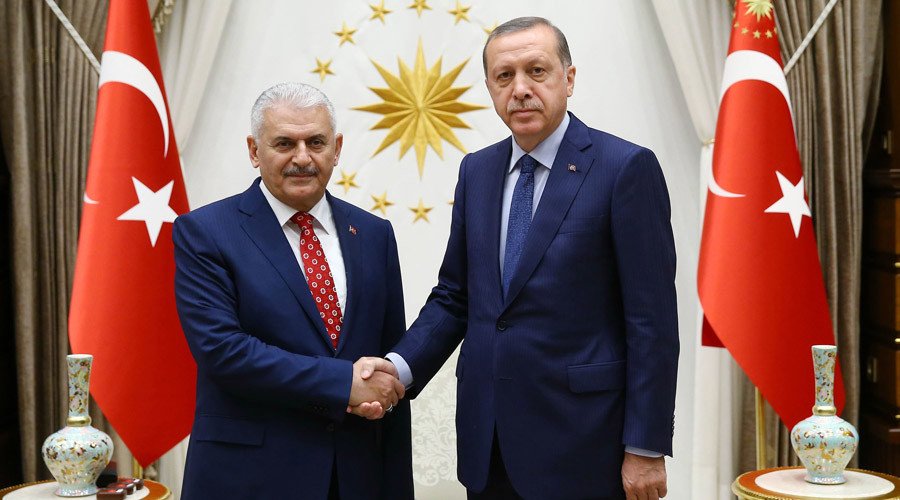 1. Who is the man?
Binali Yildirim, 60, co-founded the AK Party and then held the post of Minister of Transport from 2002 to 2011, and was the head of a newly-merged Ministry of Transport, Maritime, and Communication from 2011 to 2013, and later from 2015-2016. In 2014, he served as senior advisor to President Erdogan. Their friendship was forged in the 1990s when Yildirim, who has a degree in shipbuilding and marine sciences, was at the head of a high-speed ferry company in Istanbul while Erdogan was mayor of the city.
2. Where did previous PM go?
Yildirim took the reins of parliament from Ahmet Davutoglu, who stepped down early in May amid reports that differences were growing between the prime minister and President Erdogan with regard to both domestic and foreign policy issues. Davutoglu is said to have been particularly opposed to Erdogan's push for more executive powers.
"I came to the conclusion [that a change in] leader of the party and the Prime Ministerial position would serve a better purpose," Davutoglu said at a news conference explaining his decision.

Until the new cabinet is formed, Davutoglu will still remain as a caretaker PM.
3. Where the new PM stands?
A faithful ally of the president, Yildirim has left little doubt as to which policies he intends to prioritize when he recently called himself and other members of the AK Party "comrades of Erdogan."

"Your [Erdogan's] passion is our passion, your cause our cause, your path our path," he said.
READ MORE: Erdogan's 'autocratic ambitions' blasted by German Bundestag speaker
Yildirim is expected to act as a figurehead to assure Turkey's transition from a parliamentary republic to an executive presidency that would confer greater powers to Erdogan.
4. What are his plans?
Under the current Turkish Constitution, the president largely plays a ceremonial role, but this no longer reflects the real situation, as Erdogan's power to influence national affairs has eclipsed that of parliament.

Yildirim announced that his foremost task will be to create a new constitution to codify into law the balance of power as it actually stands today.

"The most important mission we have today is to legalize the de facto situation, to bring to an end this confusion by changing the constitution. The new constitution will be on an executive presidential system," Yildirim said, according to Reuters.
He also said he will continue pushing the EU to end "the confusion" over the migrant deal and the issue of Turkey's membership bid.

"It is time we know what they think about Turkey. Whether Turkey becomes a member or not, it will continue to expand its democracy and development with determination," Yildirim said as quoted by AP.

Yildirim has taken a hardline stance towards Kurdish rebels seeking more autonomy in the southeast of Turkey that are currently being quashed by a military operation launched by Ankara. He said he will support Erdogan's fight against the outlawed Kurdistan Workers Party (PKK) until "the bloody-handed terrorist organization PKK ends its armed actions."
READ MORE: UN 'ready' to send a team to investigate human rights violations in Turkey's anti-PKK operation
"They are asking us when the anti-terror operations will end. I am announcing hereby that operations will end when all our citizens are safe," Yildirim stressed.
5. What's controversial about Yildirim's past?
Referred to as the "unchanging" minister, Yildirim spent some 11 years working on Turkey's transport infrastructure and achieved some significant results, although not without getting involved in some scandals along the way.

In 2004, a newly-introduced fast train that ran on an upgraded track brought in by Yildirim derailed, leaving 41 people dead and 80 injured. It was later established that Turkish State Railways ignored warnings about the system's safety that had been voiced by experts prior to the tragedy. Despite calls for his resignation, Yildirim did not leave his post. The blame was later shifted from the AK Party member onto the workers who constructed the line.

In 2013, Binali Yildirim faced allegations of being the "ringleader" of a group of ministers and media moguls that were allegedly transferring money between themselves for personal gain. That scandal overlapped with another corruption case involving a high-speed rail line project. Yildirim, who denied all of the allegations, had to briefly step down as transport minister, but the case against him was soon closed.
READ MORE: Where does the money come from? Erdogan children's immeasurable wealth questioned by German Bild
Turkish media and opposition have accused Yildirim and his children of owning a suspicious number of ships. One particular count alleged by Cumhuriyet, a paper that has recently been cracked down upon by Erdogan, claimed that Yildirim alone owned at least 28 ships, 2 super-yachts, and 17 companies. Shipping companies have apparently become a family business, as Yildirim's son and daughter stirred up controversies by making suspicious ship purchases, while his brother-in-law was arrested in 2014 on a list of charges, including fraud and bribery while working in Izmir's port administration.
As communications minister since 2011, Yildirim has also been a key figure in the Turkish government's censorship of internet, which has included bans on YouTube and Twitter. He also oversaw a ramping up of surveillance in Turkey.
READ MORE: Turkey fines Twitter $51,000 for 'terrorist propaganda' – reports
You can share this story on social media: