Turkey fines Twitter $51,000 for 'terrorist propaganda' – reports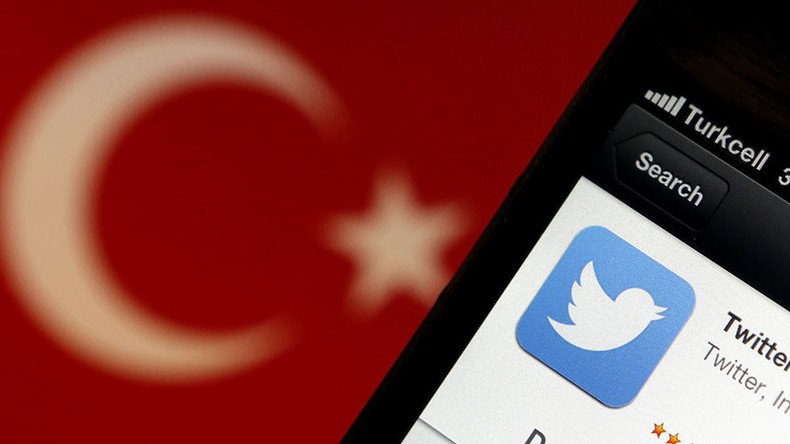 Twitter has been fined 150,000 Turkish lira (US$51,000) for not removing content allegedly containing "terrorist propaganda, encouraging public acts of violence and hatred," sources in Turkey's communication technology watchdog told media outlets.
The Turkish Information and Communications Technologies Authority (BTK) has forwarded its decision to the Twitter Company's headquarters in San Francisco, California, as well as informed the office of the company's lawyer in Turkey, according to information Anadolu News Agency received from the body.
The decision was based on a 2007 law on "fighting against crimes committed through internet broadcasting," Anadolu reported.
A BTK official who spoke to Reuters confirmed the report on the fine, but revealed no details concerning the content except claiming that it includes terrorist propaganda and calls for acts of violence.
Before a decision on the fine was made, Turkish courts had allegedly ordered Twitter to remove content they deemed illegal, but the company reportedly did not comply. This is the first time Turkey fined the popular social media website.
Turkish authorities previously have temporarily blocked Twitter, YouTube and Facebook for failing to remove content deemed to be illegal or banned.
On April 6, Turkey blocked access to Twitter, YouTube and Facebook over the publication of photos of a prosecutor taken hostage and killed by militants in Istanbul on March 31. The ban was lifted shortly after the sites removed the images.
In July, Twitter was once again blocked by Turkish authorities for a short period of time over publishing the images of a suicide bomb attack in Turkey's Southeast on July 20. The ban was again lifted after the site removed the content in question.
Turkey has been accused of growing censorship and a media crackdown.
In December 2014, the Organization for Security and Cooperation in Europe (OSCE) accused Turkey of adopting restrictive internet laws and implementing broad measures aimed at censoring online content.
At the same time, the Civic Solidarity Platform, a network of more than 60 human rights NGOs from throughout the OSCE region released its own report claiming that Turkey had repeatedly blocked thousands of news and social media sites, including YouTube and Twitter, in recent years.
On November 27, thousands of people joined the rallies in Istanbul and Ankara showing their support for two prominent journalists of the Cumhuriyet newspaper accused of treason over publishing photos of weapons allegedly brought to Syria by Turkish intelligence.
Police in Ankara used pepper spray against peaceful protesters staging a demonstration near the Cumhuriyet office in the Turkish capital.
Nils Muiznieks, the human rights commissioner at the Council of Europe, denounced the arrest of the two journalists as "another blow to media freedom in Turkey."
You can share this story on social media: