'You can go your way': Erdogan rejects demands to change anti-terror law for EU visa deal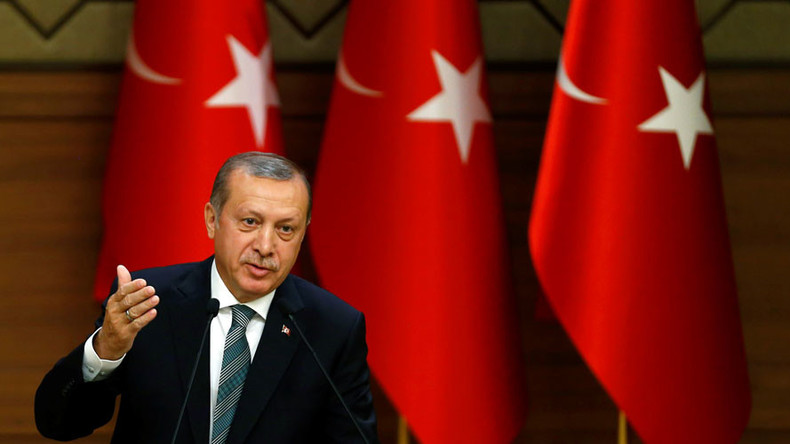 Turkish President Recep Tayyip Erdogan says Ankara will not change its anti-terrorism laws in order to meet EU requirements, which are necessary in order to give the people of Turkey visa-free travel to the bloc.
"The EU says: 'You will change the anti-terror law for visas,'" Erdogan said in a televised speech in Istanbul, as reported by AFP. "Pardon me, but we are going our way and you can go yours."
The EU had a list of 72 requirements that Ankara needs to abide by in order to get visa-free travel for its citizens. The changing of anti-terror legislation is one of the five remaining steps that Turkey needs to take, as well as the protection of personal data.
"Why aren't you changing your mindset when you allowed terrorists who put up tents close to the EU Parliament?" Erdogan said, in an apparent reference to tents that had been erected by Kurdish activists near the European Union Council building in Brussels in March, AFP reported.
Turkish Minister of European Union Affairs Volkan Bozkir was quoted by the Daily Sabah on Thursday as saying: "It's not possible to make any revision to the legislation and practices on terrorism while our country continues its intense fight against various terrorist organizations."
Erdogan's comments come a day after Prime Minister Ahmet Davutoglu said he was stepping down from his position. The former PM had championed closer links with the EU and was in favor of introducing visa-free travel for Turks, which was a key part of a deal between Brussels and Ankara to reduce the amount of migrants looking to enter the EU from Turkish territory.
Erdogan has yet to appoint a successor to Davutoglu, though his son-in-law, Energy Minister Berat Albayrak, is in the running, as is Transport Minister Binali Yildirim – both of whom are close allies of the president.
Human rights groups have accused Turkey of using its anti-terrorism laws in order to silence critics of the president, such as journalists and academics. Can Dundar, editor-in-chief of the Cumhuriyet newspaper, and Ankara bureau chief Erdem Gul are facing life in prison after they published information that alleged the Turkish government was complicit in ferrying arms into Syria.
Meanwhile, on Thursday, the Turkish government announced it would be shutting down Today's Zaman newspaper, which had been critical of President Erdogan. The independent publication was seized by Ankara in early March. The first edition under its new ownership featured the image of Erdogan.
However, Ankara has defended the use of its anti-terror laws, saying they are necessary to deal with the joint threat posed by Kurdish militants in the restless southeast of the country, as well as the threats posed by Islamic State (IS, formerly ISIS/ISIL) terrorists, who have carried out a number of attacks on Turkish soil.