Turkey's PM effectively resigns amid rift with Erdogan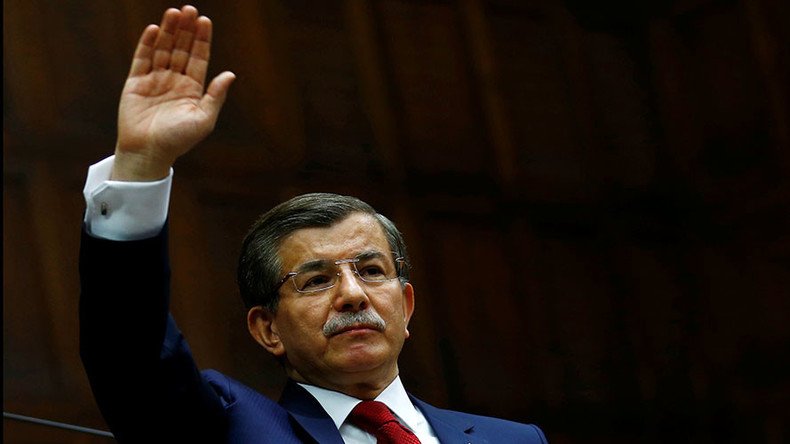 Turkish Prime Minister Ahmet Davutoglu has announced he will not stand for his party's chairmanship vote, and will therefore be replaced as prime minister. It follows a reported rift between Davutoglu and President Erdogan.
Speaking at a news conference in Ankara following a meeting of the AK party's Central Executive Board (MYK), Davutoglu said he will not be part of the vote, which is due to take place on May 22.
#Turkey 's ruling AK Party will hold extraordinary congress on May 22,amid expectations that it'll replace its current leader PM Davutoglu.

— Nezahat Sevim (@sevimnezahat) May 5, 2016
"I decided that for the unity of the [ruling party] a change of chairman would be more appropriate. I am not considering running at the May 22 congress,'' Davutoglu said as quoted by Anadolu news agency.
"I do not intend to be a candidate in an absence of consensus," he continued.
"I have no sense of failure or regrets in taking this decision." He added that the resignation was not "my choice but a necessity."
President Tayyip Erdogan has acknowledged the announcement, saying "it is the prime minister's own decision," Hurriyet reported.
Turkey's main opposition leader, Kemal Kilicdaroglu, said the resignation is part of a "palace coup" which is in line with Erdogan's drive for stronger powers.
"Davutoglu's resignation should not be perceived as an internal party issue, all democracy supporters must resist this palace coup," Kilicdaroglu said at a news conference at his Republican People's Party (CHP) headquarters in Ankara.
The resignation announcement comes after crisis talks between the two politicians on Wednesday night, which dragged out for nearly two hours but failed to resolve their differences.
In a Thursday speech defending his record as prime minister, Davutoglu said he had kept the party and government running smoothly during a rocky period in Turkey. He said that no one should worry, because the "strong" AKP government would continue.
It comes just one day after five senior party officials told Reuters that the AKP was set to replace Davutoglu as its leader – and therefore as prime minister – at an extraordinary congress following an increasingly public feud with Erdogan.
However, Davutoglu said on Thursday that he will never utter an ill word against Erdogan, whose friendship he has valued above all, Reuters reported.
"I feel no reproach, anger or resentment against anyone," Davutoglu said.
Divisions between Davutoglu and Erdogan began over the conflict with Kurdish militants in the country's southeast.
While Davutoglu spoke of the possibility of resuming peace talks with the Kurdistan Workers' Party (PKK) if it withdrew armed fighters from Turkish territory, Erdogan said it was out of the question for the peace process to restart.
#Davutoglu :My friendship with Erdogan will go forever, you will never hear anything bad about him from my mouth.

— Nezahat Sevim (@sevimnezahat) May 5, 2016
Further disagreements took place after Davutoglu expressed opposition to the pre-trial detention of journalists accused of spying and academics accused of voicing support for the PKK.
Davutoglu says he will continue to carry out his duties as a parliamentary deputy for Konya in central Anatolia after he leaves office.
The May 22 extraordinary congress will be the party's first since August 2014, when Davutoglu replaced Erdogan as prime minister.
You can share this story on social media: