Controversial former Toronto Mayor Rob Ford dies
Published time: 22 Mar, 2016 17:06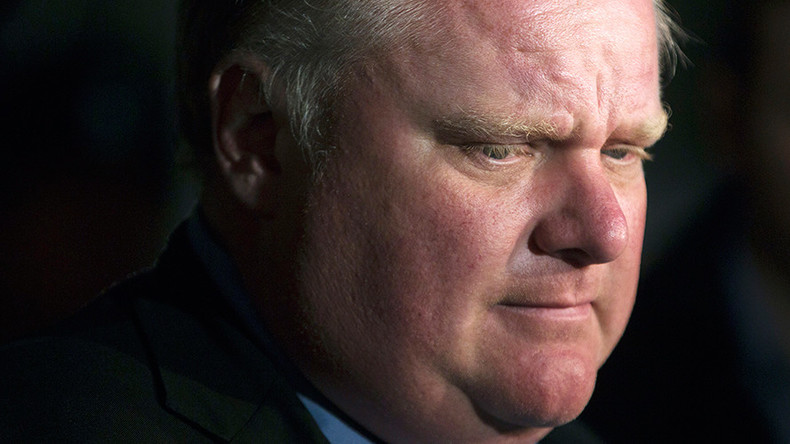 Rob Ford, who became famous for his drug problems and controversial statements, has died aged 46 following an 18-month battle with a rare form of cancer.
Ford achieved global notoriety while in office after video footage emerged of him apparently smoking crack cocaine in 2013.
Despite later admitting to using the drug, he resisted concerted attempts to have him removed from his post - although the city council voted to strip him of most of his powers.
"Have I tried it? Probably in one of my drunken stupors," he said at the time.
In 2014 more footage surfaced which showed him smoking the drug and he subsequently confirmed he had a drink and drug addiction before entering rehab. He had a previous drink-driving conviction from Florida.
READ MORE: 'Rehab is amazing!' Toronto Mayor Rob Ford says after going missing for week

A firebrand conservative throughout his political career, Ford was a staunch opponent of what he perceived as the government's overspending of taxpayer's dollars.
The former Toronto mayor regularly found himself in hot water for none-too-subtle comments on burning issues.
In 2006, while speaking about AIDS, he said: "It's very preventable. If you are not doing needles and you are not gay, you wouldn't get AIDS probably, that's bottom line."
Meanwhile, in 2013 he was accused of sexism after telling a reporter: "Women love money. You give them a couple thousand bucks and they're happy."
He also once referred to journalists as a "bunch of maggots".
Outside of politics, Ford was a part-time high school football coach and hosted a weekend radio talk show with his brother and political ally Doug.
In a statement offering condolences to Ford's family, current Toronto Mayor, John Tory, described his predecessor as "a man who spoke his mind and who ran for office because of the deeply felt convictions that he had".