Toronto City Council votes to strip mayor of some powers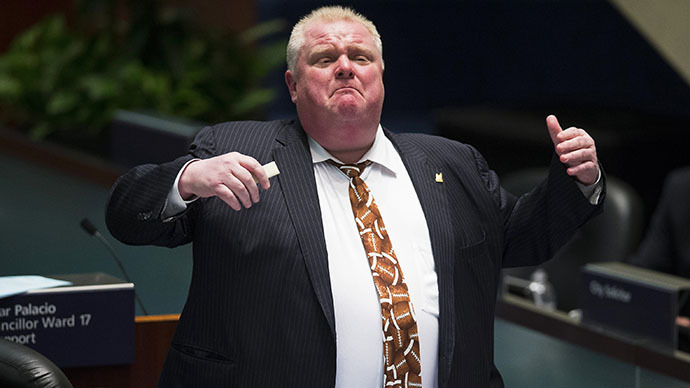 Toronto's City Council voted 39-3 on Friday to strip Mayor Rob Ford of some of his powers. Ford has so far managed to avoid resigning over admissions of drinking and drug use, as well as his erratic behavior.
The motion, approved by 39 votes to three, suspended Ford's authority to dismiss his deputy mayor and executive committee, which runs Toronto's budget process.  The mayor has vowed to fight the decision in court, though he also expressed sympathy for their position.
"If I would have had a mayor conducting themselves the way I have, I would have done exactly the same thing,"said Ford.
The City Council had already voted on Wednesday for Ford to take a break from his job to deal with his personal issues. In addition to his alcohol problem, Ford has admitted to buying illegal drugs and smoking crack cocaine.  
But despite mounting pressure to resign the mayor has adamantly refused to leave office.
"I am not an addict of any sort, so I am not quite sure why you are saying that I need help,"he told council members during an hour-long questioning session which involved both his opponents and a seemingly diminishing group of allies, which included his elder brother.
Doug Ford, a member of Toronto's city council, reportedly urged his brother to accept the leave, according to a report by CNN which cited another council member. 
Councilors voted 37 to 5 in favor of a non-binding motion which urged Ford to take a leave of absence and apologize for misleading Toronto residents.

"There's no question that the residents of this city are opposed to the mayor's behavior. Because of the mayor I am explaining to my nine-year-old daughter what crack cocaine is. Because of the mayor I'm explaining that it's not ok to lie and then apologize when you get caught,"said Councilor Karen Stintz.
Ford admitted to smoking crack in one of his"drunken stupors"and he publicly admitted to purchasing illegal drugs within the last two years while in office when pressed by a member of the city council.
The scandal initially broke six months ago when the Toronto Star and media blog Gawker said they had been shown a video of the mayor smoking crack. Ford spent the next six months denying the allegations. However, when the Toronto police chief confirmed its existence, the mayor was forced to change his tune.
Last week, the Star produced a separate video of Ford in an expletive-laced drunken rant, making threats to unspecified people and pounding his hands together aggressively.
Ford was forced to make another apology and admitted that he was"extremely inebriated."
The mayor's luck certainly seems to be running thin. He is also facing a possible investigation by the police, as his former part-time driver and friend Sandro Lisi is accused of extortion and drug trafficking. Police have stated they have had the mayor under close surveillance for months.
A widely circulated photo shows Ford posing with three young men, one of whom has since been shot dead. The other two men have been charged in a Toronto drug and guns sweep. Ford claims he did not know the men before the picture was taken.
As if the mayor wasn't facing enough problems, he seems to have incurred the wrath of the motor giant Ford for wearing a t-shirt at a charity event earlier this week with the auto manufacturer's logo on it. The motor company said it did not grant him permission to use its emblem and has requested he cease and desist in invoking its corporate identity.
You can share this story on social media: