'Rehab is amazing!' Toronto Mayor Rob Ford says after going missing for week
Published time: 7 May, 2014 18:00
Edited time: 7 May, 2014 18:13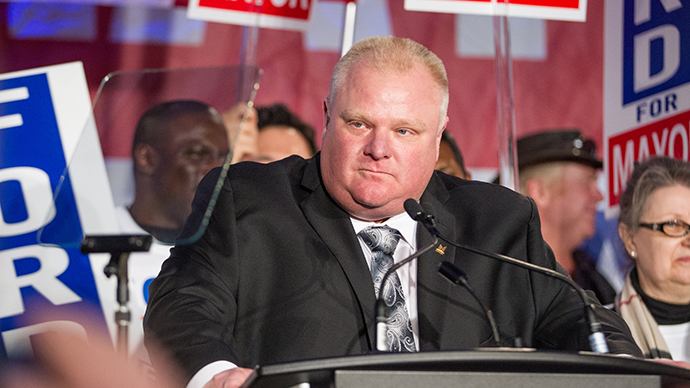 Scandal-soused Toronto Mayor Rob Ford states that "rehab is amazing" and that it reminds him of a football camp in a new interview with The Toronto Sun. The comments come shortly after two further controversial recordings leaked.
"Rehab is amazing. It reminds me of football camp. Kind of like the Washington Redskins camp I went to as a kid," Ford said.

He denounced his own alcohol abuse and said that he hoped he could right his past misdeeds.

"I think alcohol is the worst drug of all. It makes you do things that you would never do or say things that you wouldn't," he said.

The two recordings leaked last week, Ford delivered a speech deemed misogynistic by outraged critics, about Toronto City Councillor Karen Stintz.

"I'd like to f-----g jam her (Stintz), but she doesn't want ... I can't talk like this...I'm so sorry," Ford stated on the recording.

In a further recording, Ford was smoking a substance that an unnamed source declared was crack cocaine to a Toronto newspaper.
"It has been a week," Ford told the Sun. "I told Dougie, 'I am going away' and then started looking up rehab and treatment centers," Ford said, recalling the morning after.

Ford described his rehab meetings without divulging their location. There are "eight people in a group," then sometimes four, "then there is a meal before we have some one-on-one sessions," he said.

The Toronto Globe and Mail reported on Tuesday that Ford had made a decision to not enter the US despite having boarded a plane to Chicago. Ford subsequently went "missing" after quietly returning from the trip and it remained unknown where he went after his plane turned around.
"He voluntarily withdrew his application to enter the USA," Consul General of Canada in Chicago, Roy Norton, stated in an email to The Globe and Mail in an e-mail. Norton added that the Toronto mayor "was not denied entry, per se."

Ford is still the mayor of Toronto. However, the City Council has stripped him of a large proportion of his actual power. However, Ford said he'll be returning from rehab in time for election and that he is "going to kick butt."

"On Oct. 28, there will be no need to change the locks. There will be no need to clean out my office because I am coming back," Ford assured.