Toronto Mayor Rob Ford caught drunkenly swearing in new YouTube video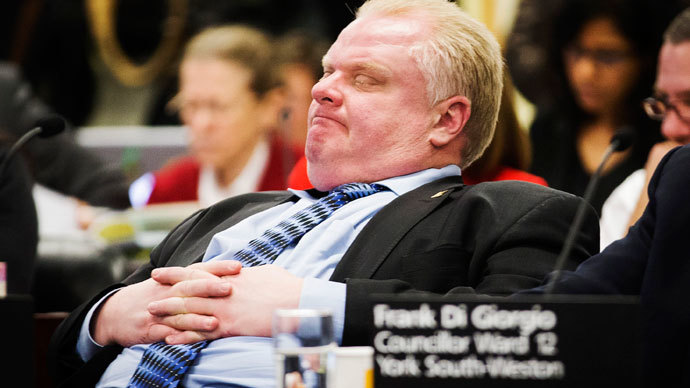 Colleagues of Toronto, Ontario Mayor Rob Ford say they are shocked and appalled after new video footage of the embattled official emerged online this week.
Ford, 44, admitted to reporters on Tuesday that he had been drinking the night before after a short video clip was uploaded to YouTube hours earlier of him rambling about Toronto Chief of Police Bill Blair, apparently intoxicated, during a profanity-laden rant that included bits and pieces of Jamaican slang.
After rumors persisted for months that video exists of the mayor smoking crack cocaine, Mr. Ford admitted in November that he had likely used the drug during a "drunken stupor" but was not an addict. He said that same month that he was abandoning alcohol after experiencing a "Come to Jesus moment," but has now admitted to suffering a relapse after new footage found its way to the web.
"Cocksuckers," Mayor Ford is heard saying in a clip purportedly filmed Monday evening from a late-night diner, Steak Queen, in the Toronto suburb of Etobicoke. "Fuckin' Chief Blair and them all. Cha, man. They chase me around for five months, man. Bumbaclot man. I said, me and him, ya raasclat bumbaclot."
"They're chasing me around five months. They're counter surveillance me. He's hiding here. He's hiding here. Fuck off," the mayor is heard saying.
Both "bumbaclot" and "raasclat" are expletives used in Jamaican patois that are largely considered to be obscene. "If you met someone on the street you didn't know and you said, 'you're a bumbaclot,' that could be a very trying situation for you," Jamaican Canadian Association of Alberta President Bob Arthurs told CTV News.
When approached by reporters on Tuesday after the video first began circulating, Mayor Ford admitted to drinking the night before.
"A little bit, yeah," he told reporters. The Toronto Star wrote on Tuesday that Mayor Ford reiterated only one week beforehand that he had gave up drinking.
And as for the language, Ford said he was simply being himself around those that are close to him.
"I met some friends. If I speak that way, that's how I speak with some of my friends and no, I don't think it's discriminative at all," he said. "It's my own time."
Colleagues at City Hall aren't so sure, however, and are voicing their concerns after Ford's latest slip-up in an ongoing series of embarrassing gaffes that have served as comedic fodder for the international press during the last several months.
"Is that the mayor speaking Jamaican? Wow," City Councilor Michael Thompson told the Associated Press when presented with the video. "I'm numb."
The AP quoted Thompson, who is black, as saying he was shocked by the footage, and Councillor Gary Crawford added that he was "appalled" by the mayor's behavior.
"He made the guarantee, he made the promise that this wasn't going to be happening again and it has," he told reporters.
"This is getting beyond ridiculous," Councillor Joe Mihevc added to the National Post. "We've seen this go on and on and on and I think frankly myself, like many Torontonians, are just tired of it. We want to change the channel. We've seen him make promises, we've seen him break promises. This is not behaviour appropriate to the chief magistrate of the city."
One person who was quick to defend the mayor, however, was a YouTube user by the name of Tim Stewart who uploaded a second video on Tuesday taken from earlier the previous evening at the Etobicoke Steak Queen.
"I was at the restaurant from 11:40 p.m. - 12:30 a.m.," Stewart wrote in the caption that accompanied the video, "…and when I walked in there was only one patron there at the time and that was the person that the mayor eventually sat down with."
According to Stewart, the mayor sat with that man the entire time and never once ordered food or drink.
"I saw no booze on his table at any time and you can slow-mo the replay and see for yourself," he wrote. "Neither person had a drink on the table. If he admits to drinking so be it but I didn't see it."
Those who slowed down the video did stumble upon something else newsworthy in its own right, though. Stewart's clip appears to show Mr. Ford sitting down at the diner with no other than Alexander "Sandro" Lisi — the mayor's former unofficial driver and an accused drug dealer. Law enforcement believes Lisi used "threats or violence or menaces" to attempt to keep the Ford crack smoking video from ever surfacing, and last year was charged with drug trafficking and extortion over his alleged role in Southern Ontario's illicit drug enterprise.
"If you were trying to help Ford with this video, you'll be sorry to find out that this video is worse than the one where he appears coked up," commented YouTube user Pedro Marques. "Why? Because the friend he was sitting with is none other than Sandro Lisi, Ford's alleged drug dealer, seen meeting clandestinely with the mayor over 100 times in police surveillance. Thanks for the crack in the case."
Reporters at the Toronto Sun say Mayor Ford entered and exited City Hall for a scheduled budget committee meeting on Wednesday without answering questions from the press about the second video.
You can share this story on social media: