'Drunken stupor': Toronto mayor refuses to resign after admitting drug use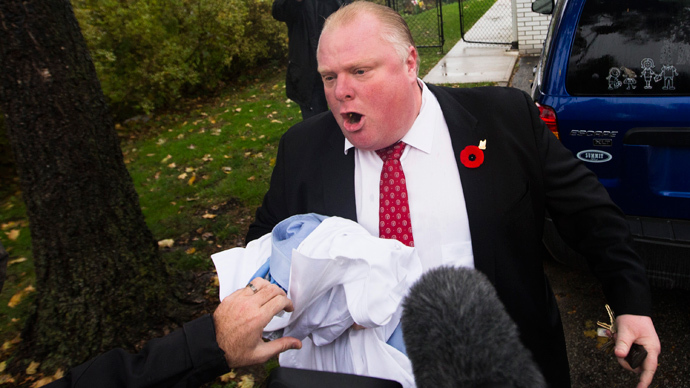 Toronto Mayor, Rob Ford said he had "nothing else to do" but apologize after admitting that he had smoked crack cocaine in one of his "drunken stupors."Ford told a press conference that he loves being mayor and isn't planning to quit the office.
"Folks, I have nothing left to hide. I would do anything, absolutely anything to change the past. But the past is the past, and we must move forward," Ford said Tuesday afternoon in front of a throng of reporters.
"These mistakes will never, ever, ever happen again," Ford said.
He said admitting smoking crack "was the most difficult and embarrassing thing I had ever had to do. I have nothing left to hide."
Ford emphasized there was much work to be done in Toronto, and that he looks forward to moving on.
"I love my job. I love my city. I love being your mayor."
Ford admitted to smoking crack cocaine to reporters earlier Tuesday at the Toronto city Hall. "But am I an addict? No," he said.

"I don't do drugs," he stressed.

The mayor said he might have tried the forbidden substance during one of his "drunken stupors." He believes it happened approximately a year ago.

Ford was forced to come clean on the issue after Toronto's police chief, Bill Blair, last week confirmed media reports on the existence of a video, which showed the city administrator smoking the drug.

The mayor said he wanted to watch the controversial video himself as he doesn't "even recall there being a tape."

He said he needed to see the condition he was in, while taking the drug, adding that "everybody in the city" should check the footage out.

"Yes, I've made mistakes. All I can do now is apologize and move on," Ford declared.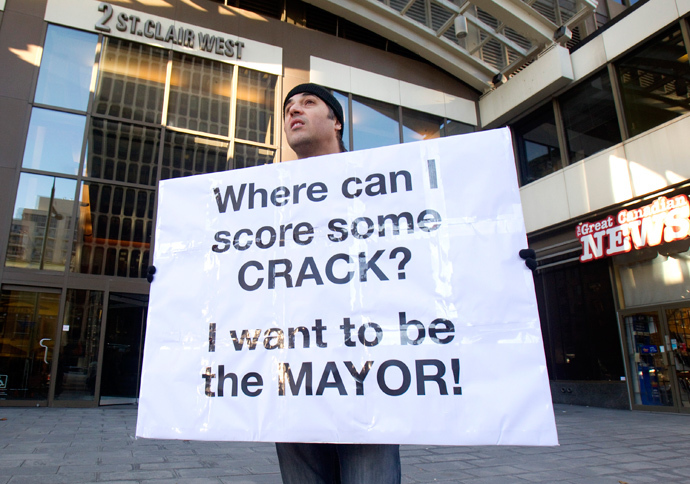 Yet Vice reported Tuesday that, in July, it was approached by an anonymous hacker who claims he had been hired by Ford's communications director Massoudi Amin to break into a "private online directory that allegedly contained a digital copy of the now infamous footage of Mayor Ford smoking a substance out of a crack pipe."
The hacker gave VICE a log of emails that allegedly detail his correspondence with Amin in late May of this year as the crack tape scandal reached its peak.
By the end of their correspondence, the hacker says he was not able to break into the site, and Amin allegedly had looked elsewhere to find someone to scrub the video. Neither Amin nor Ford have addressed VICE's requests for comment on the allegations.
The mayor said he didn't admit to smoking crack cocaine earlier as the media only questioned him about alcohol.

"I wasn't lying. You didn't ask the correct questions," he explained.

Ford later told the Toronto Sun that he felt relieved following the confession – "like I got 1000 pounds of my back" – and has no plans to quit his job or take leave.   

The current statement comes six months after another press-conference, during which the mayor stated: "I do not use crack cocaine. Nor am I an addict of crack cocaine."

Since the May news conference, Ford has denied taking the drug on numerous occasions.

The video with evidence against the mayor was reportedly obtained by the police during months of surveillance of Ford and alleged drug dealer Alexander "Sandro" Lisi.

A week ago, two Toronto Star reporters said saw clear footage of Ford smoking what appeared to be crack from a glass pipe and speaking obscenities about now Liberal leader, Justin Trudeau.

The police said the video will come out when Lisi goes to trial on drug and extortion charges.

He's accused of threatening two alleged gang members, who had been trying to sell the video to the media.

You can share this story on social media: