EU to go for tougher refugee stance at Turkey summit overshadowed by newspaper crackdown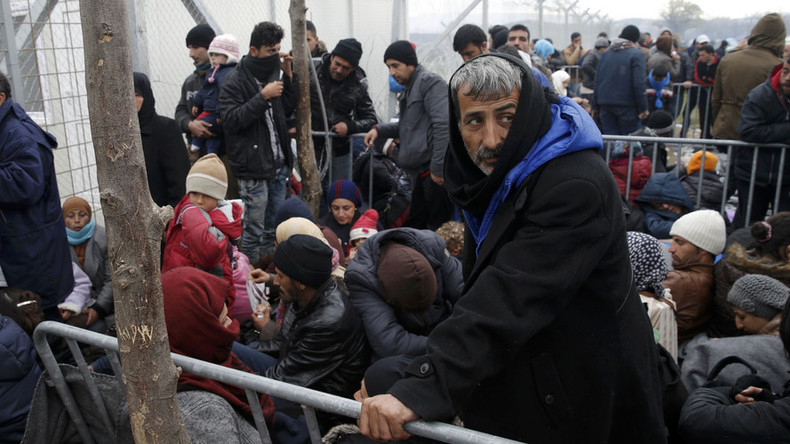 EU leaders are gathering in Turkey for a summit that is expected to work out how to make it harder for asylum seekers to reach Europe. The meeting comes amid turmoil inside Turkey following a government raid on a leading opposition newspaper.
Relations between Brussels and Ankara "are important and difficult," president of the European Parliament Martin Schulz said on arrival at the summit. He also said he had told PM Davutoglu that the freedom of press issue was important for the EU.
He wrote on Twitter as well that civil liberties in Turkey were equally important, and the recent seizure of the Zaman newspaper was "yet another blow to press freedom."
At the EU-Turkey summit in Brussels on Monday, European leaders will call on Ankara to help stop refugees trying to reach Greece across the Aegean. The meeting will also likely seek to declare the so-called Balkan route closed – this is the main passageway for refugees. It stretches between Greece and wealthy Austria and Germany.
A draft statement talks of "comprehensive, large scale and fast-track returns to Turkey of all irregular migrants not in need of international protection," AP reported on Monday.
Many see Monday's summit as a turning point for Europe, as it struggles to tackle a crisis that is on the brink of a humanitarian disaster. There are more than 2.7 million registered Syrian refugees in Turkey, according to UNHCR estimates. On average, 2,500 people cross the Aegean to Greece every day.
Speeding up work on a joint EU-Turkey plan, inked between Brussels and Ankara last November, will also be high on the agenda at the summit. The EU has pledged €3 billion ($3.3 billion) to support millions of refugees already in Turkey, as well as reviving long-stalled talks on lifting visa requirements for Turks and Ankara's bid to join the bloc.
Earlier, Turkish President Recep Tayip Erdogan threatened Brussels with "opening doors" for refugees by "putting them on buses." He has argued that the EU will never cope with the crisis and accused Brussels of halting the €3-billion transfer.
Ahead of Monday's summit, Czech President Milos Zeman urged his European counterparts not to pay out the €3 billion.
"I am strongly against giving billions of euros to Turkey for it to retain migrants on its territory," Zeman told Czech Prima TV. "Turkey is not capable and is not willing to do anything with these migrants, except, of course, if it wanted to put them in jail, but it probably won't do that."
Criticizing Erdogan's effort to get another €2 billion ($2.2bn) euros on top of the originally agreed amount, Zeman said Prague is reluctant to pay its share, which would amount to €30 million ($33 million). He argued that EU money would be better spent in Greece: "Through operating these [reception and detention] centers, Greece would repay its foreign debt, which is otherwise not recoverable. This would kill two birds with one stone."
Arriving for a meeting with Turkish PM Davutoglu on the sidelines of the summit, Greek Prime Minister Alexi Tsipras urged his EU partners to put long-agreed and long-delayed migrant plans into action. "If there are agreements that are not implemented there are no agreements at all.''
Turkey is also part of NATO's Aegean maritime operation aimed at preventing refugee boats from reaching Greece. However, the German-led mission began amid heated discussions between Athens and Ankara over terms of deployment in the Aegean. On Sunday, the Kathimerini newspaper reported that Turkey was disputing Greece's territorial sovereignty over a string of tiny Aegean islets and part of its air space over the sea, submitting a confidential document to the NATO Military Committee, which has apparently been seen by the newspaper.
Miltiadis Kyrkos, a Greek MEP and co-chair of the European Parliament's joint committee with Turkey, told the Guardian that Turkish diplomacy on the crisis is comparable to "an eastern bazaar," in which Ankara tries to extract the maximum.
"The crucial point is on Monday to know if Turkey is a player on our side, because up to now they declare they are on our side, but they don't do anything to prove that."
'Unacceptable' seizure of control over Today's Zaman
The raid on Today's Zaman – the largest national daily in Turkey – is likely to be part of the summit's agenda. A number of European leaders have criticized Ankara.
Earlier on Monday, French Foreign Minister Jean-Marc Ayrault told France Inter radio the seizure of the Zaman newspaper was "unacceptable" and contrary to European values. "It's not acceptable. You can't want to try to get closer to European standards and not respect the pluralism of the media. It's obvious and we've said it clearly to the Turks."
Martin Schulz, the European Parliament president, wrote on his Twitter that the raid on Zaman was "yet another blow to press freedom" and pledged to discuss the matter with Prime Minister Ahmet Davutoglu at the summit.
On Saturday, Turkish police raided Zaman's offices in Istanbul hours after a court ruled for it to be placed under government control. Crackdowns on media freedom have happened in Turkey before, but the controversial move came two days before the EU-Turkey summit on refugees, and a day after a meeting on Friday between President Erdogan and European Council President Donald Tusk.
"It's a slap in the face," a senior EU official told Reuters after EU envoys met in Brussels on Sunday. "Erdogan obviously wants to show that he can do what he wants."
Brussels' critics say its desire to get Ankara to the table and make it tackle the refugee crisis could mute the EU on the freedom of press issue.
Turkish democracy is dead, but we won't kneel to repressive govt – Zaman journalist to RT
Human rights groups are also voicing concerns over Turkey as a "safe third country" to host refugees fleeing war and violence. Under EU rules, the refugees might be returned to a third country on condition it is safe and does not pose any threat to life and liberty.
HRW cited numerous documented pushbacks at the Syrian border, while Amnesty International has highlighted unlawful detention and deportations to Syria and Iraq. People trying to flee to Turkey from Syria have been beaten and shot at. Reports by Amnesty International and local rights groups speak of arbitrary arrests of refugees and ill treatment in detention in Turkey.
The massive influx of refugees, dubbed the worst since World War II, has prompted tough responses across Europe, with a number of countries either erecting border fences or introducing temporary border controls inconsistent with the Schengen zone's policy of free movement.