Marooned on the Greek border: 'Jungle'-like refugee camp springs up and grows rapidly at Idomeni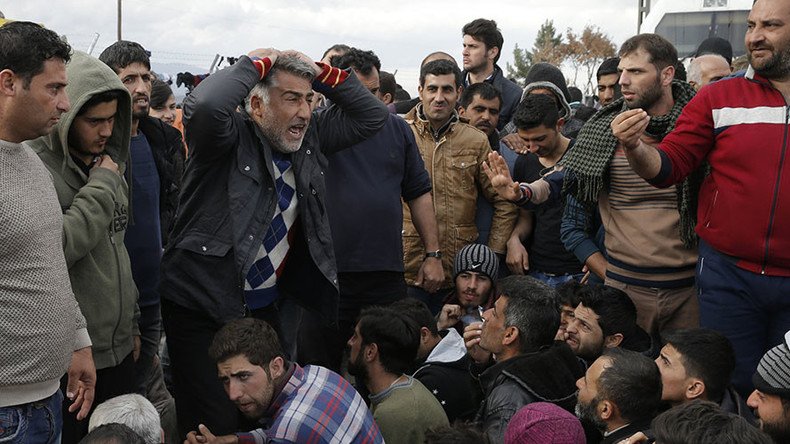 Giant refugee camps have sprung up along the Greek border with Macedonia and up to 11,000 migrants have become stuck at the Idomeni border crossing – a bottleneck on the 'Balkan refugee route', through which thousands of asylum seekers try to reach Europe.
Some two weeks ago the camp had not even been there – it started blossoming after Macedonian authorities tightened immigration restrictions on February 23, banning Afghans from passing through the country's borders, following a similar move by Serbian authorities. But with some 30,000 refugees and other migrants stranded in Greece at the moment, the flow of asylum seekers heading for Idomeni has been growing daily. Just on Wednesday, up to 2,500 refugees, tired from days on foot, joined those already stuck at the camp.
On Monday, Macedonian officials temporarily closed the border for all, a move that resulted in heavy clashes between the disgruntled asylum seekers and police, who used batons and fired tear gas to disperse the angry mob that stormed the border, ramming down a metal gate. Macedonian police say they've deployed additional troops to prevent further clashes, with two rows of barbed-wire fencing to hold the migrants back set up earlier in the week. The country's authorities have been defensive of such stance. "Our daily admittance of migrants will depend on how many will be accepted in EU countries," Interior Minister Oliver Spasovski, told reporters in Skopje on Wednesday, as Reuters reported.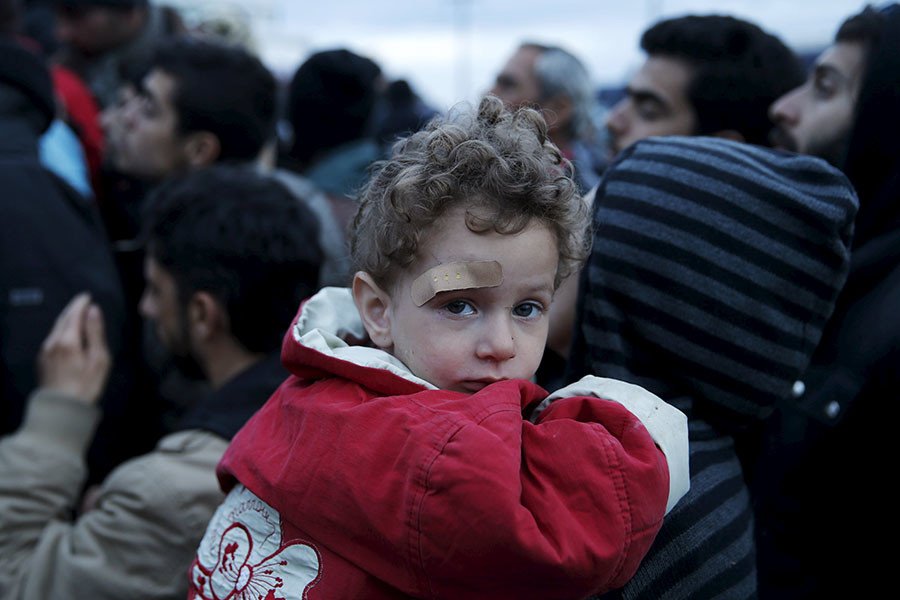 While waiting for a chance to move forward, most of the migrants live in tents, many of them makeshift. "There are 11,000 people here and conditions are very bad," Antonis Rigas from charity Medicins Sans Frontieres told Reuters. New arrivals face other difficulties as well – from finding ways to cook food for themselves to getting their hands on power sources for their mobile phones.
Greek aid workers and volunteers try to keep everything in order, but say the two official camps in Idomeni are so full that if the numbers exceed 12,000 many worry the situation might get out of hand.
For now the frontier at Idomeni remains shut, allowing only a certain small number of refugees to cross into Macedonia daily, mostly of Syrian and Iraqi origin. Macedonia intermittently opened the crossing on Wednesday, letting several hundred people in, mainly families with small children, as European Council President Donald Tusk arrived in the country for talks on the migration crisis. Tusk is also due to visit Greece and Turkey, in a move to ease tensions among European Union leaders — mostly Austria and Germany — before they hold a summit on migration with Turkey, set for Monday, March 7. "We must urgently mobilize the EU and all member states to help address the humanitarian situation of migrants in Greece and along the western Balkan route," Tusk said Wednesday in Zagreb.
Meanwhile the same day, Greece conceded it was making preparations to help as many as 150,000 migrants stranded while the border remains closed. "In my opinion, we have to consider the border closed," Greek Migration Minister Ioannis Mouzalas noted. "And for as long as the border crossing is closed, and until the European relocation and resettlement system is up and running, these people will stay in our country for some time."
You can share this story on social media: