ISIS using women in combat roles, 3 dead & 7 arrested – Libyan military leader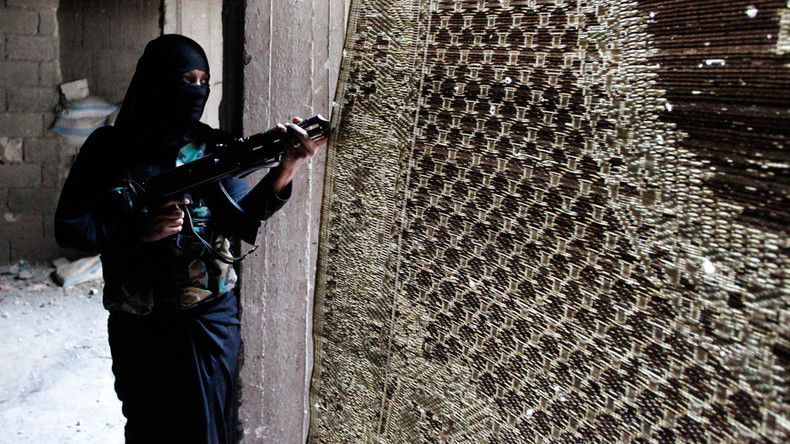 A Libyan military council head has confirmed for the first time that Islamic State is using women in combat roles. At least seven females were arrested and three others were killed in the past week, according to the leader.
"Several female operatives have been killed [this week], fighting alongside the men. One of them tried to blow herself up, wearing an explosive vest," Taher al-Gharabli, head of the military council of the western Libyan city of Sabratha, told The Times.
He went on to say that the female Islamic State (IS, formerly ISIS/ISIL) fighters are believed to be Tunisian.
The military leader's statements signify the first confirmation that IS is using women on the frontline. Until now, they were believed to only hold non-combat roles.
One of those roles includes working for Islamic State's all-female al-Khansaa Brigade, which patrols the IS strongholds of of Raqqa, Syria, and Mosul, Iraq, administering punishments to women who do not abide by the militant group's behavior and dress codes. In January, a female member of IS reportedly tortured a 21-year-old Syrian woman in the city of Manbij for alleged dress code violations. The victim later died as a result of her injuries and her body was returned to her family.
Al-Gharabli's Monday statements were confirmed by the mayor of Sabratha, Hussein al-Thwadi, who said: "The women mostly handle the logistics of the battle, but they are also fighting."
Although women fighting for IS on the frontline is a new development, it's not the first time that female sympathizers have joined the militant group.
Earlier this month, a British woman was sentenced to six years after traveling to Syria to join IS. The woman, who brought her 18-month-old son to the war-torn country, was arrested upon her return to the UK.
It was reported in November that a teenage girl who ran away from her home in Austria to join IS had been beaten to death after trying to escape from the group. The girl traveled to Syria with her friend in 2014.
In September, three female jihadists believed to be from the UK were urging Western Muslims to join them in helping to make a new front for IS in North Africa. They said that because increased security along the Turkish border had made it harder to join IS in Syria, moving to Libya was the best option.
Despite an apparent female following, the militant group is known to treat women and girls horrendously. A January United Nations report found that IS is holding around 3,500 people as slaves in Iraq, mostly women and children from the Yazidi community.