'Never': Erdogan 'tells' Russian pranksters no chance he would apologize to Russia for downed Su-24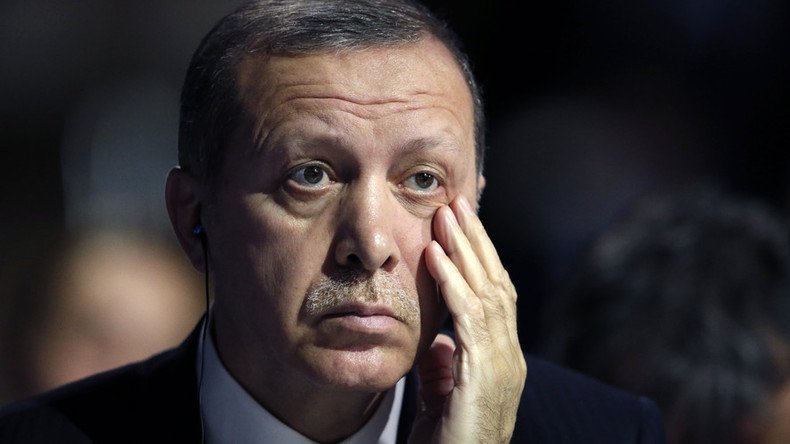 Two Russian pranksters known for high-level prank calls claim they spoke to Turkish President Erdogan posing as Ukraine's President Poroshenko and PM Yatsenyuk. The 13-minute exchange, which a Turkish source denied ever took place, is explicitly anti-Russian.
The alleged tricksters are Vladimir Krasnov and Aleksey Stolyarov, known as Vovan and Lexus on the internet, who have a history of impersonating Ukrainian and other politicians to try and prank high-level officials of different states.

In the audio, uploaded online by the duo, a voice similar to that of Recep Tayyip Erdogan addresses the "fake" Petro Poroshenko via an interpreter translating from Turkish into Russian.
The Turkish speaker says he would "gladly" take part in an economic – and even "naval" – blockade of Crimea and join "a dialog of states that suffered from the Russian sanctions." The two sides exchange warm words pledging mutual support of the unofficial Crimean Tatar body Mejlis, which has opposed Russia's reunification with the peninsula.

The supposed Turkish leader then stressed he would "never, never" apologize to Russian President Vladimir Putin for downing the Su-24 bomber on the Syrian-Turkish border in November of 2015.
An unnamed Turkish official has denied that the telephone conversation with Erdogan ever took place, denouncing the pranksters' claims as "fake."

"I know nothing of such [telephone] call… The president [Erdogan] cannot be reached so easily. I believe it is a fake, as special communication channels as well as special procedures are used for such negotiations," a source in the Turkish president's office told RIA Novosti.

However, the pranksters themselves say there are many different ways to reach a targeted person, adding that Erdogan was "neither the first nor the last" high-level official they have managed to get through to for an interview on the radio station Govorit Moskva (Moscow Calling).

Vovan and Lexus have become famous (or infamous) in Russia for making fun of high-profile personas, including politicians and celebrities. In September of 2015, they played a prank on Sir Elton John, prompting the iconic musician to boast on Instagram that he had been personally contacted by Putin via phone.
Putin actually phoned John following the incident and the two agreed to a possible a face-to-face meeting in the future.
The prank got pretty grotesque in the end when "Poroshenko" invited Erdogan to Kiev, jokingly offering him gorilka (Ukrainian vodka) and a visit to the banya (Russian sauna) "the Turkish way," which he said "his wife" could set up. Moreover, he promised that the Turkish leader would personally be tended by the notorious Radical Party leader Oleg Lyashko at the banya.
Speaking to LifeNews, Lexus said the conclusion they drew was that Erdogan was not really interested in speaking to Poroshenko, as they had to wait for "a day" to get through. However, the Turkish leader was allegedly relaxed and welcoming, readily offering to keep "Poroshenko" updated with plans on a possible Syria ground invasion, which, however, he refused to disclose on the telephone.
Responding to the anonymous report dismissing the prank as "fake," Lexus called on the source to reveal himself so that he could pass on all the proof they actually spoke to Erdogan.
Vovan and Lexus have earlier pranked Belorussian President Aleksandr Lukashenko, Ukrainian Interior Minister Arsen Avakov, and Kiev Mayor Vitaliy Klichko, as well as Georgia's former president, Mikhail Saakashvili, who is currently the governor of Ukraine's Odessa region.

In October of 2014, the pranksters spoke to US military commander Kevin McNeely, pretending to be Avakov. They got the high-ranking general to promise to send arms to Kiev's National Guard in that prank call.
READ MORE: SBU or NSA? Prankster calls Belarus leader posing as Yanukovich's son, gets convo leaked in Kiev
You can share this story on social media: