SBU or NSA? Prankster calls Belarus leader posing as Yanukovich's son, gets convo leaked in Kiev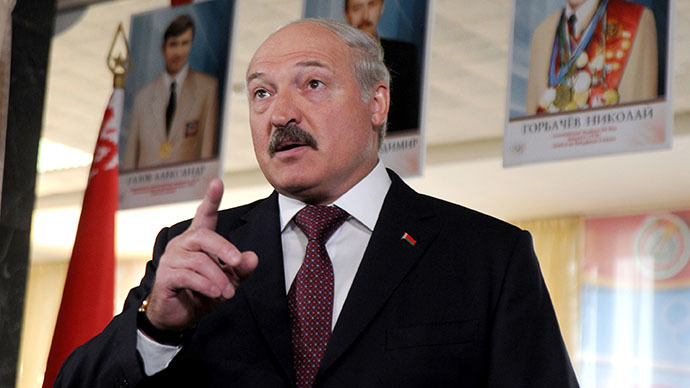 A prank call with Belarusian President Aleksandr Lukashenko has been leaked by some security services to the Ukrainian media, a Russian prankster has claimed. The call, in which the young man poses as ousted president Yanukovich's son, touches on Ukraine.
A Moscow-based prankster and journalist, known only as Vladimir or Vovan222, is already well-known for his scandal-stirring phone calls to officials and celebrities. This time, however, he managed to get to the level few pranksters have reached before, calling a country's president and holding an informal talks for nearly ten minutes.

To achieve his aim, prankster Vovan pretended he was the son of Ukraine's ousted president, Viktor Yanukovich junior. He said he was worried about "his father's" fate in Russia and asked if the former Ukrainian leader could use a Belarusian asylum if needs be.
Lukashenko not only fell for the bait, but appeared to have never suspected the call could be a sham. Reminding the caller that Yanukovich the elder has got a family village in Belarus, the Belarusian president said he would welcome Viktor in his country and would not object to his stay.
Янукович хочет бежать от Путина к Лукашенко? http://t.co/ve2K0qVZJGpic.twitter.com/OcjzKYoenQ

— Top News (@TopNewsUA) June 16, 2014
The Belarusian leader also had a valuable advice for Yanukovish – not to watch or read any media reports on Ukraine for his own good.

The grateful prankster promised a "golden loaf of bread" from Yanukovich's collection as a thank-you present to Lukashenko. He also attempted to talk of a "plan" of Yanukovich becoming the president of the so-called 'Novorossiya' – historical Russian region in south-eastern Ukraine that some anti-Kiev activists want to reinstate as a separate state – but Lukashenko refused to discuss such issues over the phone.
Security services fall for prank call?
A mere day after the conversation took place, prankster Vovan realized he was not the only person listening to Lukashenko's candid talk.

To his "great surprise," Ukrainian journalist Mustafa Nayyem – a popular internet figure with over 137,000 followers – published some details of the conversation on his Facebook page, citing "a single but trusted" source.

That did not end there, though, as on Monday a Ukrainian outlet LB.ua published an audio recording of the whole conversation, which it had "obtained."
Both Nayyem and LB.ua apparently believed Lukashenko was talking to the real Yanukovich Jr.

Prankster Vovan came up with his own version of the call's recording only later on Monday, uploading it with comments on his YouTube channel.

In the clip's description, the prankster claimed that the audio leaked to LB.ua could not have been recorded from his side, as it starts well before he was connected through to Lukashenko's aide. It is also of a much higher quality, Vovan said.

"A surprising, but quite logical conclusion: the Belarusian president was being tapped. Probably, by the [Ukrainian Security Service] SBU or Western intelligence services," the prankster alleged.

The unknown phone tappers apparently fell for the prank too, he said, and probably relayed the recording to the Ukrainian authorities, who chose to leak it via "close" media.
The prankster even decided to let Lukashenko know he has been wiretapped all along, calling the president's aide after the leak was published on Ukrainian media.
Belarus intel head to collect feed for cattle?
Upon learning that "Yanukovich son's" call was a prank, Lukashenko was reportedly outraged.

The president ordered to find the prankster and "send him for harvesting feed," a source in presidential administration told Belarusian media.

Otherwise, the head of Belarusian Security Service and the head of presidential administration will be sent to do the same job, Lukashenko allegedly threatened.

The real Viktor Yanukovich Jr. responded to a flurry of inquiries in a short Facebook post, saying that he is "a modest man not suffering megalomania," who is not entitled to hold any talks with heads of states.

The leaked conversation is only the latest in a series of Ukraine-related phone calls, which have been tapped and uploaded online by undisclosed parties.

US Assistant Secretary of State for Europe Victoria Nuland could be heard saying "F**k the EU" in an infamous leaked conversation with US ambassador to Ukraine Geoffrey Pyatt, in which the two were apparently discussing the preferred line-up of the Ukrainian government.

Estonian Foreign Minister Urmas Paet was bugged relaying Maidan doctor's suspicions of then-opposition leaders being complicit in the deadly sniper fire in Kiev to the EU foreign affairs chief Catherine Ashton, while former Ukrainian PM and presidential hopeful Yulia Tymoshenko allegedly urged to "go kill those damn Russians together with their leader" by means of "atomic weapons" in another emotional leak.

While the sources of those leaks remain unknown, it is clear that high-level tapping is a common practice with some of the world's security services. The revelations of US National Security Agency (NSA) whistleblower Edward Snowden have suggested that even one of the closest allies of Washington, German Chancellor Angela Merkel, has had her personal phone tapped by the NSA..
You can share this story on social media: