Time to grab guns and kill damn Russians – Tymoshenko in leaked tape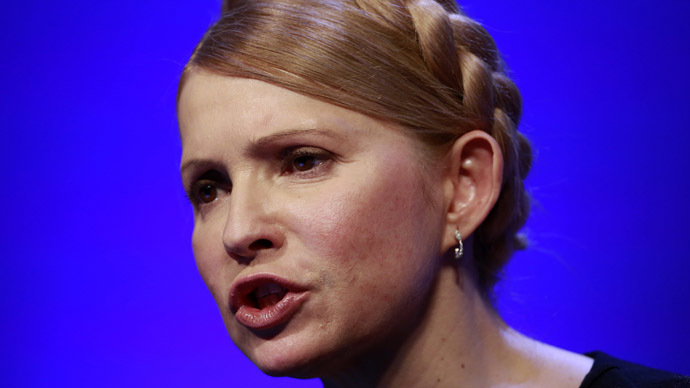 Ukrainians must take up arms against Russians so that not even scorched earth will be left where Russia stands; an example of former Ukrainian PM Yulia Tymoshenko's vitriol in phone call leaked online.
Tymoshenko confirmed the authenticity of the conversation on Twitter, while claiming that a section where she is heard to call for the nuclear slaughter of the eight million Russians who remain on Ukrainian territory was edited.
She tweeted "The conversation took place, but the '8 million Russians in Ukraine' piece is an edit. In fact, I said Russians in Ukraine – are Ukrainians. Hello FSB :) Sorry for the obscene language."
The former Ukrainian PM has not clarified who exactly she wants to nuke.
Розмова була, але про 8 млн росіян в Україні - монтаж. Насправді сказала: росіяни в Україні - це українці.Привіт ФСБ:) Вибачте за нецензурне

— Юлія Тимошенко (@YuliaTymoshenko) March 24, 2014
The phone conversation with Nestor Shufrych, former deputy secretary of the National Security and Defense Council of Ukraine, was uploaded on YouTube on Monday by user Sergiy Vechirko.
Shufrych's press service flatly contradicted Tymoshenko, slamming the tape as fake. The press release reads "The conversation didn't take place," as quoted by korrespondent.net.
The leaked phone call took placed on March 18, hours after the Crimea & Sevastopol accession treaty was signed in the Kremlin.
While Shufrych was "just shocked," Tymoshenko was enraged by the results of the Crimean referendum .
"This is really beyond all boundaries. It's about time we grab our guns and kill go kill those damn Russians together with their leader," Tymoshenko said.
The ex-PM declared if she was in charge "there would be no f***ing way that they would get Crimea then."
Shufrych made the valid point that Ukraine "didn't have any force potential" to keep Crimea.
But Tymoshenko, who plans to run in Ukraine's presidential election, expressed confidence that she would have found "a way to kill those a*****es."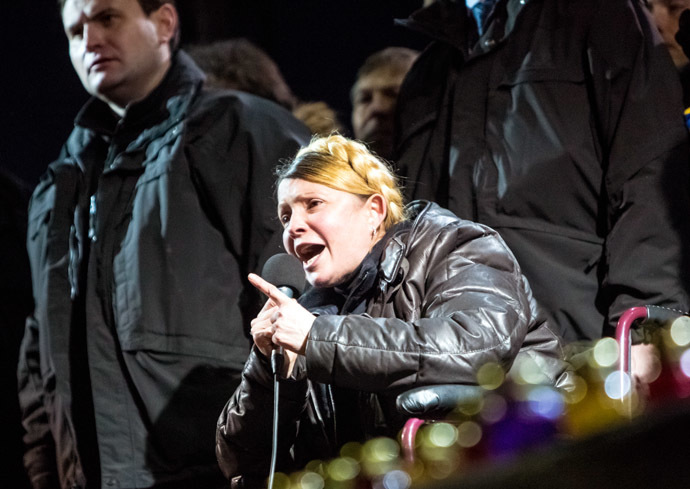 "I hope I will be able to get all my connections involved. And I will use all of my means to make the entire world raise up, so that there wouldn't be even a scorched field left in Russia," she promised.
Despite being incapacitated by spinal disc hernia the ex-PM stressed she's ready to "grab a machine gun and shoot that m*********er in the head."
Tymoshenko rose to power as a key figure in the pro-European Orange Revolution in 2004, becoming Ukrainian prime minister 2007-2010.
She was imprisoned in 2012, under president Viktor Yanukovich, after being found guilty of exceeding her authority by signing a gas supply and transit deal with Russia.
The deal is claimed to have cost Ukraine's national oil and gas company, Naftogaz, around US$170 million.
Tymoshenko served part of her seven-year sentence in prison before being relocated to a Kharkov hospital.
She was released immediately after the Kiev coup which ousted Yanukovich.
This is not the first telephone leak scandal since the Ukrainian turmoil began last November.

In February, a tape was revealed, in which US Assistant Secretary of State for Europe, Victoria Nuland, said"F**k the EU" as she was discussing the formation of the future Ukrainian government with the US ambassador to the country, Geoffrey Pyatt.
And at the beginning of March a phone conversation between EU Foreign Affairs Сhief, Catherine Ashton, and Estonian foreign affairs minister, Urmas Paet, was made public. Speaking with Ashton, Paet stressed that there was suspicion that the snipers in Kiev, who shot at protesters and police in Kiev might have been hired by Maidan leaders.
You can share this story on social media: