Overcome 'dark side': Campaign urging residents to embrace refugees launched in Germany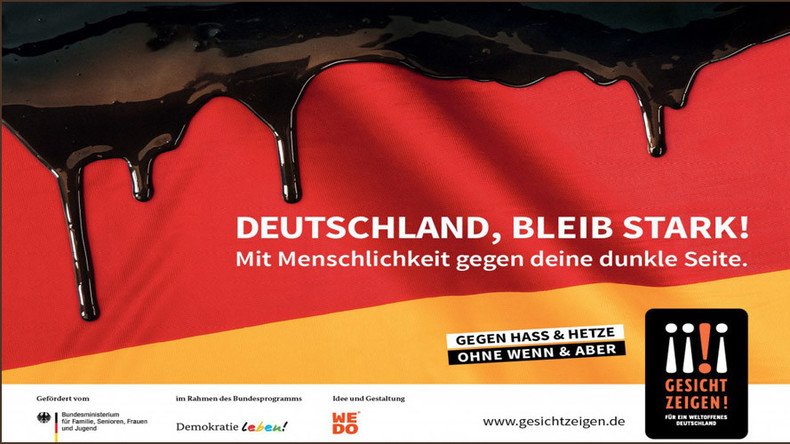 As tensions in Germany continue to rise over the refugee crisis, a left-wing group in Berlin has launched a massive campaign urging residents to overcome the "dark side" and embrace new arrivals.
Six hundred giant billboards are expected to go up across the country, and 20,000 stickers and 45,000 postcards will be distributed as part of a campaign launched by a left-wing group called Show Your Face! For an Open Germany.
Slogans on the signs include "Germany, stay strong! With humanity towards your dark side" and "Against Hate & Baiting – no ifs or buts." The campaign is backed by the Ministry for Families, Seniors, Women and Youth, Breitbart reported.
The term "Germany, stay strong!" is a "call to civil society to oppose right-wing tendencies and incitement. An appeal to a welcoming culture for people in need – and for a cosmopolitan Germany," the group wrote on its website.
The text on the billboards is written over a German flag dripping with black paint, which is intended to represent "right wing" and "nationalist" groups such as the PEGIDA and the Eurosceptic Alternative for Germany (AfD). Those behind the campaign say they hope to "retrieve" the flag from such groups.
"PEGIDA and Co. abuse the flag of the Federal Republic," the chairman of 'Show Your Face!' Uwe-Karsten Heye, told Der Tagesspeigel, adding that the flag and constitution "stand for an open society, the right to asylum, and for inviolable human dignity."
The group's manager, Sophia Oppermann, said the organization hopes to encourage left-wing and "humanitarian" groups to use and display the flag more often.
"We're tired with the right constantly waving the German flag, and all the others have no chance," she said. "We are also proud of this country and we stand for the values that have this flag and this country."
The group is also encouraging the German public to embrace the one million refugees who arrived in Germany in 2015, and to continue welcoming them this year.
Oppermann did, however, admit that there are "huge problems" associated with the mass influx of asylum seekers, and that the issues need to be solved while Germany simultaneously continues to "act with humanity."
'Huge problems'
Meanwhile, many German citizens have been making noise about the "huge problems" associated with Chancellor Angela Merkel's open-door policy. However, considering the government's newest move, Berlin seemingly has no interest in changing its stance, instead preferring to launch an advertising campaign which some have called "propaganda."
Critics of Merkel's policy became even more outspoken and angry after a string of sexual assaults that took place in Cologne on New Year's Eve, most of which were committed by migrants.
Several attempts have been made since then to instruct new arrivals on German etiquette, including the treatment of women. One of them, however, was mocked on Twitter, with jokes pointing out how it resembled an airline safety guide.
A German grandfather wasn't joking at all, however, when he approached the mayor of his town, who happens to be a member of Merkel's Christian Democratic Union (CDU), earlier this month. When the concerned resident pointed out that the town's schoolgirls were reporting being sexually harassed by residents of a refugee shelter and asked what could be done about it, the mayor said the answer was simple – the girls should take alternate routes to school which don't require passing the shelter so as not to "provoke" the refugees. The response was met with outrage at a town hall meeting.
Residents have also been outraged by reports that refugees aren't being arrested for crimes. A German police officer recently stated that law enforcement cannot take actions against law-breaking refugees without being accused of excessive violence or racism.
Meanwhile, Germany's NPD party – known for its hardline stance on migrants – launched its own poster online last week, which called for refugees to be "systematically deported." The party's critics turned that advice around, with one user writing on Facebook: "Deport? It's high time! NPD members to Siberia…"
Although Merkel's government insists that its open-door policy is still the way forward, it could soon face legal action from Bavarian officials who disagree with the chancellor's plan. That decision likely hinges on whether Merkel succeeds in securing a deal to more fairly distribute the refugees among EU member states during a Brussels meeting next week.
Germany has accepted more asylum seekers than any other European country, taking in 1.1 million in 2015. Refugees are continuing to flow into the European Union, with German economics minister Gerd Muller warning last month that the number of new arrivals in the coming years could amount to 8-10 million people.
You can share this story on social media: