Germans out first! Social media on fire after radical party screws up deportation poster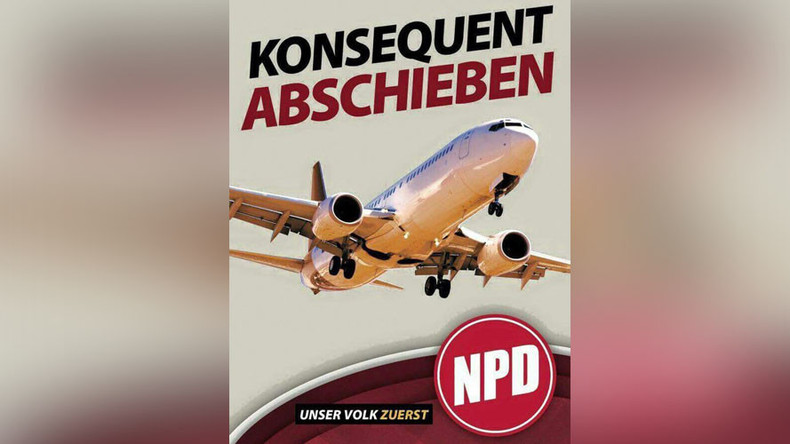 Germany's NPD party, known for its hardline stance on migrants, posted an unfortunately-designed poster online, which could be perceived as a call to "systematically deport" Germans.
It was mocked by social media users, many urging the party to follow their own advice.
The poster, depicting a flying plane with an appeal to "systematically deport" scribbled above it and "our nation first" underneath, was initially posted on the Facebook page of the National Democratic Party of Germany (NPD)'s branch in the German state Rhineland-Palatinate and since has gone viral.
The post was ridiculed by FB users, who called on NPD members to take their own motto's advice and go away as far as possible. One user wrote: "Deport? It's high time! NPD members to Siberia…" Another suggested sending them to even further locations: "To North Korea, there NPD supporters will be happy" or as another put it simply, expressing a prevailing sentiment: "bye, bye, Nazi, have a good trip."
Twitter also reacted with a storm of giggles directed at the unfortunate poster's creators.
From the house of "rhetoric pearls" of NPD or "brain shutdown while designing posters"
A shot at its own…ah, at the German knee…
#NPD want our nation to be deported first! Dumber never go!
The NPD finally calls to deport the self-appointed people. Although the destination is not yet clear
"Systematically deport. Our nation first" – Oh, no, NPD. Only the Nazis. It'll be enough.
The NPD responded to the barbs by firing back at the mockers: "Continue with your multicultural games and let yourselves be raped," presumably referring to a recent string of sexually motivated attacks in Germany.
The original publication was removed on Wednesday and replaced with an edited version, in which the slogan "our nation first" is separated from "systematically deport" by a web link, directing to the party website.
In an interview with the German news site Jetzt.de, Markus Walter, chairman of the party's Rhineland-Palatinate branch, confessed that the members "had seven poster designs" and "the majority decided to go with this one."
You can share this story on social media: