'Biggest refugee inflow still ahead': 10mn could come to Europe – German minister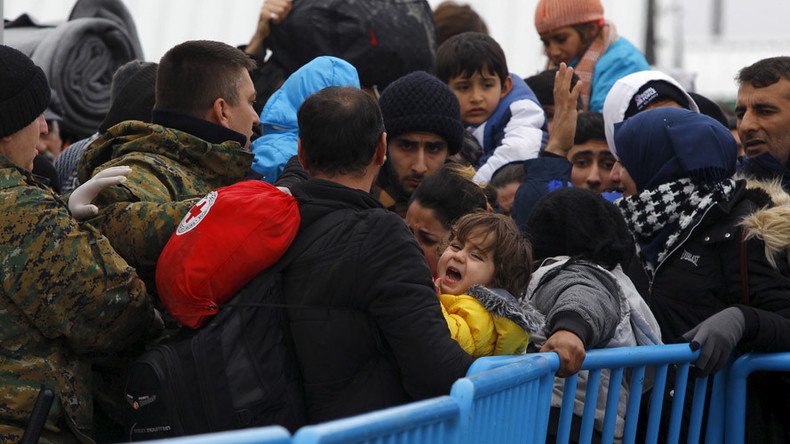 The recent migrant influx to Europe is just a prologue to what could be in store in the coming years, as the number of new arrivals could amount to 8-10 million people, Germany's economics minister, Gerd Muller, has warned.
So far, Europe has witnessed only the beginning of the refugee and migrant tide, as "only 10 percent of refugee wave coming from Syria and Iraq have reached" Europe, with even more people expected to arrive from Africa, Muller said in an interview to Germany's Bild am Sonntag.
"The biggest refugee inflow is still ahead: African population will double in the next decades with the population of… Egypt reaching 100 million and Nigeria's population reaching 400 million," Muller told the Sunday newspaper.
The minister also insisted that the process of refugee inflow is largely irreversible as "in our digital era, with internet and mobile phones, everyone is well aware about our [European] wealth and lifestyle," adding that the world needs "an absolutely new pattern of international cooperation."
"We cannot just build fences around Germany and Europe. When people suffer, they will come," Muller said, adding that "it does not matter what we decide here. These people will not ask us if they may come."
In the interview, the minister outlined a new "Marshall Plan" costing €10 billion that envisages the creation of an "all-European reconstruction fund" to finance the rebuilding of settlements in war-torn Syria and Iraq. He stressed that states that do not accept refugees should more actively participate in this project and should not try to avoid paying their share.
At the same time, the minister asserted that Europe should invest in education, integration and the future of the refugees who have already reached Europe. He also said the first priority was to reduce the inflow of refugees into Europe, as "8-10 million people are on their way [to Europe]."
Muller also warned that Turkey has reached its maximum capacity to accept refugees and requires help, urging "the EU states to fulfill their promise" as the pledged "aid amounting to €3 billion is still not available."
The European Commission has lost authority because of the refugee crisis, Muller said.
"The protection of external borders is not working. Schengen has collapsed. A fair distribution of refugees has not taken place," he said.
Commenting on the cap on the number of refugees demanded by Bavarian Prime Minister Horst Seehofer, Muller said that the country needs a reduction because, "if [Germany] receives another million [refugees] like last year, it will not be able to successfully integrate them."
Muller's statements concerning the potential number of new arrivals to Europe partly reiterated the comments of Heinz Buschkowsky, a German MP from the Social Democratic Party, who also predicted that the total number of refugees and migrants coming to Germany by 2020 could reach up to 10 million.
On Saturday, the German Interior Ministry said that it expects another 1 million refugees to enter Europe from Turkey, adding that Turkey will be able to host only about one-fifth of them.
This prediction came from the German Parliamentary State Secretary for the Interior Ministry, Ole Schroeder, during a meeting with his counterparts from Sweden and Denmark, as well as EU Commissioner for Migration, Der Spiegel reports.
In his speech, Schroeder also criticized the European Commission, saying that "the measures [implemented by the Commission] so far have no impact [on the situation] as the numbers of [refugees arriving to Europe] are not decreasing with averagely about 40,000 people coming from Turkey to Greece every day."
According to German Interior Minister Thomas de Maiziere, a total of 1.1 million refugees were registered in Germany in 2015 – 428,500 of them from Syria. De Maiziere added that the number of refugees coming from Morocco and Algeria has also significantly increased recently, as reported by Der Spiegel.
Germany to make deporting refugees easier
German authorities are going to make it easier to deport foreign criminals, including asylum seekers, by lifting some of the restrictions impeding the process, De Maiziere said Tuesday.
"With this proposal, we are significantly lowering the hurdles for the possible expulsion of foreigners who have committed crimes in Germany," he told German TV channel N24 during a joint address with the Justice Minister, Heiko Maas.
The new measure will affect foreigners convicted of specific crimes in Germany, including homicide, bodily harm, sexual assault, violent theft and serial shoplifting. Youth sentences are also covered by the new measure.
A sentence of one year will now be a "significant reason" for deportation, while earlier only refugees sentenced to three or more years could be deported, De Maiziere said.
"That's a hard but right response by the state to those who are seeking protection here, but think they can commit crimes" without consequences for their right to remain in Germany, he added.
However, Maas, the justice minister, said that some measures were necessary to "protect the overwhelming majority of innocent refugees in Germany. They don't deserve to be lumped together with criminal foreigners," AP reports.
German Chancellor Angela Merkel said Tuesday at a news briefing that the laws easing the deportation process, which were initiated by the justice and interior ministers, should "come into force as soon as possible."
The initiative came following a series of sexual assaults that took place on New Year's Eve in a number of European countries. The largest number of assaults was recorded in Cologne, where 516 criminal cases have been filed with the Cologne police, who say they include two cases of rape.
You can share this story on social media: