Only 1% of Swedish police callouts over last 100 days involved refugees – report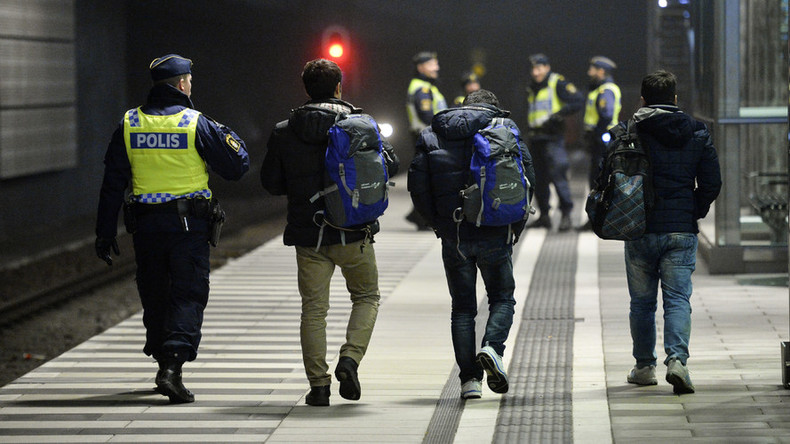 Only 1 percent of all Swedish police callouts over a period of three-and-a-half months concerned incidents involving refugees, according to new statistics. It comes despite reports of violence at refugee centers and an alleged cover-up of sex crimes.
According to the new figures put together by Dagens Nyheter newspaper, police were called out to 537,466 incidents in Sweden between October 15, 2015 and the end of January 2016. Of those, only 5,000 incidents – less than 1 percent – involved refugees.
It comes amid reports of crimes being committed by asylum seekers at refugee centers for underage, unaccompanied minors throughout the country, as well as an alleged police cover-up regarding sex crimes by migrants at a music festival.
However, among the cases involving migrants and refugees that have been made public are some horrible assaults. A young woman who was a social worker at a center for underage unaccompanied refugees in southern Sweden was stabbed to death in late January. The crime was allegedly committed by a 15-year-old boy who the Swedish woman was taking care of. In a string of violence at the country's refugee facilities, workers at another home for refugee children had to barricade themselves inside a room after a crowd of young men attacked them with makeshift weapons.
READ MORE: Police officers flee angry mob in Swedish refugee center through back door
The incidents involving migrants and refugees have sparked outrage and another wave of violence across Sweden - towards the newcomers. Following the killing of the social worker, dozens of masked men took to the streets of Stockholm and beat up anyone who did not appear to be an ethnic Swede. The rampage followed a rally of hundreds of people protesting against the presence of refugees in the North European country.
Despite the reports, Thomas Wallberg of the Swedish police's National Operations Department (NOA) stressed that the crime rate has not gone up significantly as a result of the new arrivals.
"The difference is that this community is compressed into a small space. When a crime is committed in this little space, the entire community easily becomes associated with it," he told the newspaper.
That sentiment was echoed by Felipe Estrada, a criminology professor at Stockholm University.
"Given the enormous attention that crime among new arrivals has been given in the past six months, 1 percent does not sound like a lot. It means that 99 percent of what the police do cannot be linked to new arrivals," he said.
Swedish police have developed a special code, R291, for incidents involving refugees, allowing them to monitor how the influx of asylum seekers has affected the overall crime rate. The code was introduced in October, when as many as 10,000 refugees were registering in the country every week.
Home to 9.8 million people, Sweden accepted over 160,000 refugees and migrants in 2015 – the highest per capita number of all EU countries. However, the level of new arrivals has plunged since the beginning of January, when the country introduced systematic photo ID border checks, after stating that it had reached its limit in terms of receiving asylum seekers.
Meanwhile, Sweden is planning to deport up to 80,000 refugees after their asylum applications were rejected.
You can share this story on social media: