Swedish refugee center workers attacked by underage weapon-wielding residents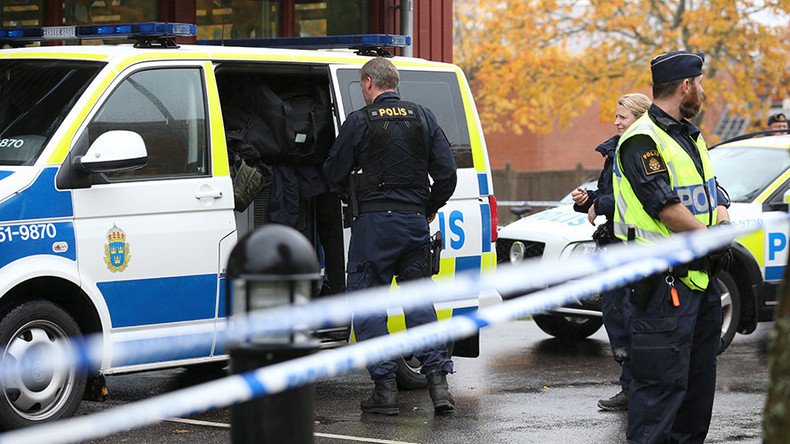 Workers at a home for refugee children in Sweden had to barricade themselves inside a room after 19 young men rioted and attacked them with makeshift weapons. It is the latest in a string of violence at Swedish refugee facilities.
"There was a violent riot at the accommodation center for unaccompanied refugee children," Ingela Crona from the local police in Kalmar told Expressen.
"They broke loose, and a total of 19 people banded together and did this," she added. According to Expressen, the young men were carrying makeshift weapons.
John Nilsson, also with the local police, told Barometern newspaper that the violence began after staff refused a request for one of the residents to buy candy.
The resident then "became furious with the staff member. He collected together around 15 friends and the staff were forced to shut themselves in while they broke windows and did what they liked," Nilsson said.
The staff members were only freed when police arrived at the scene and arrested two of the young men. The 16-year-old boy suspected of starting the riot is still in custody, while the other person has been released.
The local municipality in Emmaboda, near Kalmar, which oversees the home, moved some of the residents to another location following the incident.
The riot is just one of several cases of violence occurring at refugee facilities for underage, unaccompanied minors in Sweden.
On Monday, a 22-year-old worker at a center in Molndal, near Gothenburg, was stabbed to death after a fight broke out. The 15-year-old attacker, who was staying at the facility, was arrested.
Last week, a police patrol consisting of 10 police officers was forced to flee a refugee center in Västerås after being surrounded by a group of asylum seekers. The officers were there to relocate a 10-year-old boy after receiving reports that he had been repeatedly raped.
More than 35,000 unaccompanied refugee children arrived in Sweden in 2015, all but 2,847 of whom are male, according to a January report from the European Network of Ombudspersons for Children.
Overall, some 163,000 refugees applied for asylum in Sweden last year, representing the highest per capita number in Europe.
However, Swedish Interior Minister Anders Ygeman announced on Thursday that Sweden is planning to deport nearly 80,000 refugees and migrants who arrived last year, adding that their asylum applications have been rejected.
"We are talking about 60,000 people, but the number could climb to 80,000," Swedish media quoted Ygeman as saying. He did not provide details on the countries of origin of the rejected asylum seekers.
The number of new arrivals to Sweden has plunged since the beginning of the year, when it introduced photo ID checkpoints at the borders, after stating that it had reached its limit of receiving asylum seekers.
Meanwhile, the rest of Europe is also struggling to cope with the biggest refugee crisis since World War II, with the numbers of asylum seekers expected to grow this year. More than 1 million refugees entered Europe last year, most of whom came from Syria, where a civil war has taken the lives of 250,000 people and displaced 12 million others since 2011, according to UN figures.
You can share this story on social media: