'Smell Chapo' dogs enlisted to guard slippery Guzman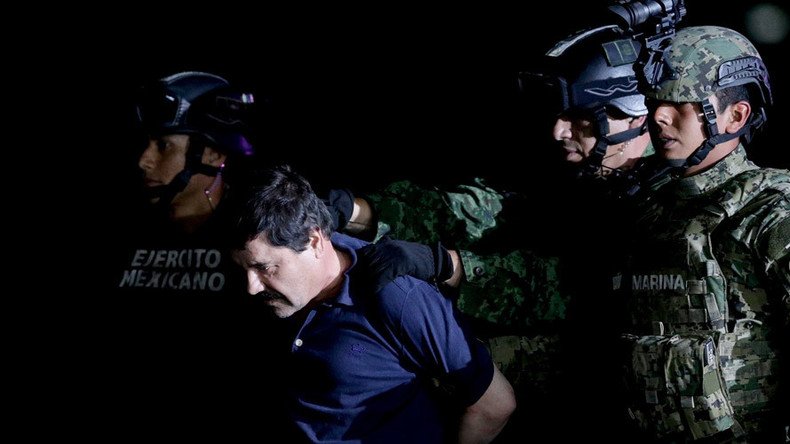 Mexican officials know that Joaquin "El Chapo" Guzman has the resources to pull off a third jail break so every security measure is being put into place to ensure he stays put.
The Sinaloa Cartel kingpin is being guarded in his prison cell by 'smell-Chapo' dogs that have been specially trained to follow his scent, according to Mexico News Daily.
While El Chapo is fighting his extradition to the US, which could take anywhere up to six years, he is being continually rotated between 30 different cells as an added deterrent.
Surveillance cameras in Altiplano Prison have also been increased and guards have been given helmet cameras.
The reinforcements may seem extreme, but the drug lord already escaped the maximum security prison on July 11, 2015. It sounds like a plot from a movie, but Chapo's elaborate prison break was very real.
The boss of an estimated billion-dollar empire spared no expense when he forged a mile long tunnel, 30 feet underneath the jail, leading from his cell to a nearby construction site. The tunnel was fitted with lighting, ventilation and a motorbike on rails to ensure his speedy exit.
His first escape from prison was in 2011, when he is believed to have been smuggled out of Puente Grande penitentiary in a laundry cart. Chapo managed to remain free for thirteen years before he was finally recaptured in January 2014.
READ MORE: Sean Penn denies El Chapo interview led to drug lord's arrest; says his article failed
Many officers have said it's possible El Chapo will escape a third time. The man himself seems pretty confident as he reportedly tweeted "whatever happens twice, will certainly happen a third time", following his last escape.
You can share this story on social media: