Polar bear fed firecracker in Russian Arctic (DISTURBING VIDEO)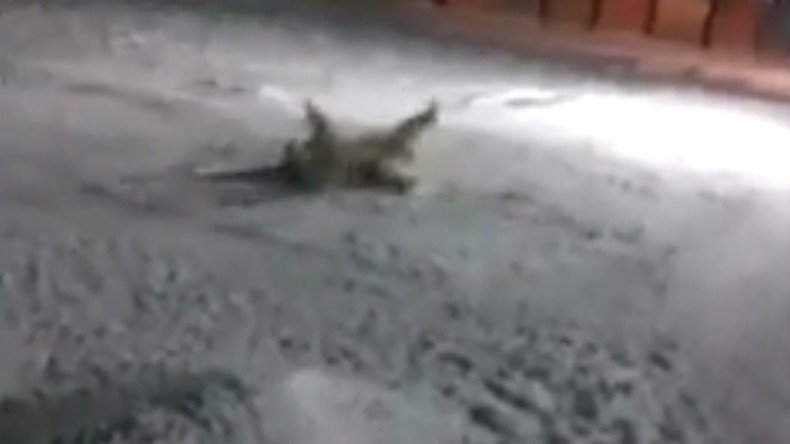 A video showing a polar bear thrashing in pain after it was allegedly fed with a firecracker for fun has emerged online, causing shock and condemnation among the public.
In the video, a polar bear is seen rolling in the snow by a station with a Rusalyans company logo seen on a nearby shack. A group of men can be heard in the background, emotionally discussing the situation and filming the animal with mobile phones.
"Bear, what's wrong with you?" one man is heard saying, before the condition of the large animal worsens and blood appears on it.
"It's in pain, it's going to die," several men then say, before one of them announces that the bear "took a firecracker in the mouth."
"It will recover, I tell you, [because] it's a bear," another witness is heard reassuring the other.
It isn't immediately clear when the incident happened and what exactly the bear had swallowed. Some reports suggest that the animal ate a kind of firecracker used by the military – a smoke charge that simulates explosions. According to another version, it was a rocket flare that it had ingested.
The incident allegedly happened on Wrangel Island in the Arctic Ocean in Russia's Far East. According to social media users, who cited eyewitnesses, a cook at a polar station hid a firecracker in food and gave it to the bear for fun.
READ MORE: Beauty queen butcher: Ex-Miss Kansas charged with killing too many grizzly bears
The she-bear had a cub and regularly visited the station, getting food from the cook, witnesses suggested.
It is unclear what happened to the polar bear. While a YouTube description to the clip said that the animal had received "very bad injuries," LifeNews – after receiving the video from one of its readers – reported that the bear "was killed."
Rusalyans company, on the premises of which the incident allegedly happened, said that the clip might have been filmed as "provocation or black PR," LifeNews reported, adding that the firm is now trying to establish the details of the incident.
READ MORE: Pamela Anderson pushing for animal rights in Kremlin
LifeNews later reported that they managed to contact the cook blamed for the violent deed. According to him, the bear – who often visited the station in search for food – had "itself grabbed a rocket flare and began chewing on it." The bear did not die, he said, adding that workers tried to look for him, but haven't found the animal.
Russia's Ministry of Natural Resources said it received the video and asked the General Prosecutor Office to investigate the incident, saying that the horrific footage captured on it "indicates blatant violation of norms of Russian and international environment-oriented laws."
Polar bears are listed in the Red Data Book of the Russian Federation, which documents endangered species. The offender may face up to 7 years in prison.
WARNING: You may find the video below disturbing
You can share this story on social media: