Pamela Anderson pushing for animal rights in Kremlin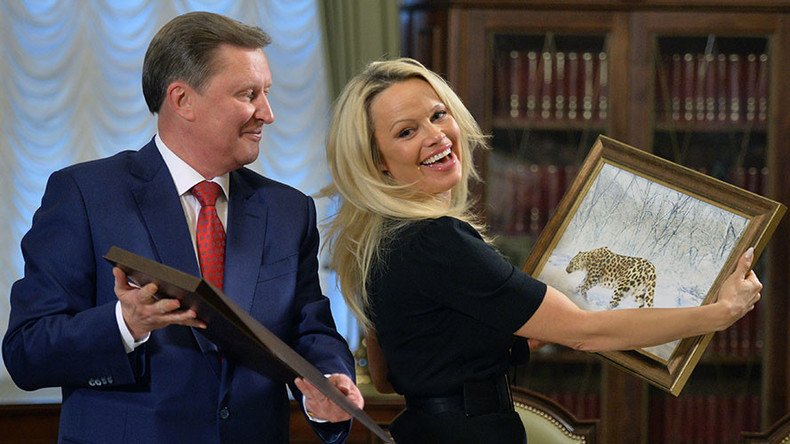 'Eternal Playmate', Baywatch star and animal rights activist Pamela Anderson went right to 'the top' in Russia, participating in a round-table discussion in the Kremlin on Monday.
The meeting, which focused on the protection of nature, was hosted by President Putin's head of office, Sergey Ivanov.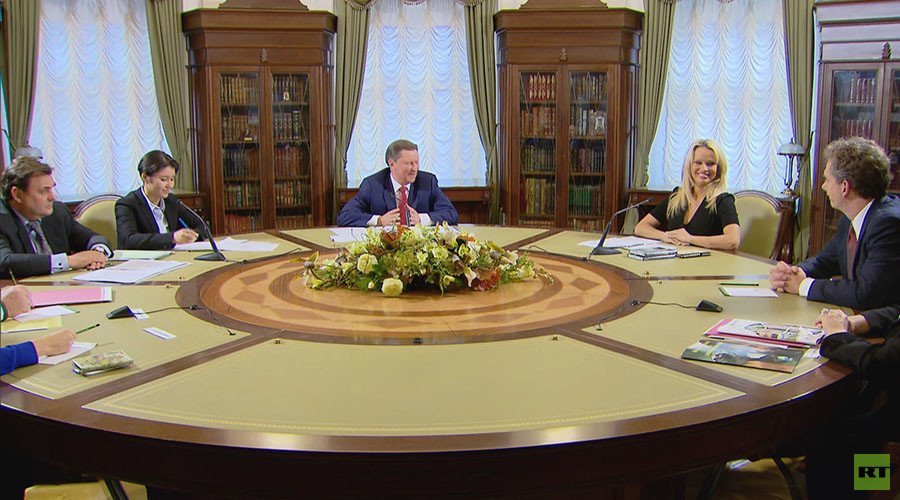 "We want to support Russia in any way we can. That was exciting to talk about [it] and it's nice to hear about the great things that Russia's doing for wildlife and wildlife conservation [both] in and outside of Russia," Anderson told RT after the meeting with the senior official.
"I like to go to the top, I like to go to the most powerful people," she added.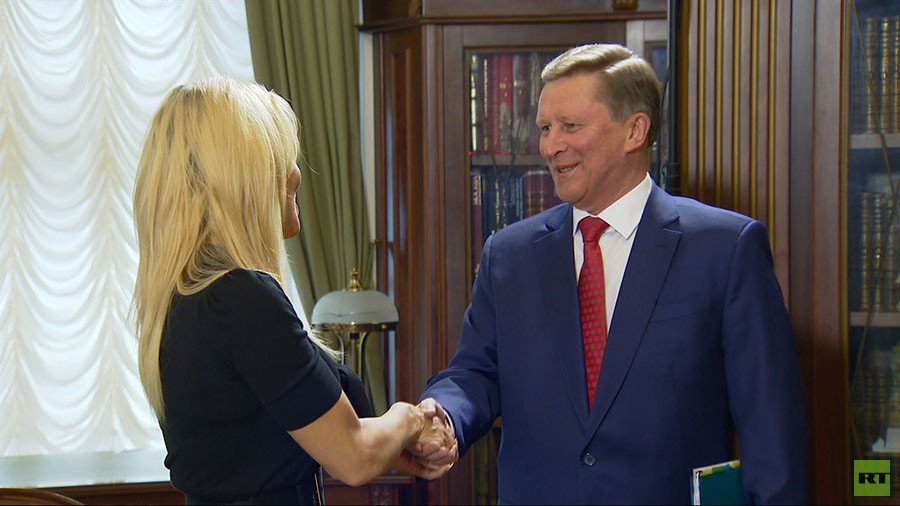 Speaking about why she had chosen Russia to head up an international animal rights movement, Anderson told RT that she feels "that in Russia things get done."
"Sometimes in America things get lost, and here everything happens so fast," she said, adding that she was also impressed with Russians' concerns about climate change.
"It's nice to speak with very powerful people who get things done," she concluded.
Representing the International Fund for Animal Welfare (IFAW) at the Kremlin discussions, the 48-year-old actress and activist said she was "inspired by the attention both the government and Russian businesses are giving to wildlife conservation."
"I would like the Russian government to ask me how I can be of assistance in Russia's conservation issues, and if Russia could use my voice to pursue constructive efforts in an alliance where we can make this a better world," Anderson said, addressing the Kremlin's Chief of Staff.
READ MORE: Dinner with Putin: Pamela Anderson wants to talk environment & animal rights with Russian president
"Russia has proven to be a nation unafraid to take action where action is needed," she said, adding that "compassion for animals unites nations ... and where Russia leads others will follow."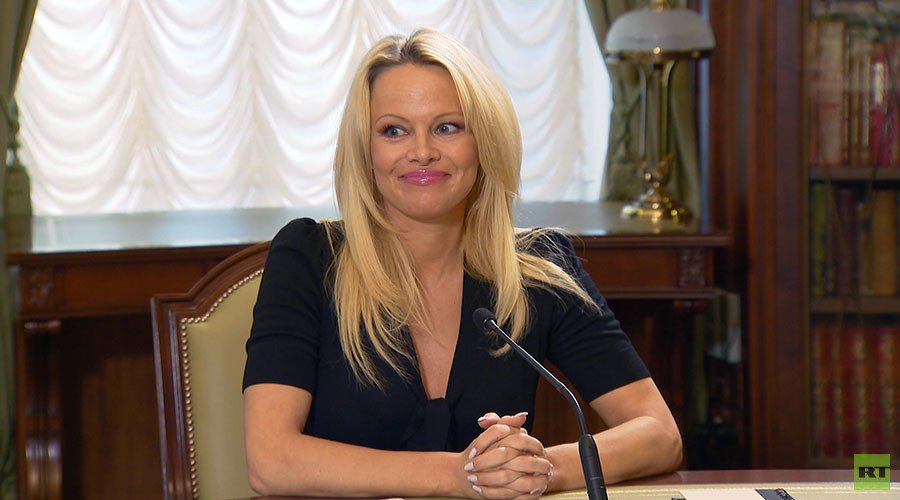 Talking about environmental issues which fall within her specific personal concern, Anderson said that welfare of seals is on her agenda. She said that she is campaigning in Russia for "a legal ban on killing baby seals" to be introduced.
READ MORE: Baywatch Vladivostok: Pamela Anderson discusses environment and climate change at Russian forum
Sea aquariums which keep mammals in captivity also worry the Hollywood star.
"I'm also concerned about sea aquariums that keep belugas in captivity. I'm campaigning globally to release belugas and orcas and dolphins back into the wild," Anderson told the fellow meeting participants at the Kremlin. She called the sea aquariums "abusive and old-fashioned."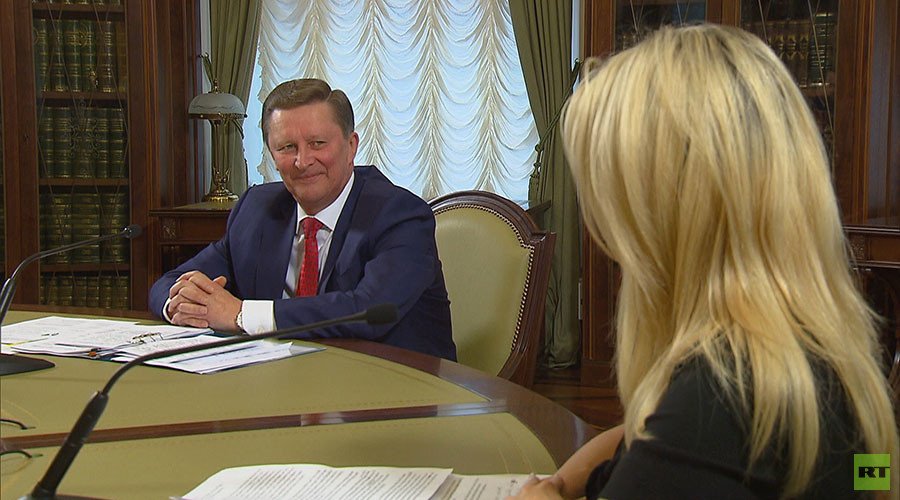 "I think Russia has the power to end this practice worldwide," she said, adding that by doing so and by "taking a leadership position on defending wildlife and the rights of animals," the country "could really win over some hearts and minds in the West."
Pamela Anderson is a welcome guest in Russia, Sergey Ivanov said, pointing out that the meeting was "unusual, but interesting."
"It's an opportunity to discuss the issues of wildlife conservation – and in particular some very beautiful animals such as tigers and leopards, in the company of beautiful women," Ivanov said.
Speaking in particular about the cats, Ivanov said that between 520 and 540 Siberian tigers live in the country according to experts' estimates. There are far fewer leopards, closer to 80, but the number has grown in the past few years, before which the species was on the brink of extinction. Other endangered species are also taken care of in Russia, the statesman reassured Anderson, mentioning polar bears and whales.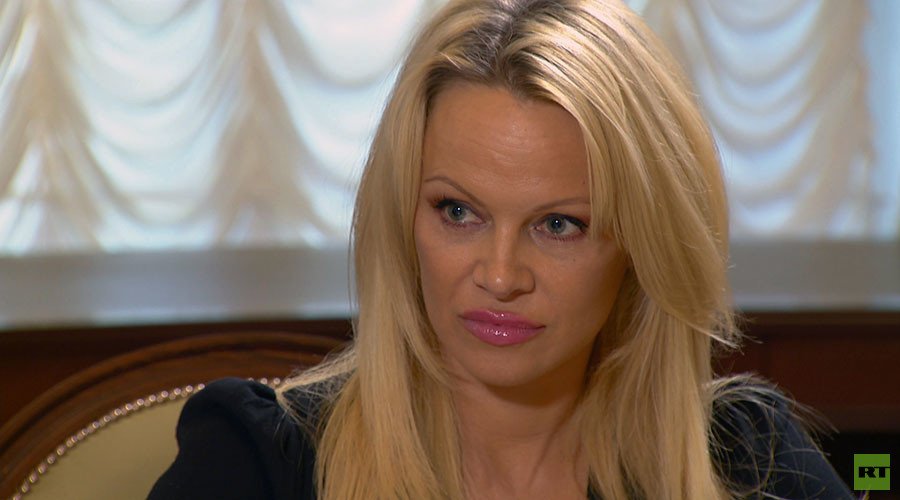 During her Moscow visit, Pamela Anderson had a private tour of the Kremlin, which she found to be a "once in a lifetime experience."
"Russia is a mystery to North Americans, but now I want to bring my children and have a tour all the way across Russia," she told RT, adding that she's already visited Moscow, St. Petersburg and Vladivostok, but doesn't know "what's in between."
"I don't know, but it must be beautiful," she said.
Anderson also held a press-conference in Moscow as an animal rights activist. But questions regarding her modeling career could not been avoided. When asked about Playboy's decision to stop publishing photos of fully naked women, she said:
"I feel like I am the DNA of Playboy. Hefner [Playboy founder] has always loved me and I loved the lifestyle, I have great memories. I didn't know there was going to be the last cover of Playboy [with nudes], my son told me from the news. And then the phone started ringing from Hefner and I looked at my son and said 'how do you feel about this?' [being on the cover], and he goes 'oh, you have to do it!' So my kids gave me permission and I had the best day of my life in a long time. It reconnected the dots for me, because I'm the eternal Playmate."
You can share this story on social media: