Baywatch Vladivostok: Pamela Anderson discusses environment and climate change at Russian forum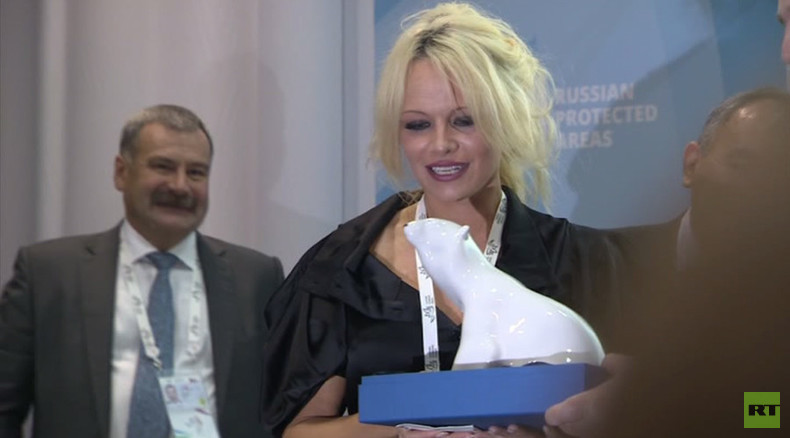 Hollywood star Pamela Anderson came to Russia to share her thoughts on climate change, whales, and the problem of endangered species at the Eastern Economic Forum in the Russian city of Vladivostok.
The American TV star and model had a meeting with Russian Minister of Natural Resources and the Environment Sergey Donskoy on Thursday.
Although the Canadian-American actress said she had a small amount of Russian in her background, she revealed that she had some trouble with locating the Pacific port city of Vladivostok, where she was invited, and initially had decided to come to Moscow.
"They [Russian officials] said 'No, it is the other side!'," Anderson said, as cited by RT's RUPTLY video agency. "I had no idea where it was, but it is beautiful, the ocean is beautiful, I like it close to the ocean."
READ MORE: Pamela Anderson to discuss fish & bees with Russian officials
The 48-year-old actress, who starred in the Baywatch series, discussed the state of the whale and seal industry in the country with the environment minister, as well as the importance of saving Arctic wildlife.
"I am so amazed and touched by all the people I have met ... everyone is very concerned with the environment," she added.
During her visit, Anderson also attended a charity auction, dedicated to the protection of endangered species, where she managed to sell off a bright red float from the Baywatch production for 3 million rubles ($45,000), according to AFP.
READ MORE: Dinner with Putin: Pamela Anderson wants to talk environment & animal rights with Russian president
"I know there are powerful leaders in Russia that can make a difference," she said. "Climate change is an urgent issue and I want to come here and speak to people that are brave enough to make big changes. I want to do something significant, which really can change something, together with Russia."
The actress was invited to Russia after she wrote a letter to President Vladimir Putin, urging him to support her fight against whale hunting. She also requested a "dinner or lunch meeting" with the president, saying that it "would be nice."
READ MORE: Pamela Anderson writes to Putin on behalf of endangered Fin whales
The annual Eastern Economic Forum was established this May to promote international investment in the region of "priority development". The three-day-long forum features about 400 Russian companies, according to the organizing committee.