Pamela Anderson writes to Putin on behalf of endangered Fin whales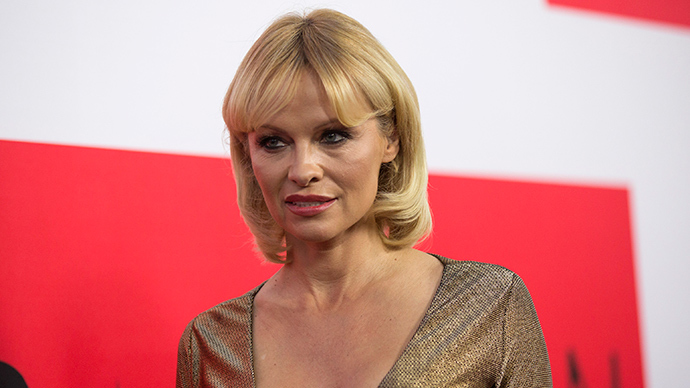 The Baywatch series star actress Pamela Anderson has written an open letter to the Russian President, urging him to use his authority over Russian territorial waters to block the passage of a cargo ship carrying 1,700 tonnes of fin whale meat to Japan.
In a "personal request" letter to Vladimir Putin, Anderson writes that out of their "mutual love for animals and a deep respect for nature," Putin should step in and block the "illegal" cargo of St. Kitt's-registered vessel Winter Bay from sailing from Iceland through the Northeast Passage to Japan.
See the first fin whale being dragged into shore by whaling boat #iceland#whalinghttp://t.co/X6MQm5QTARpic.twitter.com/TqDcoxgypz

— Iceland Monitor (@IcelandMonitor) July 1, 2015
Russian waters are allegedly the only way to get the meat to Japan as according to the Sea Shepherd Conservation Society, Winter Bay will not risk passing through the Suez or Panama canals because of international laws and logistic restrictions concerning whale meat.
The actress considers the Russian president as the last beacon of hope to stop the vessel, currently docked in Norway and awaiting the clearance of the Arctic route.
"President Putin, you can stop this illegal transit by forbidding this vessel from carrying a cargo of endangered Fin whale meat through Russian waters to Japan," Anderson wrote as she urged Putin to consider the matter.
Last week the environmental and animal rights activist group Avaaz started a petition asking Timothy Harris, Prime Minister of the Caribbean island of St. Kitts & Nevis, to deflag the freighter, which would prevent the ship from sailing. So far the petition has gathered almost 1 million signatures.
But despite such massive support, Anderson is placing her hopes and the hopes of all those who signed the petition on Putin. "Your decision could put an end to the needless slaughter of endangered whales by Iceland," the actress wrote.
#Blackfish#Oceanspic.twitter.com/yKCpYqPRb7#StKitts: Only days left to Save #Whales Stop #Iceland#Japan Whaling→ https://t.co/we2VQRA9m2

— Orca S※O※S (@OrcaSOS) June 27, 2015
In 1986, the International Whaling Commission (IWC) introduced commercial whaling moratorium in order to increase the whale stock. Yet pro-whaling countries, Norway, Greenland and Iceland, still continue to hunt limited number of whales as whale products play an important role in the nutritional and cultural life of native peoples. The hunting is done through the Special Permit Whaling or Scientific Whaling with responsibility for setting and regulating these catches allocated to individual governments, not the IWC.
"These whales were killed illegally in violation of the International Whaling Commission's moratorium on commercial whaling. It is also illegal to kill Fin whales and to engage in the trade of endangered species," Anderson wrote.
READ MORE: Japan to resume whale hunt in Antarctic this year
In Iceland, whose Hvalur Hf company supplied meat to Winter Bay, whaling is allowed under strict quota systems. The annual quota is 30 minke whales and nine fin whales. The numbers allocated to commercial whaling is quite small in comparison to the overall IWC estimates of whales around Icelandic shores.
ICW's most recent abundance estimate of common minke whales in Icelandic coastal waters is 43,600 alongside 25,800 of fin whales.
In Japan, the story with scientific whaling is tricky after the International Court of Justice judgment forced Tokyo to end its programme in March 2014. Some 10,000 minke whales were killed in the Antarctic by Japanese vessels between 1987 and 2014 under a special IWC clause that permits scientific whaling. While Japan is trying to convince the ICW that the country needs whaling, it is forced to get its whale meat from other countries, in this case Iceland.
You can share this story on social media: