​Japan to resume whale hunt in Antarctic this year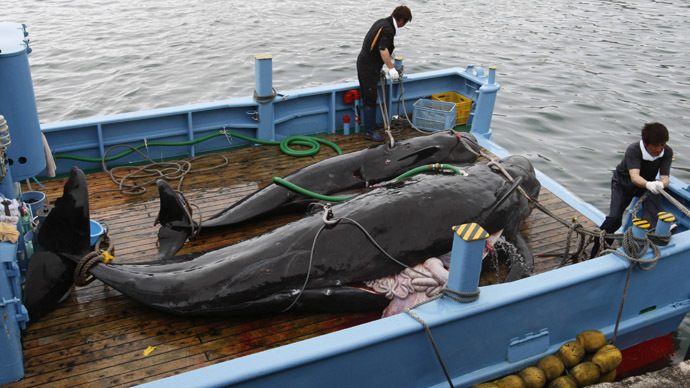 Tokyo intends to resume whale hunting in the waters of the Southern Ocean this year, despite disapproval recently voiced by the International Whaling Commission (IWC).
Japan's chief whaling negotiator Joji Morishita said that the international debate over whether the country should be killing whales has moved from science into politics, AFP reported on Monday.
READ MORE: Japanese fishermen vow 'to never stop' dolphin hunting
It comes despite a Friday report by the scientific committee of the International Whaling Commission (IWC) that stated that the country failed to provide a proper explanation for the reason behind the scheduled killing of almost 4,000 minke whales over the next 12 years in the Antarctic.
As the global whaling moratorium allows killing for research, Japan has been hunting the mammals under that guise. Yet their meat is processed into food, and the country backs the plan for the so-called sustainable whaling.
"There is no definite conclusion in the report itself... which is not so surprising in the IWC, because as we know very well the IWC is a divided organization. Because of this division, even the scientific committee is always having difficulty in coming up with some kind of a conclusion," Morishita said, according to AFP.
"Still ... we will try to provide as much scientific research as possible and try to get approval from the scientific committee for their go-ahead. But this could be a never-ending story. Well this has been a never-ending story," he added.
READ MORE: Blue ice and whales: Breathtaking drone video of Antarctica revealed
Morishita also stated that the official position to hunt in the Antarctic later this year hasn't changed, however. "Without finishing those additional analyses, I don't think it is appropriate to say whether we will start our research activity from this winter or not."
Tokyo has accused environmentalists of being emotional on the matter, and it actually doesn't need any permission from the IWC for whaling on scientific grounds.
Morishita said that the logic behind killing one animal instead of another was "strange".
"If you keep on like this, I worry that a country which has international political power could impose its standards and ethics on others," he said, calling it "environmental imperialism".
"For example, if India becomes the world's number one power and starts to say 'Don't eat beef', what shall we do?"
READ MORE: Danish radio claims 'on-air bunny killing' during animal welfare debate (VIDEO)
Last year, the International Court of Justice, the highest court of the United Nations, called the annual Southern Ocean expedition a "charade" – a commercial hunt under a scientific mask destined to side step the international moratorium.
Back in 1986, the IWC first banned commercial whaling, but Japan continued the practice, backed by large amounts of tax money which funded the operations.
However, in recent year the country's actual catch has decreased due to a decline in domestic demand for whale meat, as well as because of actions by the protest group Sea Shepherd.
You can share this story on social media: