​Dinner with Putin: Pamela Anderson wants to talk environment & animal rights with Russian president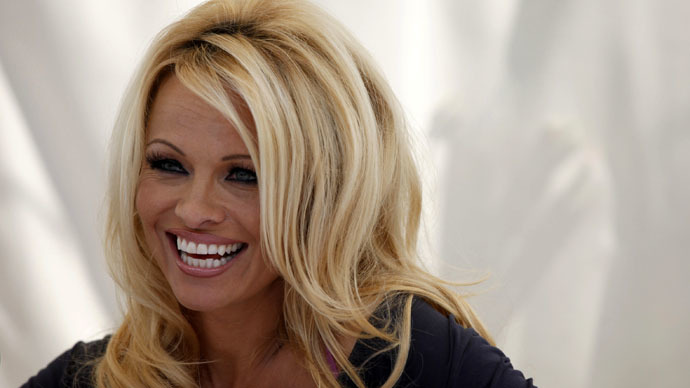 Former 'Baywatch' babe Pamela Anderson has reached out to Russian President Vladimir Putin, requesting a lunch or dinner meeting so the two can talk about the environment and animal rights issues.
The 48-year-old Canadian star made the "urgent request" on Monday, in a letter written to Russia's embassy in the US.
"I do have a voice in the international community and I would like to use my voice, as humble as it is, to help make this world a better place for all living things," Anderson wrote in the letter, which was published on the Pamela Anderson Foundation website.
She specifically mentioned that a "dinner or lunch meeting would be nice," adding that she will travel to Moscow. However, if Putin is too busy running the country, she will be more than happy to meet with Sergey Donskoy, the minister of natural resources and the environment.
RED MORE: Pamela Anderson writes to Putin on behalf of endangered Fin whales
Although the thought of the former Playboy model breaking bread with the Russian president may seem odd, there is actually a reason why Anderson is reaching out to Putin.
"The Russian Federation has great influence and I've seen how decisions by Russia can have a positive and beneficial impact on the environment and the welfare of animals. Russia was very instrumental in helping to remove the demand for seal pelts from Canada, where so many seal pups are slaughtered each year," Anderson wrote.
She added that she believes the two can work together to "make this a better world for all our children tomorrow."
It's not the first time the blonde bombshell has contacted the Russian president. Earlier this month, the actress wrote an open letter to Putin, urging him to use his authority over Russian territorial waters to block the passage of a cargo ship carrying 1,700 tonnes of fin whale meat to Japan.
"Your decision could put an end to the needless slaughter of endangered whales by Iceland," the actress told Putin.
Deputy Director of the Department of Biodiversity Preservation and Use of Animal Objects at the Russian Ministry of Environment, Valery Fyodorov, explained that Russia does not have any legal grounds for stopping the ship, according to Izvestia newspaper.
"In accordance with the UN Convention on the Law of the Sea we have freedom of navigation. What, are we going to punish people for acts committed on the territory of another country?" said Fyodorov.
He stated that a ship can only be detained if it enters a Russian port.
Anderson, a spokeswoman for People for the Ethical Treatment of Animals (PETA), has long advocated for animal rights and campaigned for environmental causes.
The celebrity launched an online vegan cooking show earlier this month, telling Healthy Living Magazine that she gave up meat after learning of the "cruelty of slaughterhouses" while working with PETA. She says she later ditched dairy products, stating that "it just doesn't belong in our bodies."
You can share this story on social media: