'Run it over!' Locomotive runs over bear in Siberia… but animal survives (VIDEO)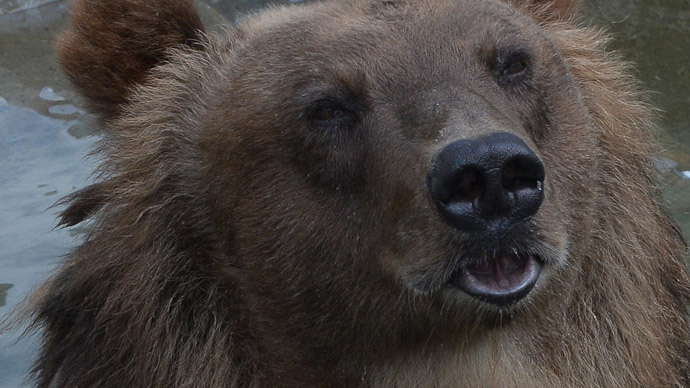 Siberia saw a miraculous survival after a train apparently intentionally ran over a bear running along the tracks. The train drivers, who recorded the incident on camera, could face up to two years behind bars.
The 20-second video showing the bear running along the tracks and the locomotive hitting it surfaced on YouTube on Wednesday. The video was shot from the driver's cabin with shouts heard inciting the driver: "Run it over!"
The incident happened at about 2am earlier this week in the Russian city of Norilsk, in Russia's far north, according to the Western Siberian Transport Prosecutor's Office. The prosecutor said that an investigation has been launched into the case.
Following the incident, local security services sent a special search group to find the bear. After over 24 hours, the animal was discovered safe and sound.
"The moldboard on the locomotive, which is used to clean the tracks from snow, just threw the bear off the tracks," Pyotr Liholitov, the spokesman for Norilsk Nickel, the company that owns the part of the railroad where the incident took place, told Govorit Moskva radio station.
He added that the drivers were in violation of their responsibilities as they were obliged to stop the locomotive.
"We are conducting the inspection not because we feel sorry for the bear, but we will assess the legality of the crew's actions. We cannot leave this video without attention," Senior Assistant Prosecutor Oksana Gorbunova said, NGS.Novosti reported.
A Russian animal rights watchdog said that the drivers of the train could face up to two years in prison for cruelty to animals.
"Yes, I think the shouts ["Run it over!"] can be qualified as sadistic," the president of the Vita Animal Rights' Center, Irina Novozhilova, told Govorit Moskva.
READ MORE: Animal cruelty needs tough prison terms, say anti-blood sport campaigners
You can share this story on social media: