Iraqi army urges civilians to leave IS-controlled Ramadi ahead of possible assault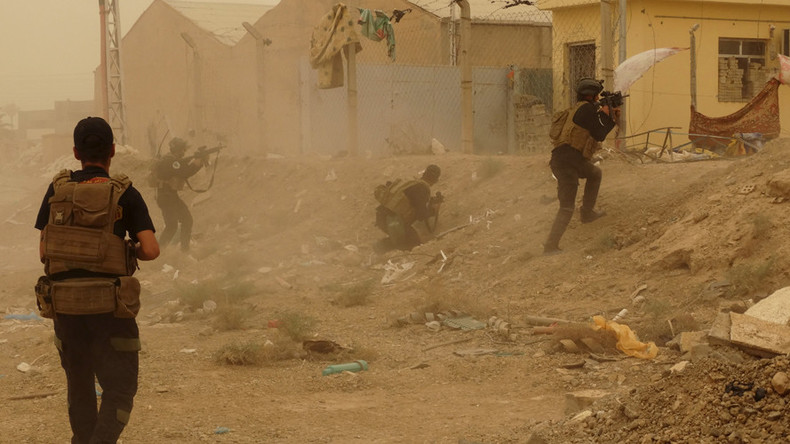 The Iraqi army has called on civilians to leave the Islamic State-controlled (IS, formerly ISIS/ISIL) city of Ramadi within 72 hours, which may mean the military is preparing to launch an assault on the city.
Ash Carter news
Iraqi military jets dropped leaflets carrying the warning on Ramadi on Sunday. The leaflets also show safe routes for civilians to take when leaving and ask residents to carry identification documents with them.
"All security forces were instructed on how to deal with civilian approaching them," joint operations spokesman Brigadier General Yahya Rasool told Reuters.
The notice for civilians may mean that the Iraqi army is getting ready to launch a large-scale military operation to recapture Ramadi.
"It [dropping leaflets] is an indication that a major military operation to retake the city center will start soon," an unnamed officer told Reuters.
The Iraqi army has been on an offensive to retake Ramadi for several weeks. The Iraqi army had dropped leaflets on the city on November 30 as well, which also called on local residents to leave the city within 24 hours because of a coming assault.
Government troops managed to seize more than 60 percent of the city and take control of its center in early December. IS terror group has blown up bridges over the Euphrates in an attempt to stop the advance of the Iraqi army.
The US has said it is ready to provide the Iraqi army with extra assistance in liberating Ramadi from IS terrorists.
READ MORE: US refuses to bomb Islamic State's 'media centers' over possible civilian casualties
"The United States is prepared to assist the Iraqi Army with additional unique capabilities to help them finish the job, including attack helicopters and accompanying advisers, if circumstances dictate and if requested by Prime Minister Abadi," US Defense Secretary Ash Carter said on December 9, as cited by Reuters.
Ramadi, the capital of the Anbar province, was captured by IS terrorists in May – the last significant military achievement of the jihadists in Iraq.